The first headmaster of Dunheved College was Mr Benjamin Ralph who was born at Derringoo-hill, Tipperary, in 1849. Mr Ralph was educated at Wesleyan Connextional School, Dublin, 1857 – 64, he entered Trinity College, Dublin 1864; BA 1869; LL.B 1872; LL.D 1882. Principal of Dunheved College from its foundation in 1873. In 1873 he married Sarah Meredith, of Roscrea, Scotland. Mr Ralph had Mr Otho B Peter, architect, Launceston, design a house for him at the top of Windmill Hill, in an old quarry beside the road. The first set of plans were rejected but the house was finished in 1880 and was named "Craigmore."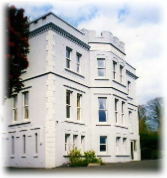 Ralph children born at Launceston were: Hilda Grey, 1877; Morley Armitage, 1879; James Meredith, 1881, Ida Mary, 1883. By 1891 He had moved to Westbury on Trym, Gloustershire and was a Headmaster and a Preacher. In 1901 he is found living in 17, Oval Road, St Pancras, operating his own private school.
Dr Ralph emigrated to Canada, around 1902, and in 1919 a Mr H W Forster, of Albaston, Callington wrote to the press: "After being in the Army I was sent to work under the Bishop of Saskatchewan, Canada, among the soldier settlers in his Diocese. In 1917 I was posted to the Blain Lake district of Saskatchewan. Soon after arriving there I formed a close friendship with Dr Ralph which lasted until Dr Ralph's death on his "Craigmore" estate, overlooking the South Saskatchewan River in 1923. Dr Ralph loved nature and the free life of the prairie and was happy out with horses, haymaking, preparing for the wheat crop, or saving the wheat; or even on Sundays when driving over the prairie to conduct a service at some little church, for he was also Minister of the Congregational Church, often preaching to a congregation of Canadians, English, German and Russian settlers, all known to him by his wonderful gift of love and sympathy to all. All classes and creeds came to him for help and advice, which he was always ready to give.
Hits: 202