.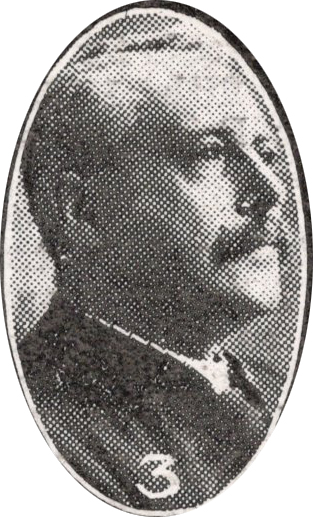 William was born on June 4th, 1853 to John and Ann Brimmell at Rathbone Place, London. His father was a printer and newspaper proprietor, publishing the 'Launceston Weekly News.' He was first educated at Horwell's Endowed School before finishing his education at Didsbury College.
On leaving school, William joined his fathers business as a journalist which eventually led to him being appointed editor of a Luton newspaper. By this time he had become a local Wesleyan preacher and whilst residing at Luton he was accepted for the Wesleyan ministry. Giving up his journalistic career he took up his first circuit at Hull in 1883; his subsequent appointments were St. Albans and Hemel Hampstead, 1884-87; Watford, 1887-89; Ramsgate, 1889-92; Canterbury, 1892-95; Sandgate (Shorncliffe Camp), 1895-1901; Portsmouth, 1901-1911; and Devonport, 1911.
William was a minister of great energy and perseverance, and  he always took a keen interest in work among men, and it was while in the Canterbury circuit that he took up Army and Navy chaplaincy work. He also took a keen interest in the public life of each community in which he lived, and was also a Freemason. While at Portsmouth he was not only President of the Free Church Council for twelve months, but a member of the Citizens Union, chairman of the Vigilance Committee, a member of the Executive of Naval Disaster's Fund, and a Governor of the Royal Portsmouth Hospital.
Wherever William served, he was always remarkably successful in his efforts to raise money for church work. This success was especially marked at Portsmouth where he helped raise funds to build a Wesleyan home for service men and also in founding of the Portsmouth Town Hall Mission which eventually became the Portsmouth Garrison and Naval Port Mission. Whilst at Sandgate he built a Wesleyan Garrison Church, and one of his principal efforts at Devonport, where he succeeded Rev. W. H. Sarchet, was the furthering of a scheme for the erection of a Wesleyan Military Home at Crownhill, Plymouth.
In 1885 he married Alice Wise, daughter of Launceston architect, Charles Pearce Wise. Together they had six children.
William suffered from ill health for many years and he had a major lapse of health in December, 1910, but after several weeks of treatment and rest he was able to resume his work. In September, 1911, he moved to Devonport. But his health continued to deteriorate, and on Monday June 23rd, 1913 he passed away at his home at Stoke, Devonport.
For his funeral, full military honours were accorded, with the first part of the service held at the Ker-Street Chapel. After the service his coffin was borne to the grave on a gun carriage, in charge of the Army Service Corps, the 4th Middlesex Regiment, together with a firing party of 100 men, being in attendance. Nearly all the units in the garrison were represented. Eight officers attended as pall bearers, and six Marine sergeants were the bearers. A large muster of officers were present.
His will totalled £2983 6s. 7d.
Hits: 203