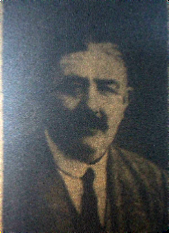 Richard was born in 1890 one of five children to James and Emma Martin at Higher Luccombe, Lawhitton. His father, having originally come from Plympton St. Mary, was a Butcher and Farmer. The family later moved to Wrixhill, Dunterdon. On the 18th of December 1910 he married Mabel Vigars at Dunterton Church. Sometime in 1911 he moved with his wife to set up business a Butcher in Launceston. For a short time he operated from a temporary premises before taking over a shop in 18 Westgate street where he also lived (The premises is now a Chinese takeaway).
He was a grader for Week St. Mary Market and deputy grader for Launceston and district markets.
He had also served as a town Councillor for many years.
Richard died after a long illness on the 10th of April 1943 aged just 53 and was interred at Launceston Cemetery after a service at St. Mary Magdalene Church conducted by the Arch Deacon of Bodmin Dr. W. H. Rigg.
Hits: 136