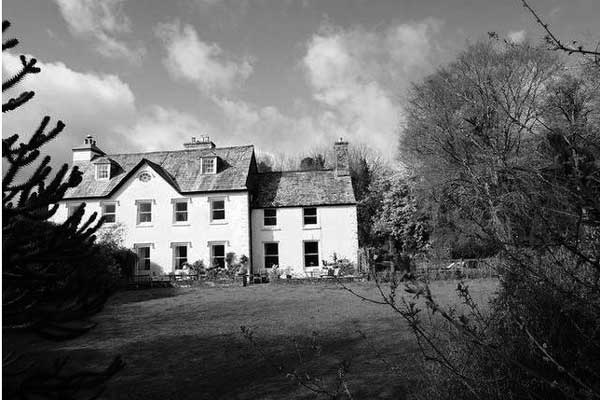 Hexworthy House is situated in Lawhitton parish near to Greystone Bridge, and open into the road which leads from Tavistock to Launceston. It was built in the seventeenth century for Richard Bennet, councillor of Law, who died in 1619. His wife was Mary, daughter of Oliver Clobery, of Bradstone, Devon, (The Bennet family originally came from Sussex and settled at Hexworthy during the reign of Elizabeth the 1st).
Richard's eldest son, Robert was a parliamentary colonel. During the civil war he was one of the chief Cornish adherents of the Commonwealth, and governed St. Michael's Mount and St. Mawes castle in its interest. Robert (who was a Baptist) was first mentioned in connection with public affairs in the autumn of 1643 when he was commander of 'twelve hundred foot and three hundred horse' which attempted to surprise Colonel Digby at Torrington, but were defeated in the effort. It is said that Olver Cromwell actually stayed as a guest of Robert at Hexworthy House on his three day visit to Launceston in 1646.
Robert formed one of the thirteen members appointed as a council of state on 30 April 1653, and represented Cornwall among the 139 persons summoned to attend at Whitehall as a parliament on 4 July 1653; ten days later he became one of thirty-one members forming an interim council of state. In the parliament of 1654 he was elected both for the boroughs of Launceston and Looe; in that of 1659 he sat for the former borough. After the death of Oliver Cromwell he advocated the recognition of Richard as protector, his predilection being for a commonwealth, though he recognised the necessity, in times 'so full of distraction,' of a single person and two houses. After the restoration he retired, without molestation, into private life, and was buried at Lawhitton 7 July 1683, aged 78. Colonel Bennet's charge at the Truro sessions, April 1649, was printed under the title of 'King Charle's (sic) triall justified.' At these sessions he justified the trial of the King "by scripture, law, history, and reason"; and for his services to the cause he was appointed Governor of Pendennis Castle and St. Michaels Mount. In the next year, when the Duchy property was sold by order of the State (a Parliamentary survey of the whole having previously been taken), Robert, in addition to other purchases of messuages and manors, bought "the honor with the appurtenances and sundry other premises and fee farm rents" of Launceston Castle. Together with the deer-park, and "the reliefs payable by the tenants of sundry lands of the Castle of Knight's service."
William Hicks dedicated to him his 'Quinto-Monarchiæ cum quarto Ὁμολογία' (1659).
Many of his letters occur in the Calendars of the State Papers during the Commonwealth, the Tanner MSS. at the Bodleian Library, and the Additional Manuscripts (12098) at the British Museum. When a wing of the old mansion at Hexworthy was demolished about forty years ago, an iron chest, concealed in a wall, was found to contain the correspondence of Colonel Bennet. The compilers of the 'Parochial History of Cornwall' assert (iv. p. viii) that these letters are not now to be found, but it is probable that they are identical with the three volumes of Colonel Bennet's correspondence included among the manuscripts of the late Sir Thomas Phillipps.
These manuscripts contain mostly Bennet's official papers and reflect the shifting fortunes of the Parliamentarians and Royalists. Many of the official papers concern or are from both houses of Parliament, and the Council of State. Among the personal papers are several concerning law-suits and other business matters, a few deeds, Hannibal Vyvyan's directions to Colonel Bennet when he was sick in 1649, and letters to and from fellow Anabaptists at Looe, 1656. A few miscellaneous documents seem to have no direct bearing on Colonel Bennet; two report on speeches of Cromwell, (1657-58), one more fully than any copy hitherto known. In English. Bennet, Robert, 1605-1683 Acquisition Information
The Papers of Robert Bennet were acquired by the Folger Shakespeare Library from H.W. Edwards. Edwards acquired the collection from Sotheby's, June 28, 1965, lot no. 55.
Provenance
The Papers of Robert Bennet belonged to Sir Thomas Phillipps who had acquired the papers at the William Upcott sale at Evans', June 22, 1846, lot no. 37. The Dictionary of National Biographyseems to be referring to these manuscripts in its account of the discovery of an iron chest containing the correspondence of Colonel Bennet in a wing of the old house at Hexworthy which was being torn down about 1840. Richard W. Cotton saw this collection and printed three of the letters in his Barnstaple … during the Great Civil War(1889), but for many years it was lost from sight until it turned up in 1965.
A note of their acquisition at the Upcott sale and their Phillipps number are written on one of the covers. In the Catalogus liborum manuscriptorum in Bibliotheca Phillippica, no. 11015 is described as "Ex Biblio. Ignoti – Colonel Robert Bennet's correspondence during the Civil Wars. 2 vols…Letters of Cromwell," while No. 12102 is described as "Ex Bibl. Wmi. Upcot. 1846 – Colonel Robert Bennet's correspondence during the Civil War and Commonwealth.
The Papers of Robert Bennet contains mostly his official papers and reflect the shifting fortunes of the Parliamentarians and Royalists. The bulk of the papers listed here were written between 1642 and 1663 and arose out of his official position – commissions, orders, warrants, testimonials, a muster-roll, an examination and a list of prisoners taken at Penzance in 1648, and mostly autograph letters signed to and endorsed by Bennet. Among Bennet's correspondents are his brother William, England's public minister in Hamburg "Lord" Richard Bradshaw, Colonel Anthony Buller, Francis Buller, Colonel Thomas Ceely, the Council of State, Major-General John Desborough, Francis Godolphin, Sir William Godolphin, Richard Lobb (not the M.P.), Vice-Admiral Robert Moulton, John Moyle, Sir Henry Pollexfen, Sir Richard Prideaux, Colonel Anthony Rous, and the Earl of Stamford. Several of these letters touch on the exchange of prisoners in the Scilly Islands and the ransom of captives in Sally where Bennet's brother William was a merchant. A number refer to Scotland and Ireland and the assessment and raising of troops for Ireland; two give news of the siege of Limerick in Sep. 1651. Richard Lobb prevailed upon Bennet to get Parliament to remove certain customs on fish and tin. Occasionally a draft of Bennet's has survived; one is to John Rushworth; two are petitions to Cromwell about his arrears.
Among the personal papers is a detailed description by Dr. Hannibal Vyvyan of the disease Bennet was suffering from in 1649 and of the treatment he recommended, and a group of letters from and to fellow members of his Church at Looe. Bennet was an Anabaptist and was to attend the meeting of the Assembly of the messengers of the Churches at Wells on April 7, 1656; two of these letters discuss a Sister Cornish who was in danger of being lost to the Quakers. Two letters are from Sir Richard Vyvyan. A letter written in 1673 to his brother William discusses certain lands they are considering buying; in one corner of a manor near Dartmoor was a waste "inhabited time out of mind by a people of an unknown origin usually called the Gubbinses".
There are also several miscellaneous manuscripts including The office of an attorney by John Mulys of Halmpstone, Devon, with a few lines of verse ; a copy of the letter from the "agitators" to Sir Thomas Fairfax and others, April, 1647; Reasons wherefore the officers of the mint should be freed from payment of any assessments, ca. 1650; The humble proposals of the ministers who presented the petition to Parliament, (March 1653); The resolution on religious toleration, December 15, 1654; a report of a speech by Cromwell to a Parliamentary Committee refusing the kingship (April 13, 1657); reports of other speeches by Cromwell to officers of the army (February 4-11, 1658); and The alarum, a paper presented to the speaker of the House of Commons criticizing the King's ministers, April 1671.
Biographical note
Colonel Robert Bennet of Hexworthy near Lawhitton, Cornwall, was one of the leading Parliamentarians in the southwest during the Commonwealth. He rose steadily in Parliament's favour as this collection shows. He was already a captain of a train-band in 1629. In 1642 he was appointed captain of a train-band of foot by the Parliamentarian, Lord Robartes. Two years later he was made a lieutenant-colonel and soon a colonel. He was treasurer of the Western Brigade from 1645 to 1647. By the beginning of 1649 he was governor of St. Michael's Mount and remained so till the Restoration. For a short time about 1649 he was governor of Pendennis Castle. In a letter of January 31, 1662, he refers to himself as having been "commander-in-chief (of all the forces in field and garrison in the county of Cornwall)" (words within the brackets deleted in the manuscript) at this time. By 1650 he was a commissioner for the militia of the county of Cornwall. From about December 1648 till the Restoration he was a member of all the Parliaments with the exception of the Second Protectorate Parliament of September 1656. In 1653 he was appointed a member of the Council of State; in 1659 he was summoned to sit in the Committee of Safety. Sometime in the early 1650s he purchased the Honor and Castle of Launceston.
Arrangement
The Papers of Robert Bennet were originally bound in two volumes by Sir Thomas Phillipps, and at that time arranged chronologically and paginated in the upper right hand corner.
When the volumes were acquired by the Folger, they were in disrepair and the volumes were disbound in order to repair some of the contents. The contents were then divided into three series, arranged chronologically within each series: Series 1. Official Papers; Series 2. Personal and Business Papers; and Encloses a true copy of General Thomas Fairfax's letter to the governors of the western towns, April 25, 1648, ordering them to stop any confluences of Cavaliers, to take up horse and arms belonging to those who have not compounded or who have served against the Parliament and to send an exact account to the Committee of Sequestrations, to list volunteers and to repair fortifications.
Letter from Robert Bennet, Hexworthy, to Colonel Anthony Rous
Richard Coffin, who took the name of Coffin from his mother, who was the heiress of the Coffins of Portledge, was the last male heir of the Bennet family, and the Bennet line became extinct in 1786 as did their relation with Lawhitton and Hexworthy. However the name of Bennet is still known in the parish with the old inn on the Launceston to Tavistock road being named after the family, and even to this day with the inn having long closed, the junction is still known as the ' Bennetts Arms (below).'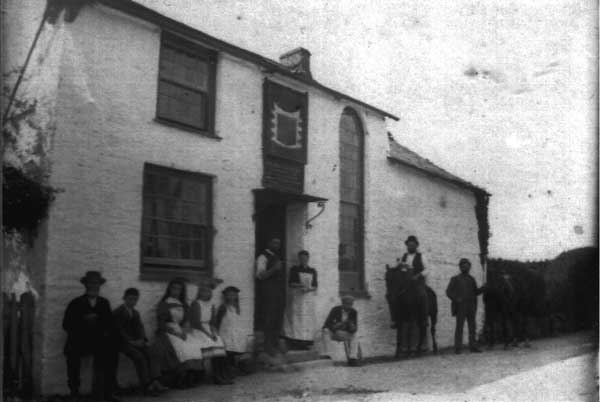 ---
This is an extract from the British listed buildings website:
House now divided. Circa 1700 remodeling of C17 building; later additions and alterations. Roughly coursed slate-stone, rendered with rusticated quoins to front (right gable end of main range is slate-hung), painted to rear on ground floor with slate hanging to first floor; slate roofs. In 3 sections, right incorporating part of C17 building. 2 storey's with attic to main range. This has 5-window front;horned 2-paned sashes with labels including to former central doorway. Central pedimented gable has oeil-de-boeuf with hoodmould flanked by hip-roofed dormers with glazing bar sashes in roof slope. Integral end stack to left and prominent slate-hung integral lateral stack to rear on right. Right section has two 2-paned horned sashes on each floor, those on first floor directly below eaves and thoseto ground floor with projecting keystones. Tall integral rubblestone end stack. Low left range has pyramidal-capped louvred square belfry to left gable end. Rear: Slate-hung gabled staircase projection at right angles to left of right range has Victorian staircase window. Main range has 3 glazing bar sashes on first floor. Ground floor has 16-paned glazing bar sash to left and central C19 half-glazeddoor with margin lights and rectangular barred overlight with narrow casement immediately to left; tripartite glazing bar sash to right. C19 single-storey service ranges with Gothic casements, attached to rear of left range, have attached wall with 4-centred granite arch leading to courtyard, superscribed "1656" to spandrels. Interior: Main range has early C18 open-well staircase with barleysugarbalusters to open string, square newels and moulded handrail. Plaster cornices and dado panelling to large front rooms. Panelled window shutters throughout. Roof space of right range has curved principals below raising of eaves.
Hits: 743