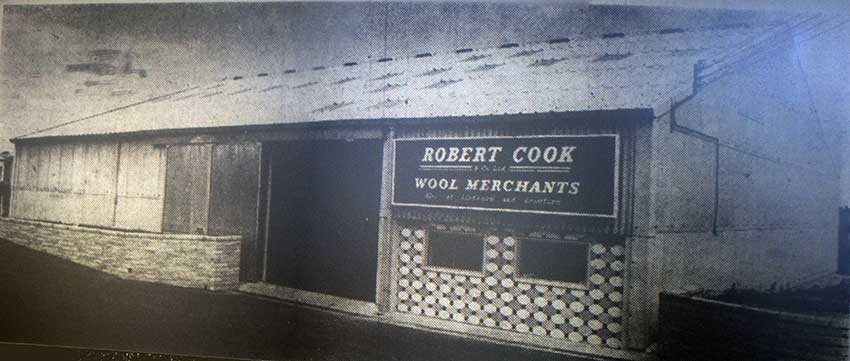 The firm of Robert Cook and Co. Ltd., wool merchants of Bradford entered the Devon and Cornwall wool trade in 1928. They started by renting a warehouse from Coastlines Ltd. Plymouth, which was destroyed during the Blitz in 1942. Then warehouses were rented in Liskeard and Launceston.
The company first operated as merchants on their own account, then under the Wool Control during the Second World War, and when the Wool Board was formed after the war, they operated as agents for the Board. In 1952 they were obliged to build their warehouse in Liskeard (which still operates today as the Devon and Cornwall Wool Co. at Lamellion), To which extensions have since been added.
In Launceston, the firm operated in a section of the old Pannier Market in Market street and which was rented from the Launceston Borough Council. The lack of capacity at these premises meant that other warehouse in the locality were also used. This all changed, however, in 1961, when the company purchased the old military site at Scarne and a new purpose built wool warehouse was constructed. Some of the concrete floors from the old buildings were incorporated in the new building. Manager of Launceston since 1940, Mr. H. Parkes, continued his role at the new depot with Mr. A. McIntyre, a director of the company being in overall charge of both Liskeard and Launceston depots. The building was supplied and erected by Sanders and Forster Ltd., Of London under the direction of Mr. G. R. Vaughan-Ellis, A.R.I.B.A, of Liskeard. The main contractors were Dyer and Coombe of Lawhitton. The building was completed in time for the 1962 wool season and remained part of the Launceston scenery for some 25 years. The depot was closed in the late 1980's and the site was redeveloped later with Topps Tiles and Carpetright now operating on the site.
Hits: 620