.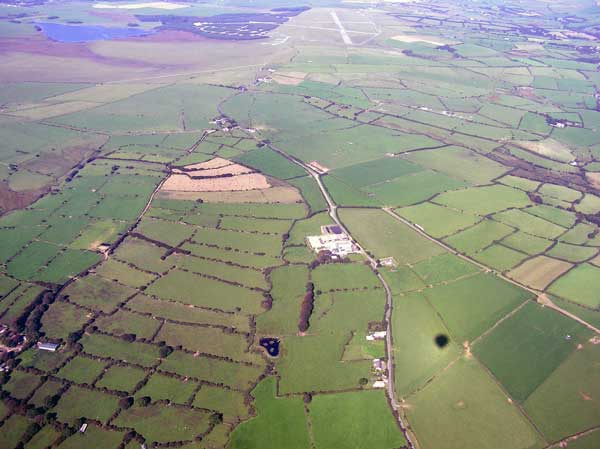 With the close proximately of Davidstow aerodrome it was no surprise that many gallant crews and their planes suffered crashes around the area. Some survived but many lost their lives. For more on the history it is well worth visiting the Museum at Davidstow and also the excellent website run by Mr. Knight at www.rafdavidstowmoor.org which gives a good detailed history on the air station which ran from 1942 to the wars end. Here are just a few of the crash logs pertaining to those crashes in the Launceston Area.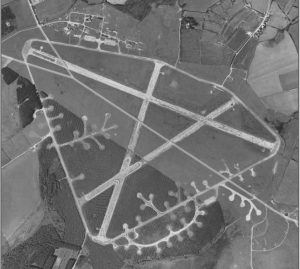 11/06/1941 1300hrs the remains of a Bristol Blenheim IV V5933 PZ-U of 53 Squadron based at St Eval have been found scattered within ½ mile of Brown Willy Tor, 4½ miles from Five Lanes Police House. The machine apparently blew up on impact, there were 3 bodies one of which was unrecognisable. The other two were blown to pieces. The aircraft was returning from an operation to St Nazaire, France in cloud when it flew into the tor. P/O N D MacLennan J3735 RCAF, Sgt D C Taylor 754263, Sgt W M Roberts 948880 all killed.
23/07/1941 2105hrs Bristol Beaufort I L9891 OA-F of 22 Squadron flying from RAF St. Eval to Thorney Island, Hampshire crashed in a forced landing following engine failure at Cannaframe Farm, Altarnun. The aircraft was extensively damaged. Of the four crew and three passengers P/O Rodgers (pilot) and Sgt Hills the Observer were seriously injured. The other five including Sgt Hatherall W/Op and Sgt McGee A/G were slightly injured. All were taken to Launceston Hospital.
13/01/1943 1441hrs Vickers Wellington Ic T2619 of 26 OTU RAF Wing, Buckinghamshire crash landed in a field behind the Control Tower at RAF Davidstow Moor. Whilst on a navigational exercise over North Devon the port propeller came off followed by partial failure of the starboard engine. Sgt C D Belcher and crew survived.
22/06/1943 2322hrs an Armstrong Whitworth Whitley V EB334 of 10 Operational Training Unit detachment at RAF St Eval returning from operations force landed in a field at Chapmans Well, Launceston due to bad weather.
29/07/1943 0930hrs Vickers Wellington X HE576 'K' 304 Squadron Polish Air Force RAF Davidstow Moor crashed on take off at Tresmarrow Farm, Davidstow. The two Pilots F/Lt Z Janicki 1st pilot. S/L Rodziewicz 2nd pilot were killed the rest of the crew were slightly injured and badly shaken.
15/08/1943 de Havilland Queen Bee P4774 from RAF Cleave crashed at Trevethey Farm, South Petherwin, Launceston. The aircraft was slightly damaged, there being no occupant in this radio-controlled aircraft there were no injuries.
23/12/1943 1100hrs Douglas C-47B Skytrain 43-60733 of the 27th Air Transport Group, 87th Transport Squadron, 8th USAAF. The crew was flying back to Grove Air Station from RAF St Mawgan when the aircraft crashed into the summit of Brown Willy Tor on Bodmin Moor in fog. The four crew were killed 0-664390 1st Lt Theodore E Garland, Pilot; 0-521760 2nd Lt Daniel C Larkin; 18025422 S/Sgt Paul W Welter and 35334261 Sgt Charles Miller. They are commemorated on the Roll of Honour at Davidstow Moor Museums.
19/05/1944 Vickers Wellington III BK396 of 22 Operational Training Unit crashed in a forced-landing near RAF Davidstow Moor due to starboard engine failure.
21/05/1944 1425hrs Handley Page Halifax II W7811 1662 Heavy Conversion Unit based at Blyton, Lincolnshire crashed at Buttern Tor, Altarnun. The aircraft was completely wrecked, the pilot was seriously injured and later died. The other six crew all baled out prior to the crash, four were injured and two safe.
15/06/1944 1230hrs Hawker Typhoon Ib MN292 HE-Z of 263 Squadron RAF Harrowbeer suffered engine failure and crashed in an attempted a forced landing at Stourscombe Farm, Launceston. The aircraft was completely smashed and F/O W K Windeller was killed.
28/06/1944 0028hrs Bristol Beaufighter TF X LZ176 2-X of 404 RCAF Squadron based at RAF Davidstow Moor on return from a reconnaissance of French coast was diverted to Fairwood Common because of bad weather, crashed due to gyro failure at 0337 hours at Kennards House, Launceston, Cornwall. F/O Ernest J Keefe RCAF and P/O Beechan I G Steed RCAF both killed.
31/07/1944 1120hrs Vickers Warwick ASR I HF980 'J' of 282 Squadron RAF Davidstow Moor crashed on takeoff for a test flight at Trenuth Farm, Camelford. P/O V V Miettinen RCAF, W/O J McBeth RCAF and 2127023 LACW Sybil Antoinette Mullins WAAF all died.
11/08/1944 Bristol Beaufighter TF X LZ293 MB-T of 236 Squadron RAF Davidstow Moor the pilot F/O William Daniel Grant IV known as Red & his navigator P/O Geoffrey A Page were on an air test. The pilot did not check the fuel state before getting airborne and as a result crashed out of fuel on approach in field 2 miles S of Hallworthy Police Station. 134118 F/O W D Grant IV was killed, F/O G A Page survived.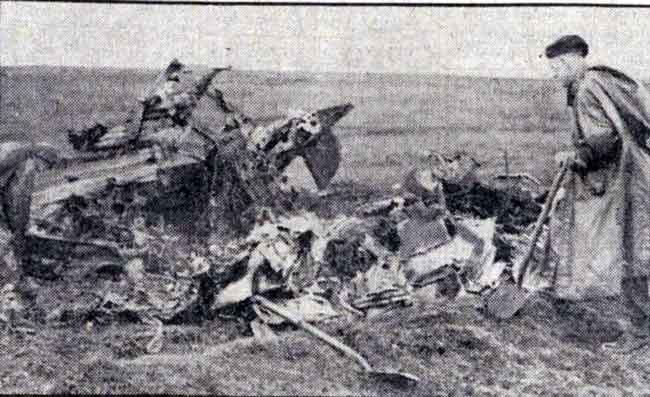 14/09/1945 0855hrs Handley Page Halifax VII PN305 9U-W of 644 Squadron  (the wrekage can be seen above) based at Tarrant Rushton, Dorset crashed at Priddacombe, Bolventor. The aircraft was completely wrecked and all 21 on board killed.
Hits: 3779