.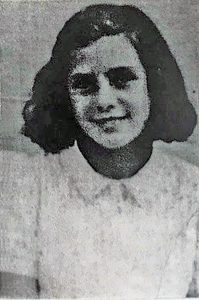 My name is Jean Turk, née Lilley. I was born in November 1929. I had three brothers, two older and one, Ernest, younger than me. My father was a Metropolitan Police Sergeant. Two days after was declared we went with my mother, Elizabeth (née Jessup), to stay with my widowed paternal grandmother in 168 Gwydir Street, Cambridge.
My eldest brother, Frank Arthur (born in 1916) was called up to join the army. We must have stayed in Cambridge for about a year, but because there was no bombing in London during this time, we returned. However, we had no sooner got back than a second evacuation scheme was begun and on this occasion, my two brothers and I were sent away without mother.
We left Bonneville School, Clapham, in buses, and I believe, went to Clapham Junction railway station (above). I remember having labels tied on us and I think we were given a bar of chocolate. Our parents had no idea where we were being sent and, after a long day of travelling, we arrived in Launceston. I remember we had our hair checked before we left Launceston station and we were given lemonade and a bun. We then found ourselves standing in a queue outside the Town Hall until someone arrived to let us in. I had made friends with a girl named Joyce Parker who was the same age as me and we stuck together. People came to choose who they wanted, and I suppose luckily for us, a gentleman called Mr Bill Matthews, a bank manager at Barclays Bank, chose Joyce and me (this was William Bernard Matthews and wife Dorothy). We got into his car and drove to 1, Tamar Terrace on Tavistock Road. It was dark by then, but when I got out of the car I saw my brothers, Ted aged 12 and John 8, walking by with a boy scout who was taking them to Rose Farm nearby, owned by Farmer Davey and his wife. When we went into the house we were put into the bath and eventually went to bed.
We went to Windmill School where we were put in separate classrooms from the Cornish children, our class having children from ages 8 to 13. I also remember that the winter was rather harsh with a lot of snow and sometimes, when the boilers broke down, it was too cold to keep us in school. So after register had been called we were allowed to just wander in the countryside.
Mr Matthews sometimes took us with him when he went fishing, and he also played golf. The Matthews had two daughters, Margaret aged about 13 and Ann who was a boarder at Malvern College. While I was at Tamar Terrace an army major, his wife, their baby and his batman came to stay. I also remember Mr Matthews sister was there. So the house was crowded sometimes. The maid joined the ATS, and after about a year, Joyce went back to London, and so did my brother Ted when he became fourteen.
Sometimes when the Matthews went on holiday, they arranged for me to stay at other places. One of these was with a baker on Race Hill and another couple of times I stayed in the "Cottage on the Walk" with a Mrs and Miss Walters, who I remember fondly.
When I remember my childhood in Launceston it was mainly good and I was much luckier than many children. We were shielded from knowing what was happening in London and not allowed to listen to the news etc…
We were sent to St Mary's Church twice on Sunday. My parents visited a few times and eventually, in 1942, I returned to London with John. However, the V2 rockets began to fall and we again went with my mother to Cambridge.
What a strange and disrupted childhood we children had – but I think it also helped to strengthen our character.
Hits: 241