.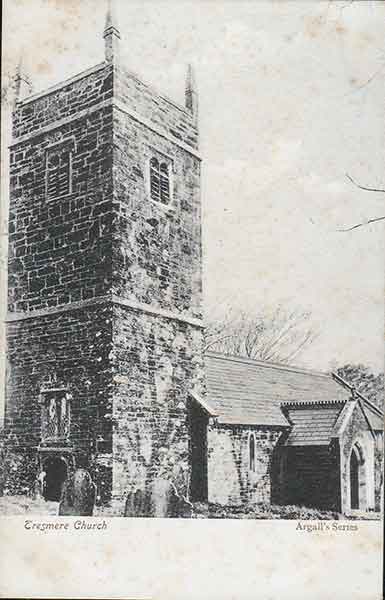 Tresmeer (Cornish: Trewasmeur) is a hamlet and a civil parish in north-east Cornwall approximately seven miles north-west of Launceston.
The civil parish is bounded to the north by Treneglos and Tremaine parishes, to the east by Egloskerry, and to the west by Treneglos parish. Tresmeer, which is a Cornish name, signifies the great town, or, the town near the lake. As well as the churchtown, the other main hamlets are Splatt and Treburtle. At one time nearly all the land in this parish was part of the manor of Werrington, belonging to the Duke of Northumberland, which was purchased of the family of Morice.
The parish church of St Nicholas is in the village at Churchtown, but due to a fall in the congregation it closed for worship in 2015. The structure is simple, containing only a chancel and nave. By the middle of the 19th century, this had become incredibly decayed. There are a south porch and an unused north door. The tower was of two stages and finished with a plain parapet.
Tresmeer was served by a railway station on the North Cornwall Railway line until closure of the route in 1966.
Tresmeer Marriage Register 1813-1837
More Ridin' Roun' a story of a fortnights holiday at Tresmeer in 1937 by Sal Tregenna.
Tresmeer Gallery.
---
Tresmeer itself does not have a war memorial or a roll of honour so it is very difficult to find just the basic information on any of its population that may have served during the two World Wars. However, I know of seven men who served during World War One and have listed them plus the Laneast memorial on Laneast downs does list some men that came from Badgall which is a small hamlet to Tresmeer's east.
Tresmeer's Men that served during World War One.
Thomas Henry Ayers (Ayres)
Thomas was born in 1898 to Charles and Elizabeth Ayers at Churchtown, Tresmeer. His father was an Agricultural Labourer with the family living at Badgall, Laneast in 1911. There is no information on his military service.
Albert John Crabb
Albert was born to Samuel and Elizabeth Crabb on the 10th of February 1890 at Little Sitcott, St. Giles on the Heath. His father was a Carpenter. The family moved to Treburtle and in 1911 Albert worked as a Butcher. Albert enlisted as a Territorial Reserve on the 16th of January 1912 at Launceston with the Duke of Cornwall's Light Infantry (Regimental No. 1225/5714) but in 1916 was transferred to the Worcestershire Regiment as a Private (Regimental No. 202637) serving with the 2/7th, 3rd Battalion. He served in many areas from HQ (1914-1916) to in the field at France from then on. He was gassed on the 17th of August 1918. He recovered from this and was back at Flanders on the 10th of September only to be wounded in action on the 12th of November a day after the armistice. He again recovered from his injuries and returned to England on the 16th of May 1919. He was demobilized the following month. On returning home he had to visit Dr Thompson for further treatment to his injuries sustained in the previous November. He was awarded the Campaign Medal Index Cards and Silver War Badge Cards. He married Janie Rowe in 1948 at Launceston. He died in 1974.
William George Crabb
William was Albert's younger brother being born at Little Sitcott, St. Giles on the Heath in 1892. As Albert, he was living at Treburtle in 1911 and was listed as being a Rabbit Trapper. He enlisted with the Devonshire Regiment (Regimental No. 45610) as a Private serving with the 8th (Service) Battalion. He was killed in action on the 9th of May 1917 whilst fighting in Flanders. His body was never identified but his name is commemorated on the Arras Memorial, Arras, Departement du Pas-de-Calais, Nord-Pas-de-Calais, France, Plot: Bay 4.
Joseph William Dawe
Joseph was born in April 1892 to Richard and Mary Dawe at Tresmeer. His father was a railway platelayer. I have not been able to find his military record, but I do know that he survived the war and lived until 1971 when he passed away whilst living in Bournemouth.
George Jewell Dawe
George was born in 18th of June 1896 to Samuel and Jane (nee Jewell) at North Tregeare, Tresmeer. He was the cousin to Joseph above. His father was also a Railway Plate Layer. He enlisted with the Duke of Cornwall's Light Infantry (Regimental No. 2582/200776) as a Private. He survived the war and lived until 1971 when he passed away in Launceston.
Owen Thomas Davy
Owen was born in 1895 to William and Ellen Davey at Treneglos. His father was a Farmer. He served with the Royal Artillery (Regimental No. 1662271). He survived the war and lived until 1965 when he passed away in Launceston.
Fred Davy
Fred was born in 1903. He could have served with the Royal Engineers Pioneer Corps. (Regimental No. 150653)
Albert A Pethick
Albert was born in 1892 to Job Frank and Eliza (Nee Thomas) Pethick at Badgall, Tresmeer. His father was an Agricultural Labourer. On leaving school, Albert worked as a Waggoner on a Farm.
He enlisted at Launceston in 1914 with the Duke of Cornwall's Light Infantry as a Private (Regimental No. 24462) serving with the 1st Battalion. He was killed in action at the 'Battle of Arras' on the 20th of April 1917. His body was never identified but his name is commemorated on the Arras Memorial at Faubourg-D´Amiens Cemetery, Arras.
The Battle of Arras (also known as the Second Battle of Arras) was a British offensive during the First World War. From 9 April to 16 May 1917, British, Canadian, South African, New Zealand, Newfoundland, and Australian troops attacked German defences near the French city of Arras on the Western Front. There were major gains on the first day, followed by stalemate. The battle cost nearly 160,000 British casualties and about 125,000 German casualties.
B. Turner
No information is available.
Tresmeer's Fallen from World War Two.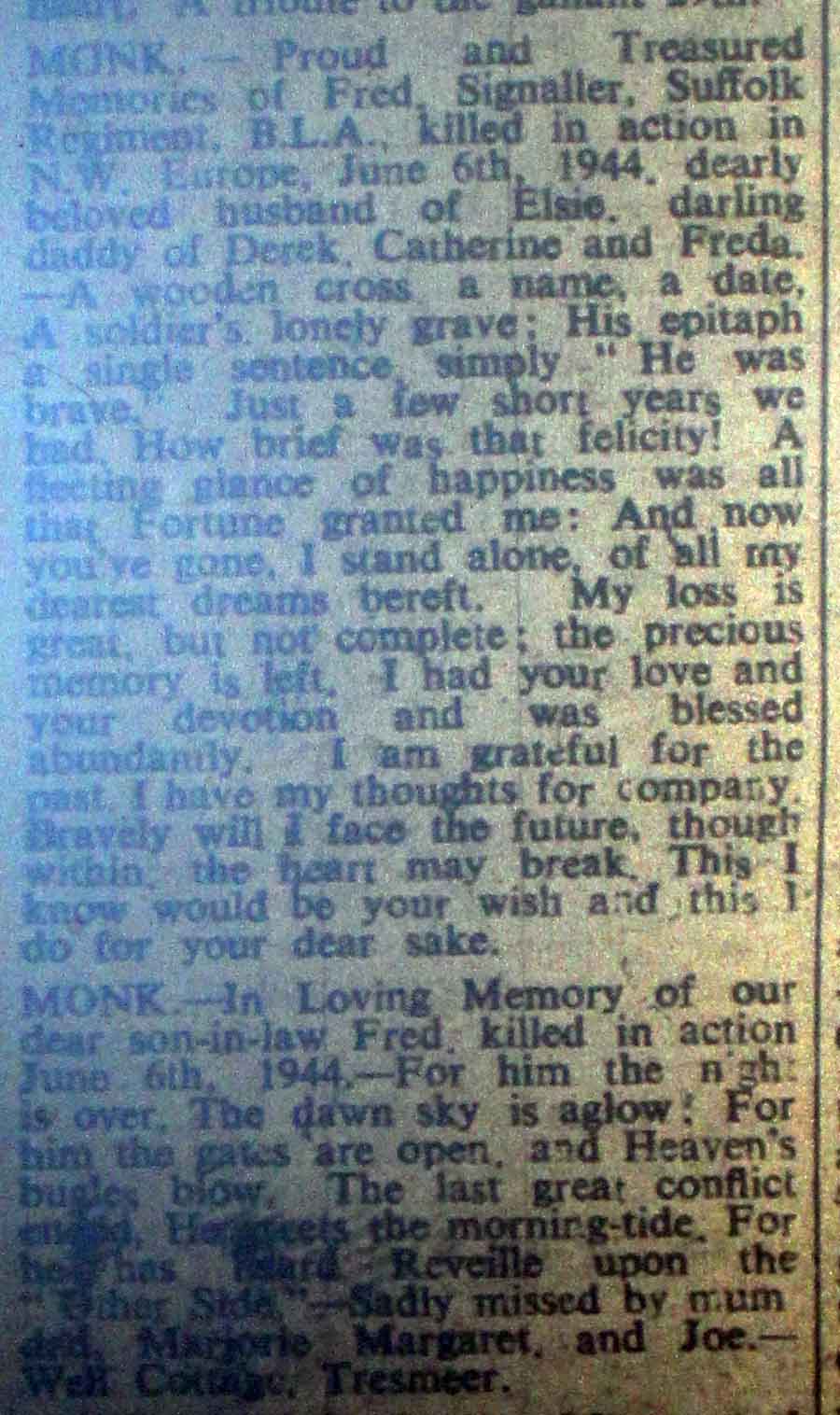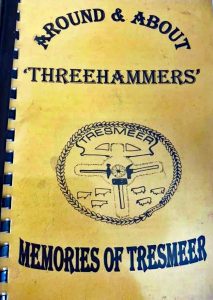 Jim Cory wrote of his wartime in the booklet on Tresmeer, 'Around and About Threehammers, Memories of Tresmeer.' Having been born at Dunaquarry on Christmas Day 1924, he was 14 years old when his father, a Church Steward at Rehoboth Chapel, one Sunday in September, hear that there was to be an announcement on the radio at 11 a.m. "He asked me to stay home and listen out for it and then bring news to him at the Chapel," he said. The 11 a.m. broadcast was made by Mr Chamberlain the Prime Minister who announced that "We are at war with Germany." Jim recalls running up the road to the Chapel to relay the news to his father who then told the preacher. He, in turn, told the congregation. We had a time of prayer and the service was closed.
The next thing I can remember was that all the windows had to be blacked out at night. Within a few days, all fit men over sixteen were called to the school where it was decided to form a unit of the Home Guard. They were first called the Local Defence Volunteers and I remember my dad going and when he returned he was wearing an armband and in his hand he carried a three-foot length of 1″ water pipe with a 12″ bayonet on the end. The next thing I knew, a wooden hut was placed on the bank outside the Chapel wall and a large garden shed was fitted inside the Chapel garage with camp beds inside. A number of men would do guard duty each night. One person doing 2 hours guard durty then for 4 hours whilst someone else took over the watch until 8 a.m. in the morning. When Jim reached the age of sixteen, he too joined the Home Guard. The officer in charge was Lt. Tamblyn, the headmaster of the school. Each village had a platoon and the overall command lay with Major Treleaven who lived at Moor View, Egloskerry.
Jim was on duty the night that the Germans bombed the oil depot at Torpoint. The light from the fires was so bright that the watch could read a newspaper outside their watch hut.
One weekend it was decided to hold a night-day exercise at Bolesbridge in North Petherwin. The object of the exercise was to capture Launceston Castle which was being guarded by the regular army. There were some 150 Home Guard members on the bridge talking etc. when there was a commotion. Some of the NCOs had been taken upstream to Bodgate Farm and they had followed the river down to the bridge. They were armed with thunder flashes and threw them out into the group of men standing around. It was very frightening but certainly showed us what would have happened if it had been Germans with hand grenades.
Tresmeer Home Guard also took part in other exercises in the area, alongside with other Battalions including Launceston's 'Castle Battalion.'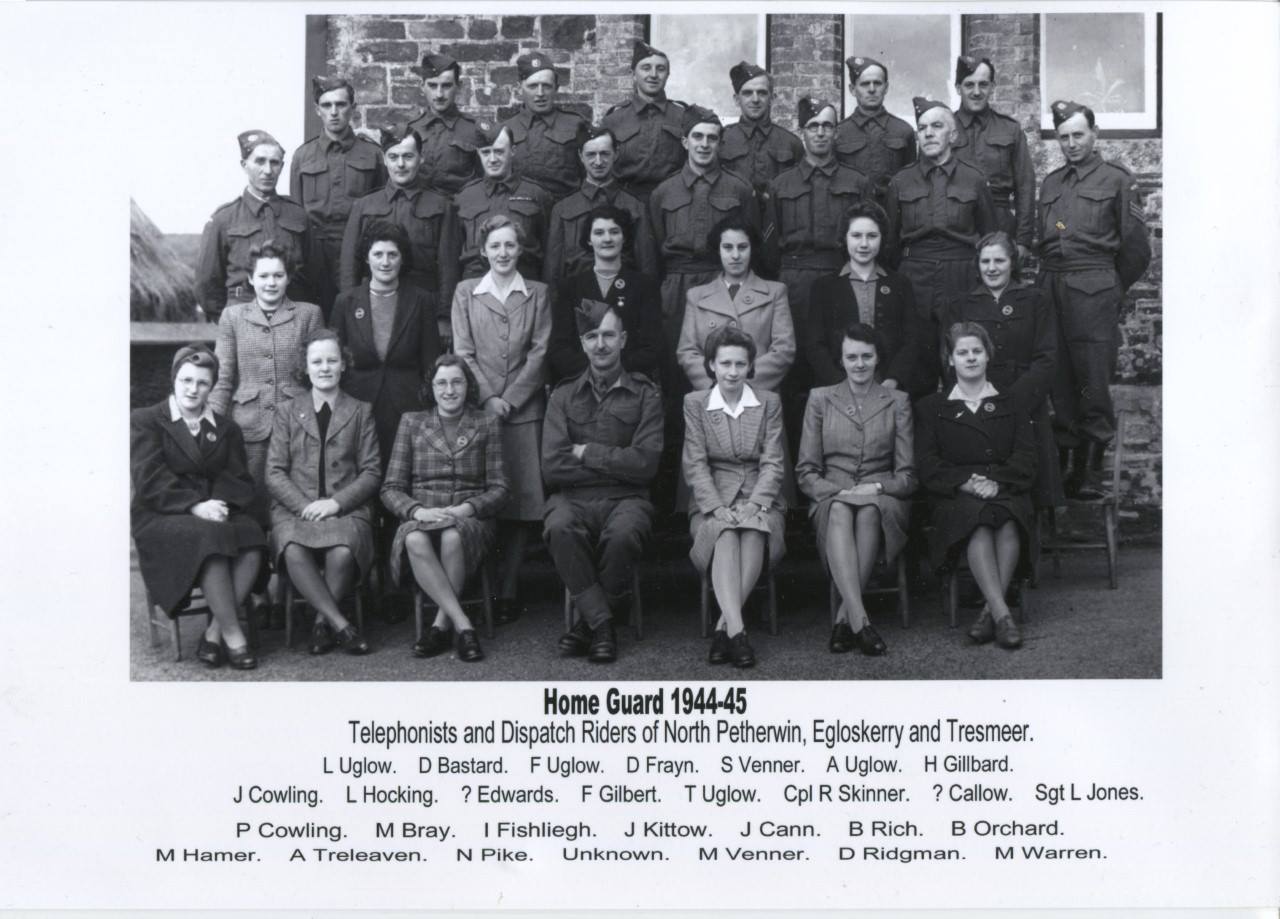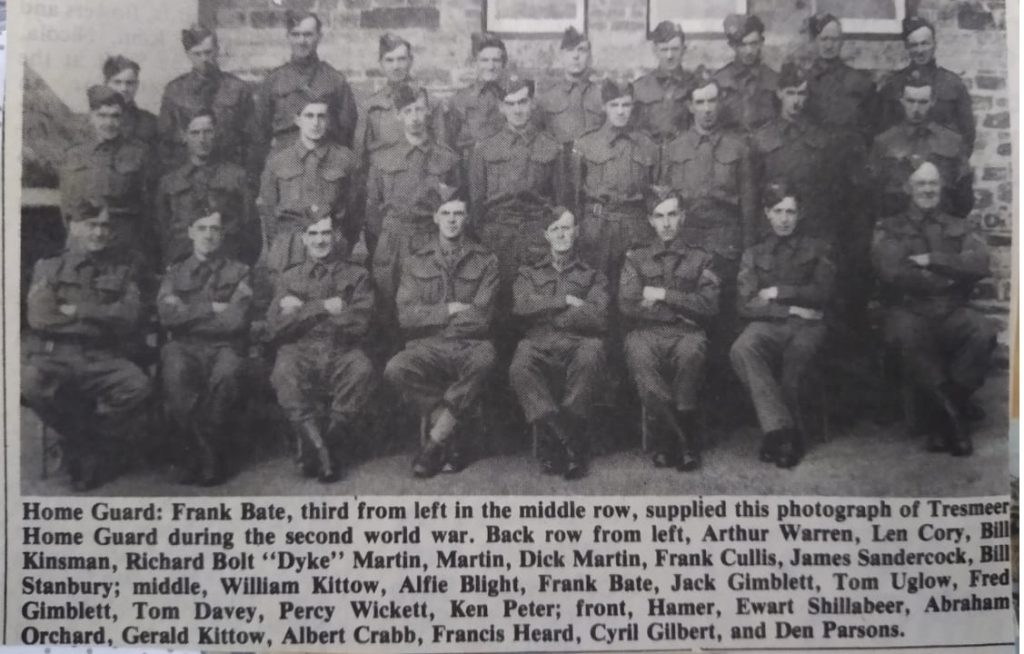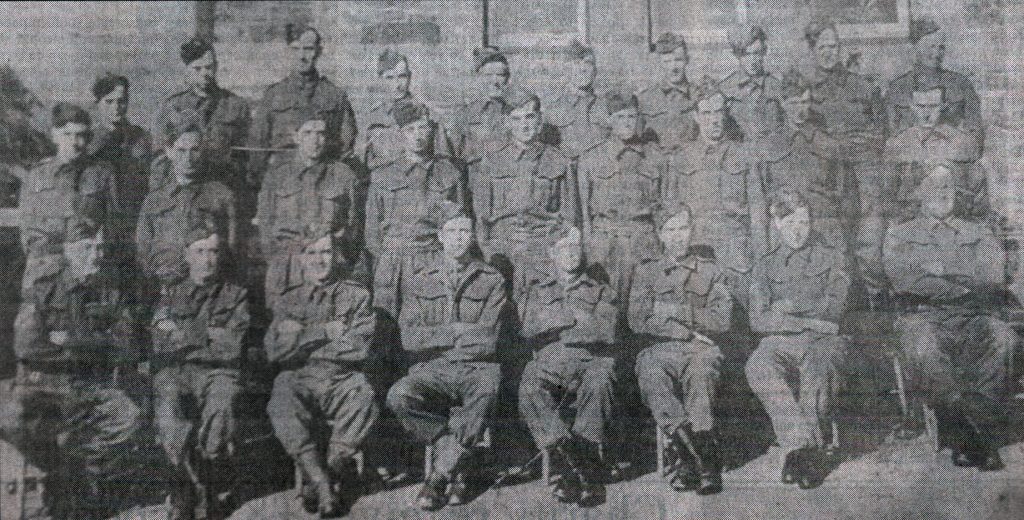 Hits: 1966