.

The Polyphon was bought by Mr William Bailey about the time he took over the Castle Temperance Hotel, High Street, Launceston, in 1895. The Polyphon stands 5 feet 8 inches high and has a magnificent, intricately carved juke-box, which is made of solid oak, plays steel records which are twenty-four inches across. Built by a French manufacturer the motor is a splendid piece of German engineering. It was given to the staff and patients of the Union House at Pages Cross for their enjoyment by Edward Galton Baron Lethbridge, of Tregeare House, then the Chairman of the Guardians. This in turn, later became the St Mary's Hospital for the care of the aged.
It appears the Polyphon was moved to Mount Gould Hospital, Plymouth, for display in a Hospital Fete in 1962 and from there it disappeared until it was found in Plymouth City Museum. While on a visit to that museum a lady from Launceston, Mrs Ruth Sleeman, for many years a Town Councillor and Mayor of Launceston, recognised the machine and successfully sued for the return of it to its rightful home in 1980.
It is now in the Lawrence House Museum, in Castle Street, Launceston, where it has had some repairs carried out to enable it to again be played for the enjoyment of visitors.
---
Post & News, 1963 January, 5th.
Letters – THE ST MARY'S POLYPHON: Another Protest.
Dear Sir, As a member of an old Launceston family who have had their roots in the royal and loyal borough and the surrounding parishes of Lawhitton and Werrington for at least 300 years, I write to protest against the St Mary's Hospital 'Polyphon' being transferred to Plymouth.
This grand old instrument was given to the staff and patients for their enjoyment by the late Edward Galton Baron Lethbridge, of Tregeare House, when he was chairman of the erstwhile Board of Guardians. As to its being 'discovered' by Mr HE Wright, he is under a misapprehension. Like my old friend Mr Joe Philp, I have known of its existence for at least forty years and have heard it played on many occasions.
There used to be a somewhat similar model – though not quite so big – in the hall of the Castle Temperance Hotel during the proprietorship of the late JB Smith, father of Mr Fred Smith, and grand father of Mr Eric Smith. Royale et Loyale.
(Mr Joseph Dew Philp, Garfield Villa, died at 66 years of age on January 1st, 1924.)
---
January 12th: 1963: POLYPHON Dr DM O'Connor, Castle Hill House.
Your correspondent 'Royale et Loyale' [a pity, the synonym] has failed to grasp the change in the hospital situation since 1948 when both St Mary's and Launceston Hospitals were 'ours' so far as Launceston was concerned. Neither now is, St Mary's is a Regional Hospital Board establishment in which Launcestonians have no more rights than the residents of Saltash, Kingsbridge, or any other place in the region. If Alderman Wright means to take the Polyphon from St Mary's he probably needs only the initialled 'OK' of some faceless administrator in Bristol to regularise the rape. If anyone here has the power to stop him I shall be very much surprised. – – – – etc., etc. Donald M O'Connor.
---
Post & Weekly News, 15th December, 1962.
VINTAGE JUKE-BOX & Nearly 50 Records. Discovered at St Mary's Hospital, Launceston
Weighing about half a ton and operated by the insertion of pennies, a century old juke-box has been discovered during work at St Mary's Hospital, Launceston.
Members of the Plymouth & District Hospital Management Committee have heard about the juke-box – its called a Polyphon – from Alderman HE Wright, the chairman.
When it was time for the tea break, Alderman Wright said: "We shall now have a little music." Moving into a neighbouring room, they heard the instrument in action. The magnificent, intricately carved juke-box, which is made of solid oak, plays steel records which are twenty-four inches across. They look like super long-players – in fact they go on for about four or five minutes. "We believe this machine to be about 100 years old and of some considerable value," said Ald Wright. It was produced by a former French manufacturer and the motor is a splendid piece of German engineering.
The Plymouth City Curator (Mr AA Canning)is interested in the find and there is the likelihood of the juke-box being loaned to the Plymouth Museum and Art Gallery, if suitable safeguards are devised. A collection of nearly 50 records is housed in an enormous drawer at the base of machine, which has excellent tone and harmony, but no amplifier. Apart from items from old-style musical comedies, classical music is well represented. The committee heard "Roses from the South" and "The Blue Danube" – the chairman's favourite.
---
The Board of Guardians was made redundant 22 March, 1930, chairman EGB Lethbridge, (40 years), and taken over by Town Council as Launceston Guardians Relief Committee, EGBL still chairman, 24 May 1930. Electricity was installed in 1927, wireless in April 1927. Workhouse closed in 1948, to become hospital for the elderly. A Lethbridge was on the Board for most of its life.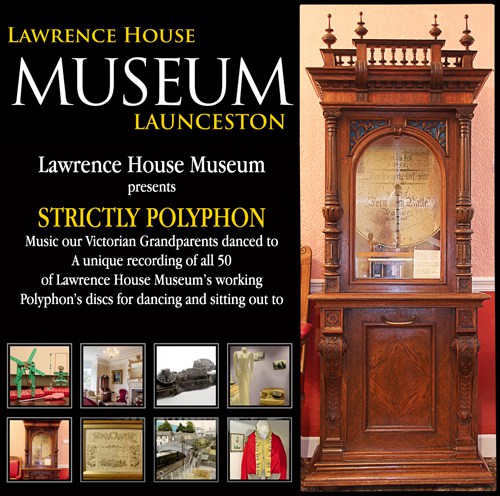 "Strictly Polyphon" the new double CD of all 50 discs played on our working Polyphon now available for purchase. It is on sale at Launceston Tourist Information Centre in the centre of town or from the Museum for £10.
It is also available by post for £12.20 (inc. post and packing). Simply send a cheque made payable to "Friends of Lawrence House Museum" and a clear note of your name and address to Cherry Warne, Lawrence House Museum, 9, Castle Street, Launceston PL15 8BA and she will be happy to send you a copy without delay.
We regret that, at the Museum, we can only take cash or cheque payments made payable to "Friends of Lawrence House Museum"
Hits: 326