.
South Petherwin Baptist Chapel
(2, Chapel Cottages, Newlyn Cottage, Treveth)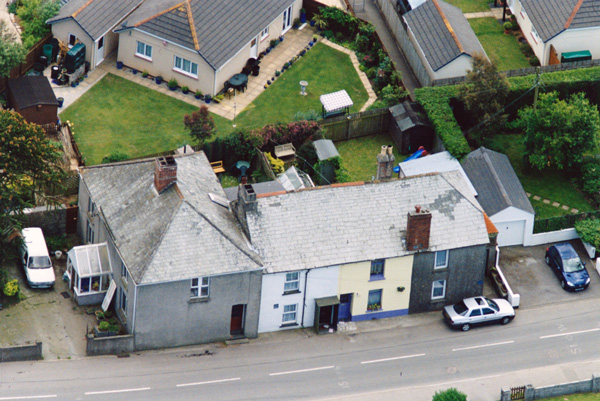 There was a Baptist church in Launceston as early as 1791. This is established by an old Launceston Baptist church minute book which begins with the statement; 'A testimony of the truth as it is in Jesus, or a confession of the belief of the truths and doctrines of the everlasting gospel, practised and maintained by the church of Christ who now assemble for religious worship at St. Thomas meeting in Launceston (and now March 25th, 1791, at South Gate, Launceston).' There was an agreement signed at this first meeting between eight men and three women with the Rev. Mr. Hugh Giles officiating. William Lenn was one of the men to sign and was the great-great-grandfather Stanley L. Gould who was president of the Devon and Cornwall Baptist association for 1943-44. Another of the signatories was Jacob Grigg. In March of 1793 Jacob was recommended to go to the Academy at Bristol to study for the ministry, and afterwards to return to the church at Launceston as Pastor. Jacob however never returned to the town, instead becoming one of the earliest Baptist missionaries ending up as a successful minister in America. He was at the fore front of the anti-slavery movement and was being remembered some 140 years later when the black American GIs were stationed in Launceston during the Second World War.
The Southgate Baptist church which was situated in what is now 'Chings Alley,' ceased to exist as an organised body in 1812, but its few stalwarts continued to be active in the district. In 1849 a Baptist church was founded in South Petherwin. There are no minutes or records surviving of that church, but it comprised of a modest chapel and pastor's house next to Hendra Farm on the south side of the Launceston to Liskeard road.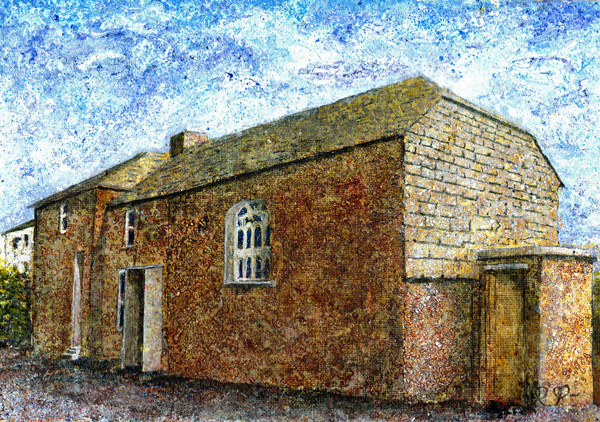 George Parker who became a minister in 1874 writes in the Lifton minute book on the 26th March 1876; 'Comd. Preaching the gospel in the room for many years occupied by the Brethren in Duke Street, Launceston. We had nine in the morning and twenty-six in the evening. We hope to continue the service here, and to work it in connection with Lifton.' The service did continue and the church at South Petherwin moved to Launceston with the building being sold for £75 in 1890.
The Chapel was then converted into two 2 bedroomed cottages (No's. 1 and 2 Chapel Cottages). The first known owner was a William Tink (b. 1831 d. 2nd May 1900). William was born in Lewannick to farmer Samuel and Catherine Tink. Samuel first farmed Polinnick, South Petherwin before taking up the tenancy at Stenhill, North Petherwin. He married Jane Warne (b. 1835 d. 16th Jan 1907) at Plympton St. Mary in 1877 and William over from his father to farm at Stenhill. William and Jane never had any children and, on their retirement moved to 2, Chapel Cottages. William died on 2nd May 1900 and left effects to the value of £1098 12s 10d to Jane and Ernest Maddever Hicks (farmers). Part of the will stated that on Jane's death or re-marriage, the remaining effects were to be passed to William's niece, Elizabeth Ann Tink (b. 1st October 1863 d. 10th Dec 1949). Jane died on 16th Jan 1907 and left her effects to the value of £97 10s to William Warne. Elizabeth Tink then inherited 2, Chapel Cottages in full whereby she set up home. Elizabeth only lived there for a short period of time, finally renting it out from the late 1930's onwards.
Elizabeth died still a spinster on 10th Dec 1949, having moved to Trevosper, Bray Shop, and in her will she left her total effects including 2, Chapel Cottages (now known as Newlyn Cottage) to her sister Kate Henwood (b. 11th Nov 1871 d. 30 June 1957) of Higher Pempwell, Stoke Climsland. Kate also rented the cottage out. On Kate's death, she bequeathed her all her effects of £893 7s 4d to her husband, retired farmer Alfred William Henwood (b. 1903 d. 25th April 1964). On Alfred's death in 1964 he left all his effects to his children, Alfred William Henwood (b.1903 d.1975) of Lower Pempwell, Eveline Mills (b. 1907 d. 1972) of North Down, Stoke Climsland, and Doris Parnell (b.1906 d.1993) Trevosper, Bray Shop.
'Newlyn Cottage' was then sold by Doris Parnell to Leonard Percival Hill (b. 19 Oct 1902 d. 13th Dec 1976) on March 15th 1967. Born in Surbiton, Surrey, to William and Jessie Hill, Leonard was a Journeyman carpenter and joiner. Leonard moved to South Petherwin on his retirement and continued to live at Newlyn Cottage until his death on 13th Dec 1976.

With Leonard dying intestate on the 28th July 1977, letters of administration to his estate were granted to Dorothy Mary Allen of King Street Flats, Plymouth, out of the Bristol Probate Office. However, Dorothy herself died on the 18th of November 1978 without having fully administered the estate of Leonard Hill. Therefore, on the 21st Dec 1978, letters of administration de bonis non (Latin for "administrator of goods not administered" the person appointed by a probate court to finish probate proceedings when the executor or previous administrator can't finish the job) to the estate of the Intestate so left unadministered were granted to David John Strange of 40 Springfield Close, Elburton, Plymouth, out of the Bristol District Probate Registry.

Barry John and Sarah Jean Matthews of 2 Wills Row, Clifton Road, Park Bottom, Illogan, Redruth, duly purchased Newlyn Cottage on 25th Jan 1979, for the sum of £4,000. The Matthews's changed the name from 'Newlyn Cottage' to 'Treveth' and then in 1980 placed the property on market, selling it to Clive William Sandercock on 6th November 1980 for the sum of £8,250.
It was Clive that changed the upstairs layout by adding the bathroom at the time of purchase in 1980 (Building Regs approval applied for in July 1980 and being approved in Oct 1980). In 1994, a piece of land to the rear of Treveth, roughly 11' x 16' was purchased for £350 from the administrators of Mr John Wills, bankrupt of Trelinnoe Farm, South Petherwin. This gave Treveth a more useable garden.
The following year on 21st April 1995 Clive Sandercock sold Treveth to Roger Pyke. This brought family connections for the property full circle, as Roger can trace his family back to the Tinks from Treneglos.
Hits: 42