The War of 1812 (18 June 1812 – 17 February 1815) was fought by the United States of America and its indigenous allies against the United Kingdom and its own indigenous allies in British North America, with limited participation by Spain in Florida. It began when the United States declared war on 18 June 1812. Although peace terms were agreed upon in the December 1814 Treaty of Ghent, the war did not officially end until the peace treaty was ratified by Congress on 17 February 1815.
Tensions originated in long-standing differences over territorial expansion in North America and British support for Native American tribes who opposed U.S. colonial settlement in the Old Northwest. These escalated in 1807 after the Royal Navy began enforcing tighter restrictions on American trade with France and press-ganged men they claimed as British subjects, even those with American citizenship certificates. Opinion in the U.S. was split on how to respond, and although majorities in both the House and Senate voted for the war, they divided along strict party lines, with the Democratic-Republican Party in favour and the Federalist Party against. News of British concessions made in an attempt to avoid war did not reach the U.S. until late July, by which time the conflict was already underway.
At sea, the Royal Navy imposed an effective blockade on U.S. maritime trade, while between 1812 and 1814 British regulars and colonial militia defeated a series of American attacks on Upper Canada. The abdication of Napoleon in early 1814 allowed the British to send additional troops to North America and the Royal Navy to reinforce their blockade, crippling the American economy. In August 1814, negotiations began in Ghent, with both sides wanting peace; the British economy had been severely impacted by the trade embargo, while the Federalists convened the Hartford Convention in December to formalise their opposition to the war.
In August 1814, British troops captured Washington, before American victories at Baltimore and Plattsburgh in September ended fighting in the north. In the South Eastern United States, American forces and Indian allies defeated an anti-American faction of the Creek. In early 1815, American troops defeated a major British attack on New Orleans.
13 men with Launceston connections who took part in the fighting.
Thomas Braginton, (b. July 1780 Launceston ) the son of John junior Braginton, served as a Drummer with the First of East Devon Regiment of Militia from 1802-1835. Thomas enlisted at Exeter on December 15th, 1802. He married Mary Hutchings at St Lawrence Church, Exeter on November 10th, 1806. In 1817 they had a daughter, Harriet, who was born in Exeter. Thomas was discharged on October 10th, 1835. In 1841, Mary his wife, died and four years later in the April of 1845, he remarried, to Susanna Symes.  He went on to live out his life working as a shoemaker and living at St. Sidwells, Exeter, where in the 1851 census he can be found living with Susan, who was 20 years his junior. She was a nurse. Thomas passed away on January 2nd, 1857.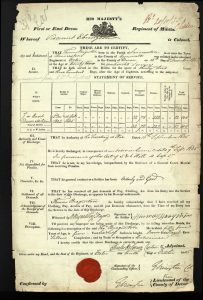 Richard Deacon,  (b. 1778 Launceston), served as a Private with the  Twenty-Eighth Regt Of Foot from 1804-1817. Richard was involved in the fighting at Waterloo in 1815 with Captain & Bt. Lieutenant Colonel Sir Frederick Stoven's Company. He first served as a reservist from August 14th, 1803 until being called up on July 11th, 1804 for full service. He was eventually discharged on health grounds, suffering from chronic rheumatism on August 13th, 1817 and was admitted to the Royal Chelsea Hospital where Richard died on September 25th, 1850 having spent the rest of his life there. He won many medals during his career in the Napoleonic wars.
Edward Eastcott, labourer (b.1786), served with the 2nd Foot Soldiers from 1809. Edward attested at Chelmsford on April 4th, 1809 to serve for a limited period.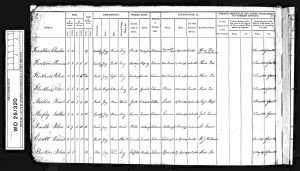 John Ellis, labourer (b.1796), served as a Private with the 53rd Foot Soldiers, 1st Battalion from 1816. John attested on December 24th, 1816 for an unspecified period. He was admitted on July 19th, 1826 to the Royal Chelsea Hospital, London and lived out his life there until his death on September 19th, 1850.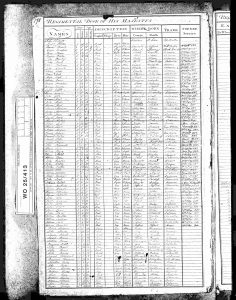 John Horrell, labourer (b. 1788, Launceston), served as a Private with the 80th Regiment of the Horseguards from 1812-1824. He was then transferred to the 2d Company of Royal Veterans where he was discharged on April 18th, 1826. He attested on May 4th, 1812.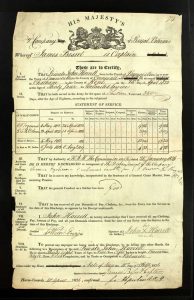 Abraham Houchin, labourer (b.1786, Launceston), served with the 85th (Or Bucks) Regiment Of Light Infantry from 1809-1815, starting as a Private, but after receiving a promotion spent the last 14 months as a Corporal. He received a gunshot wound to the leg whilst helping the British Army capture Washington on August 24th, 1814. Due to the injury, he was eventually discharged on June 21st, 1815.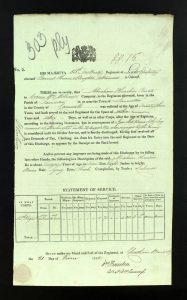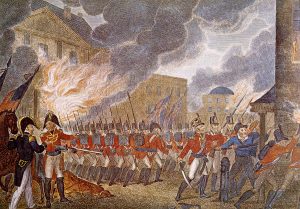 John Langdon, miner (b.1792), served with the 46th Foot Soldiers, Depot from 1813-1820. John attested at Gosport on October 20th, 1813 for an unlimited period.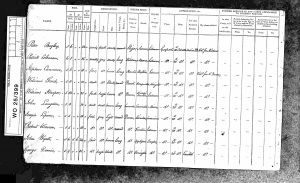 William Luney, mason (b.1786, Launceston), served as a Drummer with the  32nd Foot Soldiers from 1807. William attested at Newcastle-upon-Tyne on September 11th, 1807 to serve for an unlimited period. He was discharged on March 19th, 1822 and admitted to the Royal Chelsea Hospital in London. William probably died in 1839 having moved back to Launceston.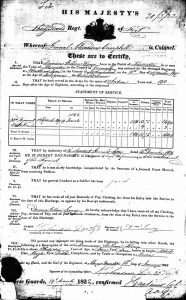 George Oke (b.1786, Launceston) served with the 32nd Foot Soldiers, 2nd Battalion from 1808-1816. George was attested on September 9th, 1807 to serve for an unlimited period.
William Pullin, labourer (b.1788), served with the 28th Foot Soldiers, 2nd Battalion from 1812. William was attested on January 11th, 1812 to serve for a limited period.
Moses Simmons,  labourer (b.1793), served with the 80th Regt Of Foot from 1811-1817 as a Private. He attested at Launceston on May 17th, 1811 serving for an unlimited period. It is shown on his paperwork that as a soldier, his conduct was bad. However, it was from suffering chronic hepatitis and Rhumatism that he was discharged on September 10th, 1817.
William Symons,  labourer (b. 1792, Launceston), served with the 22nd Dragoon Guards from 1809 to 1815 when he was invalided out of service on March 4th. William was attested on July 7th, 1809 for an unlimited period.
Hits: 34