Railway Schemes that never made it
.
Just like in recent history with the dot com crash, the Victorians witnessed their own mad rush to invest in the new technological age of steam, or more to the point in railways which at the time was termed 'railway mania.' It was Cornishman Richard Trevithick who opened up the possibility of making a steam-engine propel itself – by using high-pressure steam to increase the power/weight ratio. By 1804, one of Trevithick's engines was trundling along crude early rails at an ironworks in Wales. It would be another 21 years, however, with the opening of the Stockton & Darlington line, that the world saw a proper steam locomotive haul wagons for the first time. That locomotive was George Stephenson's Locomotion, which reached speeds of 15mph on the opening day. But Locomotion proved to be unreliable and horses proved to still be the mainstay for that line for the next few years. It was the opening of the  twin-tracked Liverpool to Manchester railway  on 15 September 1830, with Stephenson's new engine Rocket leading the way. Encouraged by the success, entrepreneurs began submitting applications to parliament for all sorts of railways schemes. As stated this became known as 'railway mania', and in 1845, 240 Acts were passed (amounting to 2,820 miles of new track), compared to just 48 the year before and in 1846 a further 272 Acts being passed. There was some opposition but over the next ten years, as railway companies became attractive investments, unprecedented levels of capital funded the construction of 4,600 miles of track. However, around a third of the railways authorised were never built through various reasons, either the companies collapsed due to poor financial planning, were bought out by larger competitors before they could build their line, or in some cases the schemes turned out to be fraudulent enterprises to channel investors' money into other businesses. Launceston itself was heavily promoted by the towns businessmen in an effort to attract the railway and many schemes were initiated the first in 1836 being a line from a proposed new harbour in the St. Gennys parish at Tremoutha (Crackington Haven) which fell into the later category of a fraudulent scheme. Further lines were proposed such as one from Camelford across the edge of Bodmin Moor to Altarnun and then on to Launceston via Lewannick eventually joining up with the Launceston and South Devon Railway at Newport. There was also one proposal for a central Cornwall line taking in Blisland as the line journeyed up from Bodmin on the eastern flanks of Brown Willey. One can only imagine what shape the railways would have been in had that latter scheme been constructed. It would certainly have made closing the Launceston Station a harder task in 1967, and would have provided Cornwall with a much needed alternative route to that which exists today with its fragility along the coast at Dawlish (below in 1930).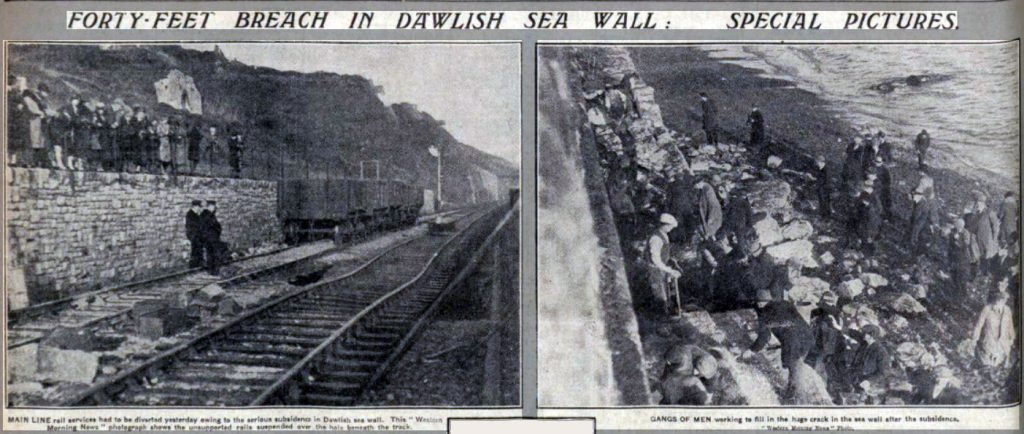 Here are some of those failed schemes in more detail.
1836 Tremoutha to Launceston Line    1874 Camelford, Altarnun and Launceston railway    The Cornwall Central Line
Hits: 307