.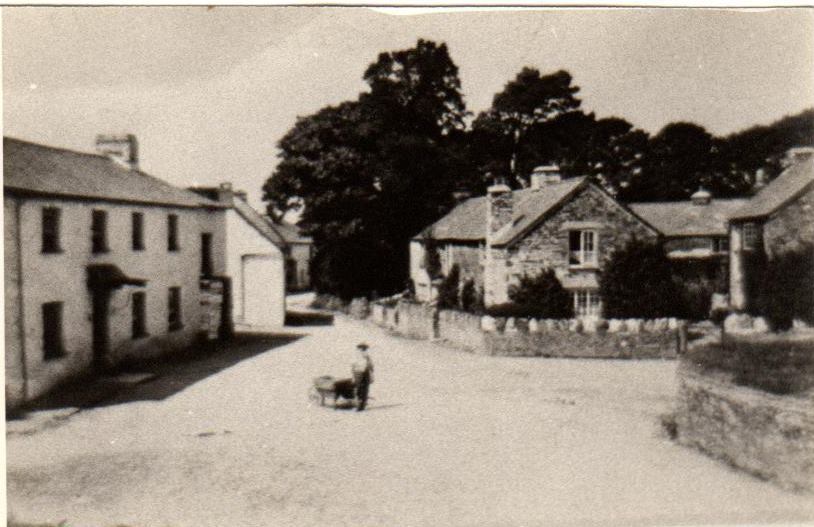 Lewannick (Lanwennock, Lannwenek, Lawaneck, Lewanecke, Lawannick) is situated approximately five miles southwest of Launceston. The civil parish has a population of 884, increasing to 973 at the 2011 census. The parish  is within the Deanery and Hundred of East. It is bounded on the north by Trewen and South Petherwin, on the east by Lezant, on the south by North Hill and on the west by Altarnun. The parish church is dedicated to St Martin.
Evidence of early medieval habitation at Lewannick is in the form of two inscribed pillar stones, each having text in both Latin and ogham characters; on the basis of the ogham text, these stones have been dated as having been inscribed between the fifth and sixth centuries. One is located in the village churchyard, and was dedicated to a "Ingenuus"; the other has been moved inside to the church nave, and both texts mention an "Ulcagnus". The Domesday Book, completed in 1086, mentions settlements within the Parish at Trelaske, Trewanta, Trevell and Polyphant (the Polefans and Polofant of the Domeday Book. Was held by Uluric in the Confessor's days).
The principal villages in this parish, besides the church town, are Hicks Mill (Hix-Mill), Polyphant (Pollyfont), Plusha (Plashes Cross), Trenhorne, and Trevadlock. Hix-Mill can only be reckoned as partly in this parish; the only part which it can claim, lying on the west side of the bridge. On the eastern side the north part is in Trewen, and the southern in South Petherwin ; so that this small village lies in three parishes. At Polyphant there is a famous freestone quarry, which seems to have been well known to our Saxon ancestors, as the greater part of the semicircular arches with Saxon mouldings now to be found in the eastern part of Cornwall, appear to have been formed of this stone. The doorway at the White Hart Inn, in Launceston; the new house at Trebursey in South Petherwin ; and the Duke of Bedford's house
in Milton Abbot parish in Devon, appear to be indebted to the stone of this almost inexhaustible quarry. On the barton of Trelaske there was formerly a manganese mine, from which a small quantity of this semi-metal was raised. It had a regular lode about ten fathoms from the surface ; but this was not a success and the mine was soon closed and abandoned. The little river Inney which falls into the Tamar at a place called Innysfoot, flows through the north and east of this parish, and the Lynher runs through it in the south and west.
A new turnpike road was cut from Five Lanes, by Two Bridges, to Holloway-cross gate, avoiding the dangerous hills by Hicks' s mill in the 1840's.  The flood on the 8th July,1847, swept away part of Two Bridges, and interrupted the communication later that year, when a new bridge was finished.
The manor of Trelaske belonged to the Upton family prior to the Reformation; but in the reign of Henry VIII. it was carried by co-heiresses to two brothers of the Lower family. Thomas Lower, Esq. who died in 1703, sold his moiety of the manor and the barton connected with it, to John Addis, Esq. whose son in 1720 purchased the other moiety of William Plowden and some others, into whose hands it had fallen. In 1741 William Addis, Esq. bequeathed the whole of this property to Nicholas Swete Archer, great uncle of Samuel Archer, Esq.
The manor of Tinney Hall belonged in the latter part of the seventeenth century, to Mrs. Dorothy Beaumont, who bequeathed it to her nephew John Speccot, Esq. of Penheale, by whom it was devised to Thomas Long, Esq. Who died about the year 1730, when it became the subject of expensive litigation. The decision was finally in favour of the Rev. Charles Sweet, of Kentisbury in Devonshire, who married Mr. L0ng's daughter.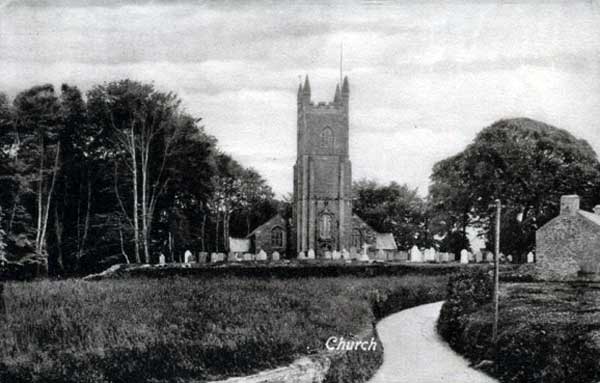 The Church is a building of local freestone in the Perpendicular style, consisting of chancel, nave of five bays, aisles, north and south porches and an embattled western tower of pinnacles containing 6 bells, cast in 1767 and recast after the 1890 fire which destroyed the Church. The fire took hold on the 11th of Janaury and was caused by a defective stove pipe. The stove had been lit at mid-day on the Saturday by the sexton, James Barber, for the purpose of warming the building for the usual Sunday service. Mrs. Wild, who lived opposite the Church, awoke at one o'clock on the Sunday morning to see the Church alight and immediatley raised the alarm, first arousing  Isaac Dawe, coachman in the employ of the vicar (the Rev. C. H. Archer) and his two sons. The vicar and churchwardens (Messrs. R. Lukey and Reed) and the whole village were soon arounsed, and effort were at once made with the limited means at their disposal, to quell the flames with no avail. Issac Dawe made haste for Launceston where he summoned the Launceston volunteer fire brigade at 2:15 a.m. and with Lieut. Hayman in command were soon on the scene. By now the fire had already destroyed much of the building although the belfry was still intact. The brigade were soon hampered by the lack of a good supply of water and the fire gradually spread to the belfry, catching the ropes, and reaching the first of the three floors of the tower. The whole of the interior of the tower was soon ablaze and the bells fell to the floor. Although the monuments on the north side were not so damaged, those on the south, owing to the wind direction, were completely destroyed. The four carved and moulded freestone columns on the south side of the Church, dating back to 1540, were damaged beyond repair.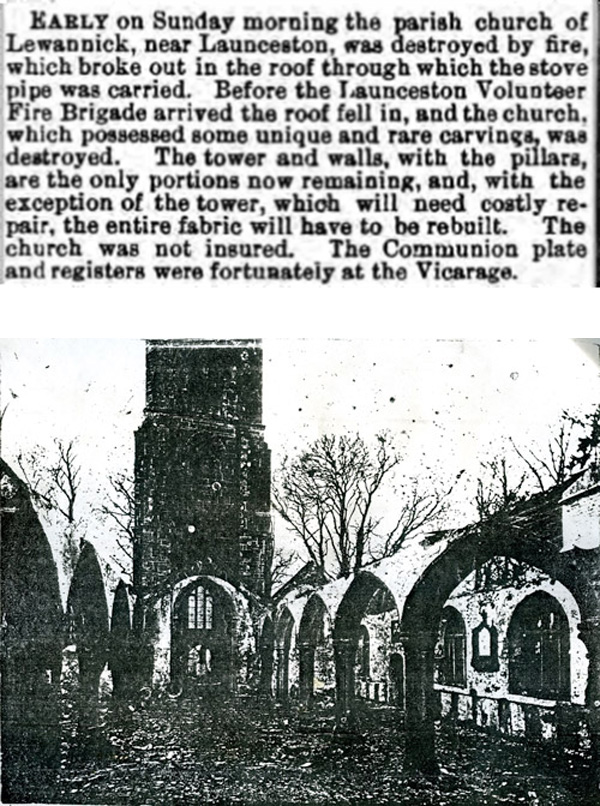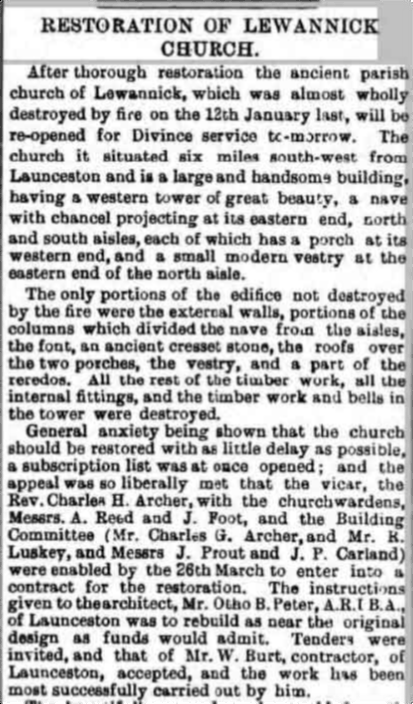 After the fire, the Church was rebuilt on the same plan as the former edifice, at a cost of nearly £2,000, under the direction of Launceston architect Otho Peter. A monument to Ezekiel Arscott, ob. 1682, with numerous memorials of later date to the families of Archer, Cundy and others, were all destroyed by the fire, together with the bench ends, many of which were of ancient carved oak. The chancel retains an ancient piscina and aumbry and there are 180 sittings. The register of baptisms dates from the year 1660; marraiges, 1775; burials, 1738, all which are available from the Truro Records Office.
Before the fire the Church was mainly seated with very ancient oak benches; on the end of one nearest to the south porch was the date 1546. They were richly carved throughout, somewhat similar to those of Altarnun Church, which were done about the same time. On one or two of the bench ends, in the north aisle, was the monogram A. U., i.e., Arthur Upton, of Upton, in this parish.
The bell, which were also greatly damaged by the fire, were re-cast by Mears and Stainbank, in 1890. The original bells were cast by the Penningtons, in 1767, who were noted bell-founders from Lezant. Each bell had an inscription as follows:-
1- "I call all ye to follow me. Penningtons, Makers, 1767."
2- "God preserve the Church. I.P., F.A.P., (Fitz Anthony Pennington) 1767."
3- "God save the King. I.P., F.A.P., 1767."
4- "Penningtons cast us all. 1767."
5- "Charles Bedford, Vicar. D. Cundy, junr., T. Bant, C.W., I.P., F.A.P., 1767."
6- "I call the quick to Church, & Dead to Grave. Swete-Nicholas Archer, Esqr., 1767."
In the Churchwarden's accounts of Lewannick for 1767, are the following entries :-
"Mr. Pennington, towards running the New Bells, £30 0s. 0d."
"Mr. Pennington, more for addition of Bell Metal, 6cwt. 25 lbs. at Six pounds per hundred, £45 17s. 0d."
Before the fire the arms of Upton and Tresithney, were displayed in the east window of the north aisle. On the exterior of the east end of the same aisle were the arms of Trecarrel carved in granite. He is supposed to have been a generous benefactor to the Church. There is also standing on a low detached column a circular block of wrought granite, perforated with with seven holes, said to have been used for holding the seven symbolical candles and dates from the middle ages (Cresset Stone blow).
Monuments
Amongst the monuments and inscriptions that were destroyed in the 1890 fire was this one to Ezekiel Arscott :-
"Rise enobled Cerean, & religious gent, by birth, by life, by death.
Semel calcanda vis lethi.
here lies interred a saint that lived to dy;
and being dead yet lives eternally,
what though ezechiel here under ly,
yet arscot's soal is soard above ye sky.
what though strong death made his weak body yeeld
yet israel's strength caused him to win ye feeld
he always led his life as on prepar'd to dy;
hees dead yet lives to shine perpetually.
Buried on the 3rd day of July, An'o Dom. 1682."
There were also several monuments and tablets to the Archer family, inscribed :-
"MEMORLE SACRUM
In the vault adjoining the north wall of this Church are deposited the Remains of Edward Archer, Esqr., of Trelaske in this parish, Obiit 11th November, 1802;AET.60.
Theophila, wife of Edward Archer, Obt. 30th April, 1798; AET. 42.                                            Dorothy Ayre, wife of Samuel Archer, Esqr., Obt. 7th May, 1797; AET.39
Jane Archer, daughter of Samuel Archer, Esqr., Obt., 12th June, 1818; AET. 28.
Samuel Archer, Esq. of Trelaske in this Parish, Obt. 6th June, 1822; AET. 77."
---
"Adjoining the north wall of this Church are deposited the remains of the Revd. Samuel Archer, vicar of this parish; Obiit January 9th, 1831; AET. 36.                                                                         Edward Archer, Esq., of Trelaske in this parish; Obiit May 16th 1834; AET. 42.                                                                           William his son; Obiit March 23rd, 1832; AET. 19 months."
---
"Sacred to the memory of Jane, the beloved wife of the Revd. Charles H. Archer, and daughter of William Rashleigh, of Menabilly, Esqr.; who died at Menabilly, Oct. 23rd, 1854; in the 31st year of her age. Her remains are interred in the family vault of her ancestors at Tywardrath."
---
"In memory of William Vosper, Esqr., Barrister at law, who fell asleep in Jesus April 5th, 1855; aged 51.                                                                                                                                                             His end was peace.
Also Eliza widow of the above, and wife of the Revd. W. Tare, who was suddenly removed to her heavenly home, November 5th, 1867; aged  64.                                                                                     Wisely waiting for her Lord."
---
In the Churchyard are monuments which bear the following inscriptions :-
"Here lyeth the body of Richard Wadge of this parish, yeoman, who was buried the fifth day of June, in ye year of our Lord 1740, and in the 78th year of his age.
Here lyes the dear remains of one,
Who loved all, and injured none,
So honest pious and so kind
He's left but few such here behind,
He served three masters with all care;
In Sundays only full eight year,
And now he's gone entom'd in dust
To rise in glory with the just.
Johannes Wells, Sculp, 1740."
---
In memory of one Richard Spear and his two sons there is the following epitaph:-
"Almighty God with age hath brought me here
To lodge in grave with my 2 children dear,
The father and 2 sons entom'd do lie
Who feared God and lived in unity
The Yound Men's life was short like to a span
Their father lived in years near 81
Their good fame the actions of the just
From youth to age shall blossom in the dust."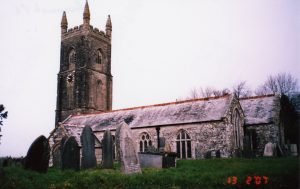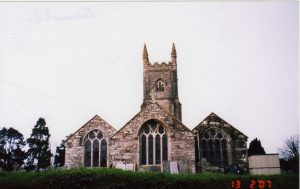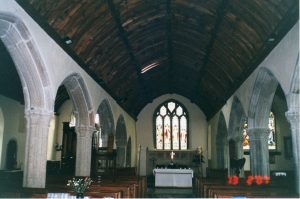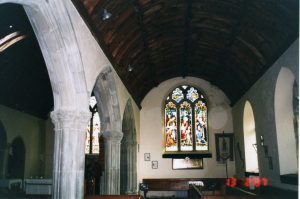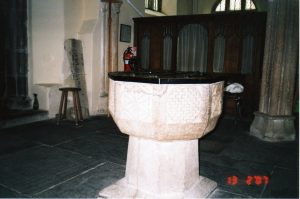 ---
Methodism
It was not until 1810 that the Chapel at Trevadlock Cross (above in 1900 formerly known as Varley Cross Chapel) was built, but the first Methodist Prayer Meetings were held in the house of a shoemaker, named Evans, in 1805. These were conducted by one of the earliest to introduce Methodism into Lewannick 'Uncle Will Downing,' and Mr. William Dingley, of Knighton (anciently Netherton). They faced a very hostile reception from George Mangles the clergyman of the parish at the time, who threatened to withdraw his custom from the shoemaker if he continued to harbour the Methodists. With this threat. Mr. Evans withdrew his consent for the Methodists to meet at his property. Undaunted, the Methodists hired a room, in Lewannick village near the church gate, of a widow named Peter, for £4 per annum. The clergyman again interfered, and offered the owner of the property £14 a year which was duly accepted, and both the widow and Methodists were turned out of the house. Again the Methodists were not put off, and in 1807 they rented a cottage from local farmer Reginald Jenkin who himself rented the property from another person. The cottage was fitted up for a place of worship. In doing this, the tenant permitted alterations that were not allowedable by law. The Reverend Mangles again took matters into his own hands by employing a Plymouth lawyer, and Jenkin was told that he would be prosecuted unless he gave forty shillings worth of bread to the poor, and turn out the Wesleyan's from the cottage. This he did, saying at the time "I do not like law, and the bread would do good to the poor." By this time, the Wesleyan's had formed a class lead by a Mr. Jasper and the meetings were preceded by a preaching service. Mr. Webb of Wisewandra, was the first preacher. Driven yet again from a place with which to meet, in 1808 the small group of  persecuted Wesleyan's were given the use of an unoccupied room, at the east end of their dwelling at Trevadlock by John and Grace Nanscawen Dawe. The room was prepared and adapted as a place of religious worship. With John Dawe being a yeoman, and the house his own, neither the Reverend or law could molest the group, but this still did not deter George Mangles and in a vindictive spirit resolved to bring ruin upon Mr. Dawe and his family. He said, "If it had not been for Dawe, at Trevadlock, I should have driven the Methodists out of the parish. I'll ruin hime, however; I'll break composition for Tithes, and take them in kind." The following notice was therefore served :-
"Mr. Jno. Nanscawen Dawe,
I hereby give you notice to set out and account to me from the first day of March next ensuing for your Vicarial Tithes in kind of all the Lands and premises which you do now, or shall then occupy, or farm in the parish of Lewannick, in the County of Cornwall, as all Composition for such Tithes will be determined and expired on that day. And I hereby inform you that I appoint the place for your giving notice of setting out such Tithes to be at the Vicarage House at Lewannick aforesaid, there to be delivered or left with or for me, or for my agent, whom I shall for that purpose nominate.
Witness my hand this 30th day of August, 1810. Geo, Mangles, Vicar. Witnessed by Geo. Smith."
George Mangles knew full well that John Dawe could do nothing but to comply with the rigid Tithe, but as he prepared accordingly with the request, fate took a hand and the Revered George Mangles suddenly died, this rendering the notice void. Duly relieved, John Dawe, offered the Wesleyan's a piece of land at Trevadlock Cross for a Chapel and £10 as a donation.
During the construction of the Chapel, the Reverend William Beal conducted an open-air service on the site, and a man on the opposing side of the road, who owned that land, standing on the hedge, uttered imprecations and exclamations, saying "Now you are going to build a conventicle so near my property, I shall not be able to keep either duck or fowl." The Chapel was opened for worship on Good Friday, 1811. Methodism had taken root and in 1836 a Chapel Keepers cottage was built.  The congregation continued to grow and 'Varley Cross' Chapel, as it was commonly called, was enlarged in size in 1849 this was after the burial ground was provided in 1844. In 1886, the Chapel was re-seated, the School-room enlarged and new vestries built. and in 1899 the Chapel was completely renovated and was re-opened on September the 28th, as a jubilee celebration of the former enlargement.
Such was the success of the Wesleyan's, that in 1887 a new Chapel was built at Polyphant, with a burial ground.
In 1901, James Venning penned this poem reminiscing of his school days at Trevadlock Chapel:-
REMINISCENCES OF MY SCHOOL DAYS.
"Twas at the old school of Trevadlock Cross,
Some lessons I learnt of 'Profit and Loss;'
Here by the roadside I often used to play,
And spent many happy hours of childhood day.
No wonder one feels to revere the spot,
And think oft of old scenes not soon forgot;
Of the many friends and familiar faces
That once gathered here from various places.
But of! What has become of them since?
Some have grown to either women or men;
Whilst others alas! their dust and ashes lie
In the silent 'Gods Acre' that's so near by.
Many more have gone to a foreign soil,
But others have been left at home to toil;
Some have sailed safe o'er the stormy sea of life,
Others have sunk in the surging waves of strife.
The Masters who taught us I can recall,
There's Madrum, Frederick, and also Hall;
Only a few of the scholars I can mind,
Or where they reside now I cannot well find;
Amongst them were the Dawes, Peters and Dunn,
And in our childish games we had such fun;
The Wevills, and Turners, Kittow, Gryllas and Prout,
Such a host of others – their names are left out.
I think of those days with their mirthful glee,
To which the soul looks back -a glimpse to see;
For nigh forty years have glided past since then;
The days can never be quite the same again.
The past sheds an influence on life's way;
Its memories are helpful for to-day,
And manhood's experience of 'Profit and Loss;'
Makes me prize the old School of Trevadlock Cross.
However, like so many other Chapels in the country, with a dwindling congregation, the Capel closed in the early 1990's, with the congregation moving to use the more modern Chapel at Polyphant.
The Bible Christians also built a Chapel in Lewannick near Tinney Hall Farm (below). Tinney Hall, anciently 'Kenny Hall,' formerly belonged to the family of Beaumont. This Chapel is now a private residence.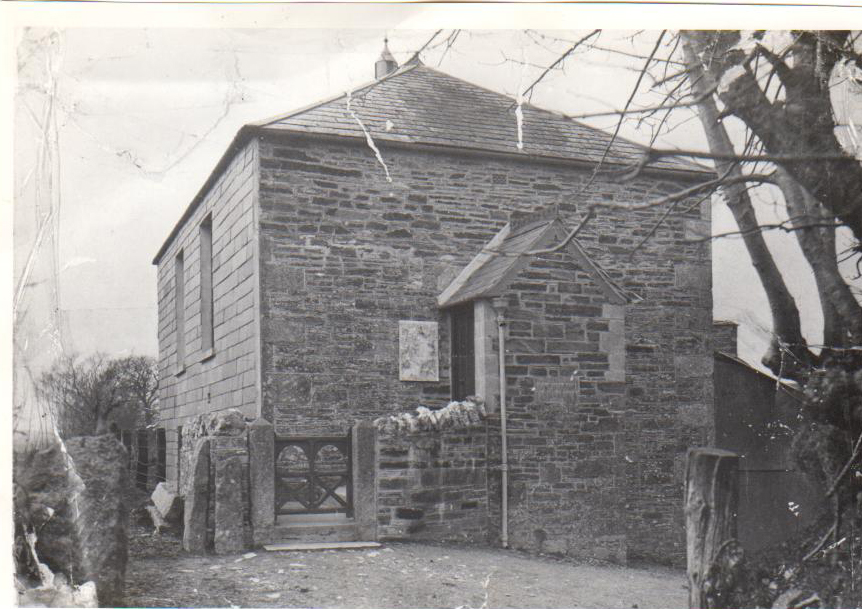 Upton Castle
Two miles south-west, in the valley of the river Lynher, are the fragmentary remains of the medieval Upton Castle (below). Upton Castle occupies a slight E/W knoll in a valley hemmed in by much higher ground to the north, south and west.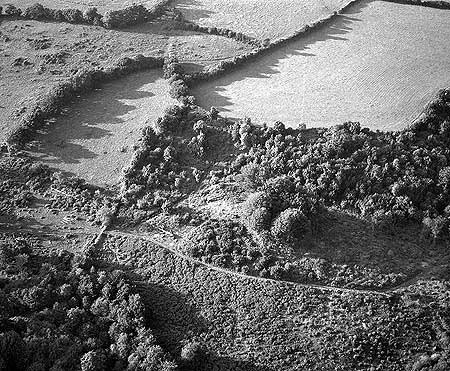 Immediately north of the Castle there is a natural gully, some 80m wide and 5m deep. To the south there is 100m of almost level ground with a 3m high 'cliff' bounding the River Lynher. Upton would seem to be a defended manor house rather than a true castle, hidden in a narrow valley, with little or no strategic value. It is believed that John Upton, mentioned in 1140 (his death), was of Upton Castle. It is probably of early medieval date though whether the defence was original or induced by the period of anarchy is open to question. The castle is now just a ruined courtyard,  covered in moss.
The estate of Upton was passed down from the previous mentioned John Upton to his son Andrew who died in 1170. The estate then fell to his son Hamlyn, who married the daughter and heir of Sir Andrew Treloske, of Trelaske in the same parish. Hamlyn Upton died in 1218, and was succeeded at Upton by his son Edward, who died in 1284. He was succeeded by his son Richard, who left issue John Upton, who in the reign of Richard II., married Margaret Mules, and left a son Thomas who succeeded him. This Thomas Upton married Johanna, or Joan, daughter of the celebrated Sir John Trelawny, and left issue three sons and three daughters. Tow of the sons bore the name of John. The first John left one child, William, who died in 1478 leaving no issue, and left to his uncles, William Upton, senior, and John Upton, all his lands of Uppetoun, Trewynne, Hayes, Treswen, and Penventown, for ever. The second John, who was the thrid son, married in 1460, and died in 1489, and left issue. After various family descents the estate came to two daughters, co-heiresses, Margaret Upton and Jane Upton, who both intermarried with members of the Lower family of Polscoe, St. Winnow. One of these daughters had Trelaske as her marriage portion.
At what date the Upton's parted with their ancient seat of Upton it is not known; but it is clear that one of the family, namely, John Upton, was in possession of the estate in 1613; the closes of land there alluded to as 'the Teenets.' being still known by that name. It was sold by Peter Wadge to the Rodd family of Trebartha, North Hill. Tenants during the 19th century had been the Vosper's and three generations of the Venning family. In the early 20th century the farm was purchased by Henry Wadge and to this day remains in the ownership of his descendant's.
---
Lewannick's Fallen from the First World War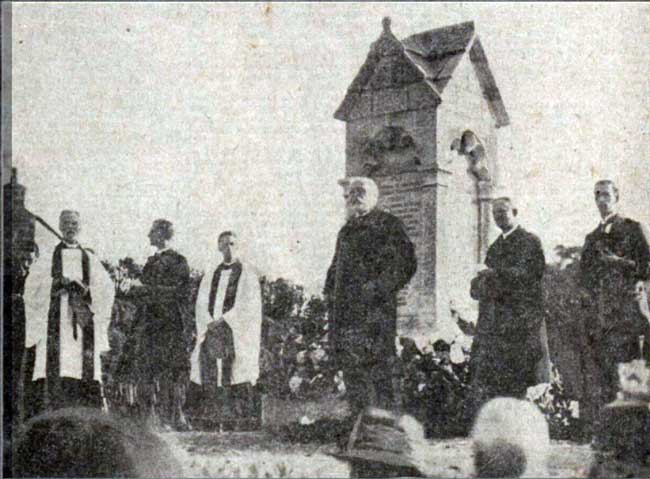 Lewannick war memorial dedication in November 1921 by Sir George Croydon- Marks MP.
 
Eric Augustine Bennetts
Eric was born on the 28th of August 1895 at St. Agnes to Thomas and Annie Bennetts. His Father was a Clergyman and was the Vicar of Lewannick (Where Eric spent most of his childhood) up to 1914 when the family moved to Cape Town, South Africa. He attended Hazeldon Preparatory School, Tavistock, Devon before going to Sherborne School (The Green) from September 1909 to July 1913, he was a scholar in the 6th form. He won the Digby Maths prize in1913. He completed his studies at a college in Cape Town. He originally was a Lance-Corporal in the Cape Town Highlanders, South African Defence Force (Signalling Instructor) but in the spring of 1916 he returned to England to join the Royal Flying Corp (R36035) and became a Flight Sub Lieutenant in the Royal Navy Air Service. He was reported missing in September 1917 after his plane, a Sopwith Camel F1 biplane, collided with another British Sopwith, piloted by Philip Johnston, behind enemy lines and was confirmed as having died in February 1918.He is buried at the Cabaret-Rouge British Cemetery, Souchez, epartement du Pas-de-Calais, Nord-Pas-de-Calais, France, Plot: XV. R. 22.
On the 26th of February 1918 a service of commemoration was held at Lewannick Church with the tributes being paid: Floral tribute – "In loving memory of dear Eric from Commander & Mrs Watts Russel. From all at Pen Tamar."Floral tribute – "In proud & loving memory of Eric & those who fell in the Great War from this Parish. Mrs & Miss Bennetts of Lifton."Floral tribute – "In proud & loving memory of Eric Augustine Bennetts & all those who from this Parish fell in the Great War, from Rev. & Mrs W.T. Bennetts.
At the time of his death, his Sister, Evelyn Maud Bennetts, was living at Roydon Road, Launceston, the address he used as a place of residence. For this reason he is mentioned on the St. Stephens Church roll of honour.
William Frederick Bettess
William was born in 1889 to Cecilia Bettess at Trewen. In 1911 he is living with his mother and stepfather Joseph Congdon at Polyphant and working as a Stonemason. On the 22nd of April 1912 he married Emma J Maunder at Lewannick and they set up home at Bovey Tracey, Devon. Working then as a Gardener. He enlisted at Newton Abbot with the Devonshire Regiment ( Regimental No. 315012) as a Lance Corporal but was later transferred to the Wiltshire Regiment (Duke of Edinburgh's) (Regimental No. 203106). He was killed in action on the 27th of October 1917. He is buried at the Torreken Farm Cemetery, Belgium. His wife had moved to Bathpool by the time of his death.
John Thomas Brown
There is no information available as to when or where John was born the only that he served with the 8th Battalion of the Devon Regiment as a Sergeant.Floral tributes -"In loving memory of dear cousin J. T. Brown from Ellen.""In loving memory of Dad from Beatie.""In loving memory of John Thomas Brown, 8th Devon Regt, from his loving wife Jane Brown."
Ernest Cox
Ernest was born in 1895 at Kings Cross, London. Came to Cornwall after leaving school and in 1911 he was working for Mr. James Daniel at Trelaske Barton, Lewannick as a 'Boy of all Work'. He was a regular with the United Methodist Church. He was one of the first to volunteer at the first recruiting meeting held in the schoolroom at Lewannick. Enlisted with the Duke of Cornwall's Light Infantry as a Private (Regimental No. 200809) serving with the 1st/4th Battalions. He served initially in India and then Palestine where he was killed in action on Thursday the 22nd of November 1917.He is buried at the Jerusalem war cemetery. He had been engaged to be married.
Alfred Henry Dawe
Alfred was born in 1895 to Joseph and Emily Dawe at Trevadlock, Lewannick. His father was a farmer in Trevadlock. In 1901 the family are living in Wyddial Bury, Wyddial, Royston, Hertfordshire. On leaving Leys school Alfred went to University at Cambridge to study science. He enlisted with the The King's Royal Rifle Corps and was acting 2nd Lieutenant. On the 11th of April 1917 he was leading his company as acting Captain and, with another company, succeeded in taking a strongly fortified village. He then went forward to select a suitable spot on which to consolidate their position when he was killed instantaneously. He was serving with the 13th Battalion at the time. His body was never identified but his name is commemorated on the Arras Memorial Bay 7. He was the nephew of Elizabeth and Jane Dawe of Trevadlock who gave the land for the War Memorial in Lewannick.
Harry Down
Harry was born in 1898 at St. Issey to George and Elizabeth Down. His father was a Horseman working for Mr. George Venning at Upton Barton in 1901 but by 1911 they had moved to Tinney Hall where George worked as a Farm Labourer. The family were United Methodists. He enlisted as a Private at Launceston on the 7th of June 1916 initially with the Devonshire Yeomanry (Regimental No. 220287) 3rd/1st Battalion before transferring to the Cheshire Regiment (Regimental No. 72165) on the 12th of April 1918. He served with the 9th Battalion in France and was reported missing on the 31st of May 1918. On the 9th of September it was confirmed that he had been that in all probability killed in action or died of wounds on or soon after May 31st , 1918 by Major Hodrington. He is buried at the Chambrecy British Cemetery, Morne, France. Grave I E 7
Floral tribute – "In loving memory of dear Harry from his loving Father,Mother, brother & sisters."
Charles Wilfred Eales
Charles was born in 1893 to the Rev. Henry William Eales and his wife at Durham. His father was the Vicar of Lewannick. He attended Weymouth College before taking up an apprenticeship in Electrical Engineering. He enlisted with the Devonshire Regiment Royal engineers as a Lieutenant rising to 2nd Lieutenant. He was killed in action near Cambrai as his unit were attempting to break the Hindenburg Line near the Canal du Nord on the 27th of September 1918.Frank Jasper
Frank enlisted with the 1st Battalion of the Worcestershire Regiment ( Regimental No. 36436) as a Private. He died on the 4th of March 1917. His body was never identified but his name is commemorated on the Thiepval Memorial, Somme, France Pier and Face 5 A and 6 c.
Thomas Kent
Thomas was born in 1888 to John Wills and Mary Jane Kent at Higher Trevell, Lewannick. His father was a Agricultural Labourer. Thomas enlisted with the Duke of Cornwall's Light Infantry as a Private (Regimental No. 240906) serving with the the 2nd Battalion. He died on Saturday the 17th of November 1917 and is buried at Trevadlock Cross Wesleyan Chapelyard.
Interred Floral tribute – "In ever loving memory of dear Tommy , from Father,Mother, Will and Annie . "
Maurice Blandford Lock
Maurice was born in 1894 to James and Emma Lock at Milverton, Somerset. His father was a Domestic Coachman working for Hannah Wrangham of Bowden Derra, Polyphant. He enlisted as a Private in March 1915 with the Duke of Cornwall's Light Infantry but was attached to the Hampshire Regiment when he embarked with his unit in December 1915 for Mesopatania. He was in the thick of the fighting there but succumbed to fever in Basra, Mesopatania, in 1916 aged 23.
Samuel Marks
Samuel was born in 1897 to John and Mary Marks at St.Stephens, Launceston. His Father was a Wood Ranger (Woodman). They moved to Hurdon Down in 1901 where the family settled. By 1911 Samuel was joined by 4 Brothers and 1 Sister.
He enlisted with Devonshire's at first (3rd Devon Bte 4th Wessex Bde) at Tavistock in 1914 but had transferred to the Royal Field Artillery by 1916 as a Driver (Regimental No 1300). He died of his wounds on the 24th August 1916 at Salonika, Greece. And is buried at the MIKRA BRITISH CEMETERY, KALAMARIA, Grave ref 1666
John Martyn
John was born in 1891 at Lewannick to William and Annie Martyn. His father was the Postmaster and Groucer for the village. Educated at Lewannick and Shebbear College, he then worked for four years in Weston-Super-Mare with Messrs T. Salisbury and Sons . He then went to London and worked in the warehouse of Messrs Cook, Son and Co. St. Paul's Churchyard. Volunteered in Aug 1914 but rejected because of dental problems. In November 1914 he was accepted for foreign service with the London Regiment (Regimental No. 820419) serving with the 1st and 6th Battalions after 18 months training and duty on E. coast then rejected because of varicose veins . Had operation in Colchester Military Hosp & left for foreign service on the 19th of May 1917 Died of wounds received in Belgium (Trigg Major magazine September 1917). Date of death 14/ 8/ 1917. 1891 census – Floral tribute – "To our dear John, ever fondly remembered by Father, Mother, Ethel, Walter & Annie."
Sydney Perry
Sydney was born in 1895 at Trewinnoe Farm, Lewannick to John Henry and Hannah Perry. It appears that he could have been orphaned as he was living with Francis and Susan Mitchell at Millpool fram, Linkinhorne from the age of 5 onwards. He enlisted with the Duke of Cornwalls Light Infantry as a Private (Regimental No. 17268) serving with the 1st Battalion. He died of his wounds sustained in battle on the 21st of July 1916 at the age of 21. He was interred at the Heilly Station Cemetery.
William Rowe
William was born in 1896 to John and Eliza Rowe at Lowednack, St. Ives. His father was a farmer living at Dingleys farm, Lewannick. On leaving school William worked at home with his father. He enlisted with the Oxford & Bucks Light Infantry as a Private (Regimental No. 266915) serving with the 1/1st Bucks Battalion. He embarked for France on the 13th of August 1915 and was wounded in battle 10 days later. He recovered but was reported as missing eventually being confirmed as being killed in action on Wednesday the 23rd of August 1916. His body was never identified but his name is commemorated on the Thiepval memorial.
Lewannick's Fallen from World War Two
Reginald Edward Chrsitopher Kirrage
Reginald was born in 1914 at Lambeth, London to John Charles and Emma Mary (Wayman) Kirrage. Reginald married Celia Russell at Elham, Kent in 1939 and they set up home in Lewannick. He enlisted with the Duke of Cornwall's Light Infantry as a Sergeant (Regimental No. 5436439). He was killed in action on the 18th of April 1943 whilst serving in North Africa. He was interred in the Beja War Cemetery, Tunisia, grave ref:1. L. 2.
---
The Trenhorne Deaths
Trenhorne is a small hamlet between Lewannick and Congdons Shop and even today it only has about a dozen houses, so can quite rightly lay claim to being a sleepy hamlet however during the winter months of 1930/1931 the whole world seemed to have its eye it, with the national press featuring daily headlines into the circumstances surrounding the death of Alice Thomas wife of William Thomas of Trenhorne Farm. A family friend, Sarah Ann Hearn (Anne) of Trenhorne House was accused of murdering Alice and her own sister Lydia (Minnie) by arsenic poisoning. Lydia had been interred at Lewannick churchyard and in December 1930 her body was exhumed for tests. At this time Mrs. Hearn was on the run having feigned suicide at Looe and a nationwide search under much media attention was conducted. She was finally traced working at Torquay for the architect, Mr. Powell ,under the assumed name of Mrs. Faithful. She was arrested and brought back to Launceston Police station where she was charged with the two murders.
For the full story go here……………………………………….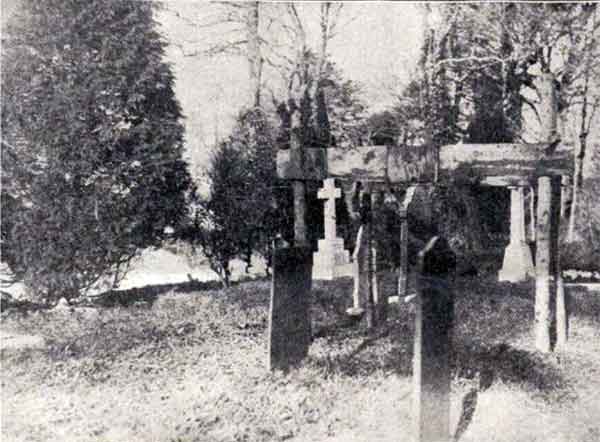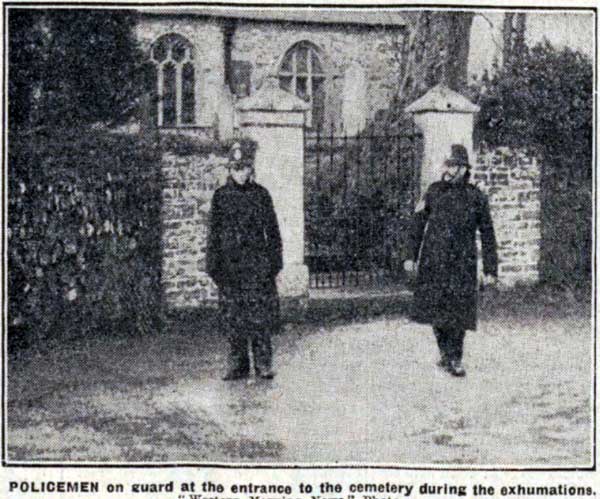 Lewannick Church in December 1930 with a wooden skeleton                              Two policemen guard the entrance to Lewannick Church.

        structure in preparation of the exhumations.                                                                       before the exhumations in December 1930.
---
List of Lewannick Vicars from 1536-1901
1536 Trock , Richard
1661 June 25th Prout,
1702 March 14th. Foster, Ely
1738 July 1st. Turner, John
1752 May 11th. Edwards, John
1753 October 24th. Bedford, Charles
1787 February 17th. Carpenter, W.D.D.
1797 August 19th. Mangles, George
1811 February 7th. Morgan, William Augustus
1822 September 24th. Archer, Samuel
1831 March 11th. Coleridge, James Duke
1841  Gore, A.H. The honorable
1844 November 12th. Archer, C.H.
1899 Bennetts, Thomas
Hits: 820