.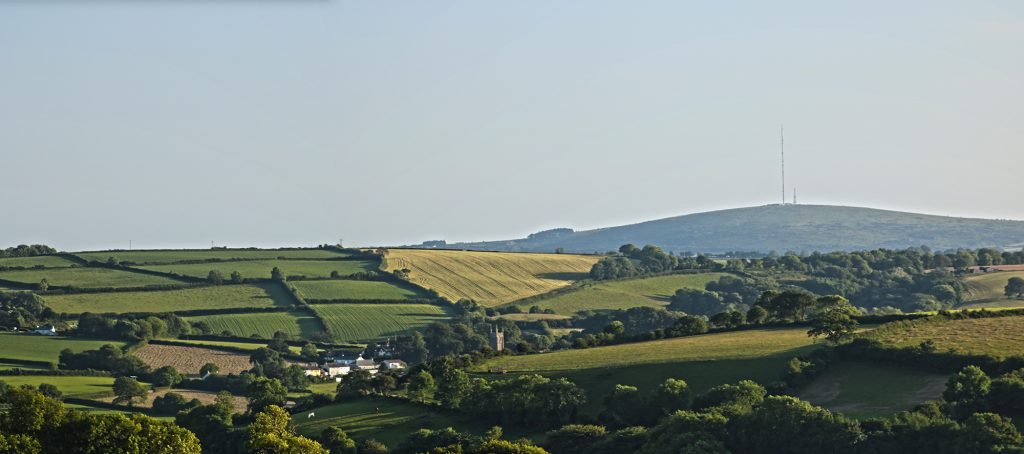 Lezant ( Lannsant) village is about five miles south of Launceston. The population of the parish in the 2001 census was 751, increasing slightly to 765 in the 2011 census. The River Inney divides the parish from the parishes of Stoke Climsland and Linkinhorne on the South and on the west are North Hill, Lewannick and South Petherwin. The parish encompasses the hamlets of Higher Larrick, Rezare, Trebullett (Trebollet), Trekenner and Treburley. The name of this district, like the names of several others in this neighbourhood, is derived from no particular saint, although it has an immediate reference to the church, which seems to have extended the import of its appellation to the whole parish. In the Cornish tongue Lezant signifies holy church, or all hallows. At what particular time this name was imposed upon the district or parish over which it now extends, it is almost useless to inquire. Trecarrell however, an ancient manor in this parish, was well known at the time of the Conquest; and at that time, this might have been its secular name, while Lezant was its ecclesiastical one, and was restricted in its application exclusively to the church. At Trecarrell the ruins of an ancient chapel are still visible, which was dedicated to St. Mary Magdalen. Another formerly stood at Landue, dedicated to St. Bridget, and a third in another part of the parish, dedicated to St. Laurence. The manor of Trecarrell gave its name to an ancient family that flourished here prior to the Norman Conquest.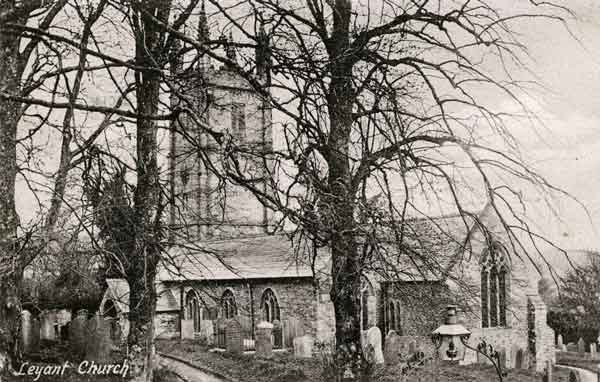 The Church
The parish of Lezant lay within the bishop's peculiar manor and deanery of Lawhitton.  The Church was dedicated to St. Briocus on September 25th, 1259. It comprises a chancel, nave, north and south aisles and a vestry. The church of St. Breoke is an ancient building of granite and freestone, in the Perpendicular style, consisting of chancel with aisles, nave, aisles, south porch and an embattled western tower, with octagonal battlemented turrets and crocketed pinnacles, containing six bells; the chancel retains the ancient piscina and an aumbry, and there is a piscina in the south aisle; the rood stairs remain. The south window in the chancel is a Memorial to Thomas and Caroline Phillipps, erected in 1871. The high altar of the church was rededicated in 1336; part of the chancel dates from slightly earlier than that. The rest of the spacious building is of the 15th century. The church was restored in 1869, and has 222 sittings. The register dates from 1539.
Among the Monuments in the Church are the following :-
"Here lieth ye bodies of John Mills and Johan his wife, the eldest daughter of Thomas Spoure and Anne his wife, daughter and sole heir unto Nicholas Trebartha, of Trebartha; which John and Johan deceasing together in the feaste of Pentecost, were buried in one graus the 11th day of March, in Anno Domini 1573. God grant them a joyful resurrection."
Arms.- Spoure quarterly Trebartha
There is an altar tomb of carved slate to the Trefusis family.
"This marble monument faiere though it be,
Trefusis, yet is farre vnfit for thee;
Vnfit, because vnlike this hard heyune stone,
Thou meek and mild, incidious unto none;
This base as beynge, if traced out of earth;
Thou generous by descent, of ancient birth;
And which is most, this fraile and ever wastinge;
But thou eternall now and ever lastinge,
Only herein this tomb seems like to thee,
As this, so thou in church still lovest to be.
The soules of those whose bodies thus ar spent,
Seated above the starry firmament,
Have gayned astate more permanent & sure,
Let him (that hopes to have his howse, indure forever) build it there, where death nor fate
Shall alter or determine his estate."
Arms:- Trefusis impaling Coryton
On the south wall are the effigies of a man and children in the attitude of devotion and the recumbent figure of a woman.
There is a Latin inscription to the Rev. Thomas Snell, A.M., who was Rector of the parish for 30 years, and died September 23rd, 1670.
Marble and other monuments are inscribed as follows :-
"In memory of the Rev. Charles Mayson, D.D., son of the Rev. Peter Mayson, M.A., whom he succeeded in the Rectory of Lezant, July 31st, 1784. Born at Frome in Somersetshire, he there under the instruction of his father, an able and judicious master, laid the foundation of those attainments which he cultivated and excercised as Fellow and Tutor of Wadham College in Oxford. In after life he was distinguished as a magistrate by an acute and vigorous understanding, a steadfast loyalty, an inflexible love of Justice, and an ardent desire of promoting the Public Good. As a neighbour, a master, a husband, and a freined, he was hospitable, kind, affectionate, and sincere.
As minister of this parish he zealously preached what he firmly believed, and diligently practised the pure doctrines and precepts of the Gospel. Having endure a long and painful illness with Christian resignation and hope, he died on the 14th day of January, 1815; in the 63rd year of his age."
---
"In memory of Henry Austen, S.T.P., Rector of Lezant, in Cornwall, and Prebendary of the prebend of Stratton, in the County of Dorsett, who putt on immortality the 9th day of January, Anno Domini, 1729."
---
"Sacred to the memory of the late Revered Thomas Meyrick B.A., of Carthamartha in this parish, rector of Covenham St. Mary, Lincolnshire, second son of the late Reverend Owen Lewis Meyrick, rector of Holsworthy, Devon, and descendant of the house of Bodorgan in Anglesea.
Fully conscious of the account he must give of the souls committed to his care, he discharged his duties with unremitting zeal for nearly forty years.
His bequests to various societies for the relief of the poor were large and extensive.
He was a man of classical and general learning. His private character was marked by strict integrity and upright principles.
He bore an illness of three years with fortitude and religious resignation. He departed this life May 27th, 1841; aged 66 years. Requiescat in pace."
---
A slate tablet attached to the south wall on the outside is inscribed :
"Near this place lyeth the body of Fitz-Anthony Pennington, who was buried the 26th day of January, Anno Domini 1690. Also John, his son was buried here the first day of September, A.D. 1676."
In the chancel, which is richly ornamented and decorated, there is a coloured window representing the Crucifixion and the Last Supper, and a tablet with this inscription :-
"To the glory of God and in memory of John Simmons Tregonning, of Landue, born April 26th, 1814, died March 31st, 1878, and of Elizabeth Avery Tregonning, his wife, born July 3, 1806, died October 20th, 1843. This window and chancel decorations are dedicated 1883."
Vicars of Lezant from 1536-1901
1536 Richard Tyocke
–        Arthur Snell
1670 T. Snell (died in 1670)
1729 Henry Austen
1737 John Grant (Canon of Exeter)
–        A. Prime
1770 Peter Mayson
1784 Chas. Mayson (succeeded his father who died in 1784) died on January 14th, 1815
1815 Thomas Johnes (Archdeacon Barnstaple)
1838 J. Paul
1847 W. Sherlock Carey
1847 Edward Coppleston Phillpotts
1866 February 26th W. Pollexfen Bastard
1896 Canon Edward Townend
Methodism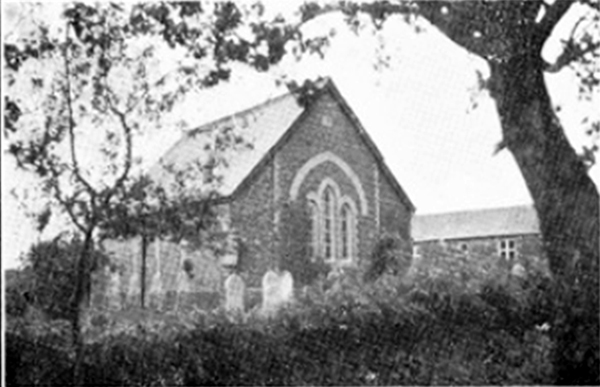 Although there is no account in John Wesley's journal of his visit to the parish, it is stated that he preached in a room at Trebithick. Towards the end of the 18th century James Gartrell, a local preacher, held classes at Trewarlett. In the Launceston Circuit Register of 1800 the list of the membership at Trebithick appears under the leadership of William Husband. Prayer meetings were also held at Higher Larrick. In 1810 a trust was formed at Trebullett, and a plot of land, in Russell's Meadow, with a Methodist Meeting House belonging to Mr. John Husband, yeoman of Trecarrel Mill and elder brother of William, were transferred, and became the property of the Wesleyan's. John Husband who was an old Methodist in 1810, and for many years had furthered the cause, had built the small building in 1806. In 1844 a Sunday school was established and over the coming years the house was gradually enlarged until, in 1871, a new Chapel was built and the house then became a school room. A pipe organ was installed in 1887 with some general repairs being made to the premises. Both the Chapel and Sunday School were completely renovated at a cost of £600 in 1957.
Today, the Chapel is part of the Launceston Area Circuit, and the Minister is the Reverend Jo Smart.
In medieval times there was a chapel of St Lawrence (mentioned in 1447) and at Landue a chapel of St Bridget. There was an oratory of the Wyse family at Greystone in 1329. At Trecarrel is the hall built by Sir Henry Trecarrel (now used as a barn below) very early in the 16th century. The carved stones intended to embellish the hall were afterwards used in the building of the Parish Church of St Mary Magdalene at Launceston.
W.S. Harvey, on "The History of Linkinhorne," written in 1727 : —
" Sir Henry Trecarrell dwelt at Trecarrell, in Lezant. and built the chapel now standing there, and the great hall also ; and had made great preparation for a great building there of hewed moor-stone and timber, and other things. But as the tradition goes, his lady being in travail for a child, and he being very well skilled in Astronomy and Astrology, found by his knowledge and skill that if the child were then born it would die in its infancy by an untimely death, and therefore heartily begged the woman, then with his lady, to prevent the birth if possible one hour, which she could not do, but she was brought to bed of a young son, who in his infancy having a basin of clean water brought to him to wash his face and hands, by a servant maid, who stepping away to fetch a towel for him — that while he stifled himself in the said basin of water, and was immediately found dead — which frustrated the hopes of his father, and prevented his great building at Trecarrell. Upon which he bestowed the remainder of his time and money in pious and charitable uses ; and the stones already carried home at Trecarrell, he caused to be conveyed to Launceston ; and the old church called St. Stephens, being built of freestone and decayed, he caused to be taken down and rebuilt as it now standeth, and dedicated to St. Mary Magdalene, about the year 1540, towards the latter end of the reign of King Henry 8th. He had a design to have rebuilt the tower also in that space between the church and the old tower, now there standing, but was prevented by death before it was begun. The town of Launceston was before that time called Dunheved. The north side of the church of Linkinhorne with the tower, being then also in decay, the said Sir Henry Trecarrell caused the remaining part of the stones, prepared and not brought home, to be brought at Linkinhorne. and with them built the north side of the said church and tower, causing his coat of arms to be there set up, as saith the author; but whether in the stone work, glass or timber, I never could understand."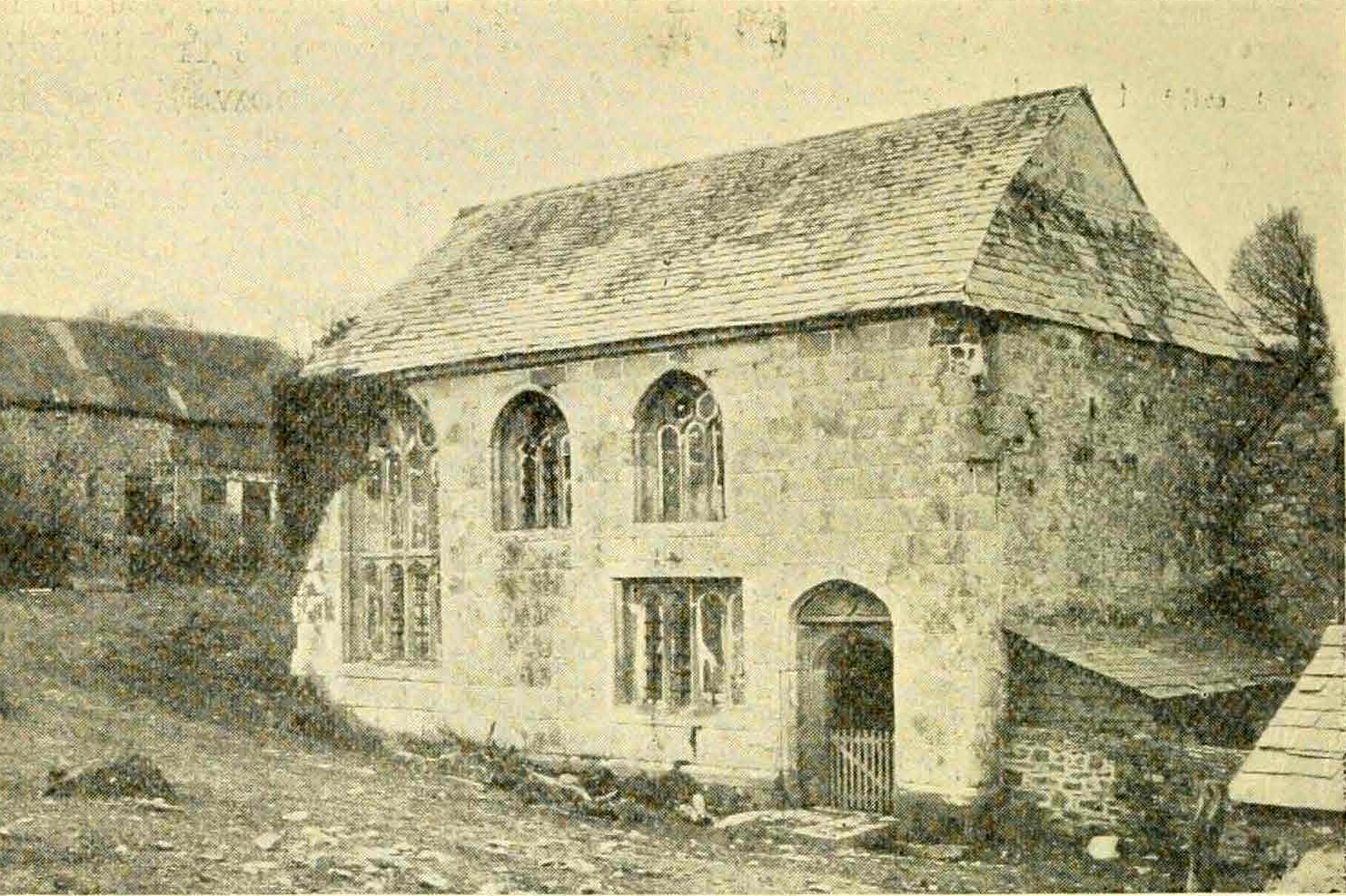 Polsue in his notes on Harvey's MS of Linkinhorne, said:-
" Sir Henry Trecarrel, alias Esse, of Trecarrel in Lezant, was buried at Lezant. June19th, 1544 ; his wife was Margaret, daughter and heir of John Kelway, or Kellaway ; she was buried at the same place. February 12th, 1552. They left three daughters, co-heiresses ; Katherine the eldest, married William Harris of Radford, Devon ; Jane, the second, married Wm. Kelly, of Redcliffe, Devon ; and Oliver, his brother, married the third daughter whose name is not given. This branch of the family of Trecarrel, alias Esse or De Esse, bore for their arms — Argent, 2 chevrons sable ; — and his wife, the heiress of Kelway. Argent, 2 bones in saltire sable, between 4 pears ; both coats are sculptured on the stone work of Launceston Church, but the latter prevails. The arms of Trecarrel have not been found on the Church at Linkinhorne."
The ancient name of this parish, Lansante, gave name to a family, as a Deed is still extant, dated 19 Richard 11. (1395), between Rogerus de Lansante and Henry Page (possibly who gave the name to the crossroads at the junction of Tavistock Road and Race Hill) of Landue, with a fine seal of the family arms attached. This Roger de Lansante was also, about the same time, one of the witnesses to a Deed made by one of the Trecarrels.
KING CHARLES AND TRECARREL.
Trecarrel is also made famous in history by being a resting place of King Charles I. and his army, during the great Civil War of the  Seventeenth Century. It was at Polson Bridge, near Launceston, about six miles from Trecarrel, where the King entered Cornwall on the 1st August, 1644, to pursue the army of Essex, who, it is supposed, crossed the Tamar into Cornwall either at Newbridge, Gunnislake, or at Horsebridge, in Stokeclimsland. The former is about six miles, and the latter about four from Trecarrel, in Lezant ; so we may regard this place as the centre of the seat of war at the outset of the personal campaign of King Charles; and no doubt the district of East Cornwall, including Launceston, Liskeard, Bodmin, Lostwithiel, and Caradon Down, was the scene of many a bloody battle in which the King himself took a prominent part. Trecarrel at this time belonged to the Manaton family, who must have been related to the Trecarrels; as the arms of the latter are on the tomb in South Hill Church, of John Manaton, who died in 1507. The Manaton's had a seat at Manaton, in South Hill, and during the war Lord Bernard and his troops marched to South Hill, and Lord Bernard quartered at Mr. Manaton's, of Manaton, in that parish, whilst the King stayed at the house of Mr. Jeane, in Liskeard.
Ambrose Manaton, who entertained Charles I. at Trecarrel, was M.P. for Launceston in 1640, but was disabled in 1641 and 1643, "for deserting the service of the house being in the King's quarters, and adhering to the loyalists' party." He died in 1651, and was buried at South Petherwin, where a monument to his memory displays two impalements of arms: Manaton and Resky- mer, and Manaton and Edgcombe.
Lake in his " History of Cornwall " says : —
"On the 20th July. 1644, the Earl of Essex entered Cornwall, contrary as it is said to bis own judgment, losing swayed by the advice of Lord Robartes and some other Cornish gentlemen, who were sanguine in their expectations, that by their presence and interest they should be able to do great matters for the service of the Parliament. Essex passed the Tamar at Newbridge (more likely at Horsebridge) after a sharp skirmish with Sir Richard Grenville. and a party of the King's forces, who defended the pass. He then took possession of Launceston and Saltash. Sir. R. Grenville's house, which was garrisoned for the king, was taken by storm. The General then marched to Bodmin, and afterwards to Lostwithiel and Fowey, where he fixed his headquarters, and summoned the County to come to his assistance. Sir Richard Grenville retired before Essex's army, and having suffered some loss in a skirmish at Lostwithiel with Lord Robartes' Brigade, made good his retreat to Truro. The King having determined to pursue Essex's army, entered Cornwall on the first of August, at Polston Bridge."
" Previously to entering the County, the King reminded his soldiers that they were going among a people who had shown themselves much attached to his cause, and gave them the strictest caution to abstain from plunder. The King passed through Launceston and slept at Trecarrel, in Lezant, the residence of Mr. Manaton, his army being quartered around him in the fields."
Here follows excerpts from the diary of Richard Bynionds, an Essex gentleman, who on the out-break of the war joined the Royalist standard, and accompanied the King as one of his lieutenants throughout his campaign in Cornwall : —
Wednesday. 31 July. — This evening his Majestie with his troop, Prince Maurice and his troop went to see the passes of the river which divides Cornwall and Devon. Two bridges pulled up. On Wednesday some of his horse and foot entered into Landson (Launceston), in Cornwall, all Essex his army being gone thence and no resistance. This day came a messenger to the King from Sir Richard Grenville to the rendezvouz and told that Sir Richard was 800 strong, and desired his Majestie to make haste towards him. The King bid the fellow tell him he was coming with all possible speed with an army of 10,000 foot, 5,000 horse, and 28 piece of cannon. Prince Maurice his army consisting (out of this number) of 5,000 foot, five-and-twenty hundred horse, 11 piece of cannon."
"Thursday. 1 Aug. — His Majestie marched to Trecarel in the psh. of Lysant (Lezant), and lay there at the house of Mr. Manaton in com. Cornubiae. The whole army lay this night round about this house in the field. His Majestie, &c.. marched, &c., about 4 in the morning, and came that night to Liskeard."
"Trecarrel built the house where his Majestie lay the night before, tem. Hen. 7. 'Tre' signifyes towne, and "carrol' merry or song in Cornish."
"Most of the gentry of this County live towards the south sea. This part of Cornwall which wee have seene they account barren. The people speak good and playne English here hitherto. Divers of the country people come to the King with much joy to tell him of his enemyes where they lay, and "please his worship.' "
Landue (Landew) has passed from Landew, Trefusis, Herle, Kendall, Lawrence, Bant, Thomas John Phillipps, Esq. who married Treby, of Goodamore. It was then purchased by John Simmons Tregoning in 1867 and remained in that family until the 1980's. There was a chapel at Landue, dedicated to St. Bridget.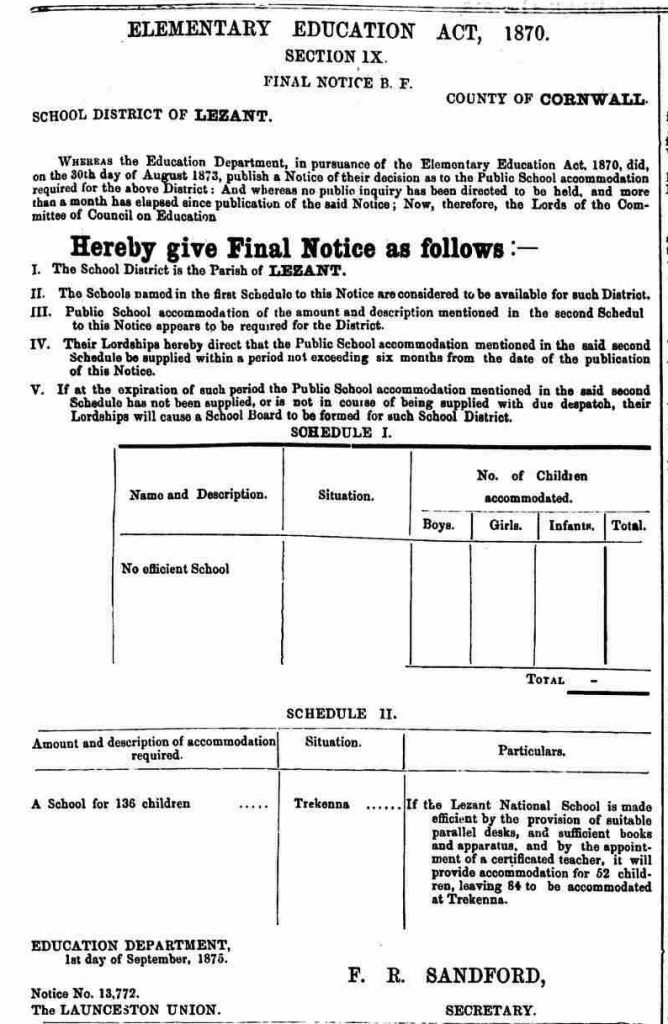 A new school was built at Trekenner in 1877 to plans drawn up by Launceston architect Mr. C. P. Wise. It consisted of two classrooms, lavatories, offices and a playground to accommodate 136 children. Also provided was the master's residence which included parlour, kitchen, scullery and three bedrooms. The school was officially opened the following year.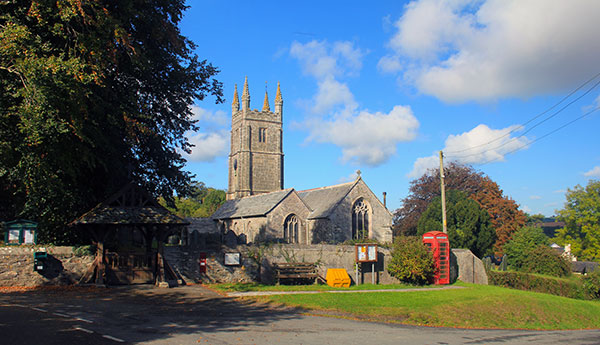 Lezant Gallery
---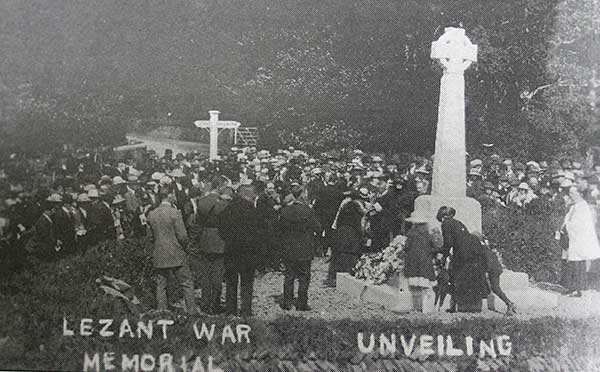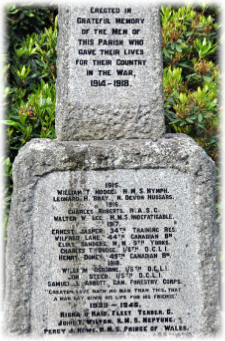 Erected in grateful memory of the men of this Parish who gave their lives for their country in the war,
1914-1918                                                                            1939-1945
William T Hodge                                                               Richard Haig
Leonard H Bray                                                                 Percy John Rowe
Charles Roberts
Walter W Lee
Ernest Jasper
Wilfred Lane
Elias Sanders MM
Charles T Budge
Henry Doney
William Osborne
John Steed
Samuel L Abbott
---
Lezant's Fallen from World War One
With thanks to Paula & Dave Kennington 2008 and Jim Edwards.
Samuel Lee Abbott
Samuel was born on the 1st of January 1892 at Launceston to Alfred and Mary Jane Abbott. His Father was a Blacksmith moving the family from Rilla Mill in 1901 to Wooda Bridge, Lezant in 1911. Samuel first started work as a General Labourer, but obviously learnt his Fathers trade. He emigrated to Canada in 1912 arriving in Maine on the 12th April aboard the 'Ascania'. He worked as a Blacksmith for a couple of years before enlisting on the 24th of September 1914 at Valcartier, Canada with the 10th Battalion, Canadian Infantry (Alberta Regiment (Listed as Canadian Forestry Corps on memorial), (Regimental No. 19837). Passed fit 5th September 1914, enlisted Height 5 feet 5½ inches, girth 35 inches, complexion dark, eyes grey, hair dark brown; He was a Wesleyan. He died (possibly through illness) on the 2nd of December 1918 ages 26 and is buried at St. Briochus Church Lezant.
Leonard Heywood Bray
Leonard was born in 1894 to Thomas and Emma Bray at Landue Mill, Lezant. His Father was a Agricultural Worker. By 1911 Thomas had passed away and the family had moved to Tredown Cottages, Lezant with Leonard working as a Farm Labourer. He enlisted at Holsworthy with the Royal North Devon Hussars Yeomanry as a Private (Regimental No. 930) At the time he was residing at Beaworthy, Devon. He was killed in action at Gallipoli, Turkey on the 29th of April 1915 aged 22. He is buried in the GREEN HILL CEMETERY, Turkey. Plot I. Row A. Grave 19.
Thomas Charles Budge
Thomas was born in April 1897 to Harry and Jane Budge at Lezant. (Listed as Charles Thomas on the memorial) Private 20872, 1/6th Battalion, Duke of Cornwall's Light Infantry. Killed in action 19th October 1917. No known grave. Commemorated on TYNE COT MEMORIAL, Zonnebeke, West-Vlaanderen, Belgum. Panel 80 to 82 and 163A.
Henry Doney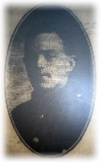 Henry was born on the 27th of July 1892 in California, USA to Harry and Bessie Doney. His Father was a Fruit Grower at Chilsworthy in 1901, but by 1911 was Dairy Farming at Treburley with Henry working on the farm. In 1913 Henry emigrated to Canada, arriving in Halifax, Nova Scotia aboard the 'Royal Edward' on the 8th April 1913. He enlisted on the 9th of January 1915 at Edmonton, Alberta, Canada as a Sergeant with the Canadian Infantry (Alberta Regiment 432571) 49th Battalion. He was killed by a shell explosion when leading his men into an attack in the vicinity of Passchendaele on the 30th of October 1917.He is buried at the Poelcapelle British Cemetery, Langemark-Poelkapelle, West Flanders (West-Vlaanderen), Belgium, Plot: IX. E. 11.
William T Hodges
William was born in 1878. He was married to Beatrice Hodge and they resided at Devonport, Plymouth. William was a Leading Seaman with the Royal Navy (Service No. 186532) and was serving aboard 'HMS Nymph' when he fell ill and died on the 31st of October 1915. He is buried at the Ford Park Cemetery, Plymouth.
Ernest Jasper
Ernest was born in 1893 at Ruses Mill, Lezant to John (Barber) and Mary Jasper. He worked as a Waggoner and horseman for his stepbrother Thomas Jasper who was the miller at Ruses Mill. Ernest would have been conscripted in late 1916 and reported for training with his training unit the Hampshire Regiment 13th (Service) Battalion as a Private 8/4864. Ernest fell ill during his training and was admitted to the Red Cross hospital at Littleham, Exmouth. Ernest's illness of broncho pneumonia was aggravated by measles and he passed away on the 28th February 1917.
He is buried at the Wesleyan Chapel, Coads Green and is commemorated upon North Hill and South Petherwin war memorials as well as Lezant.
Wilfred Lane
Wilfred was born on the 23rd of March 1893 at No 4 Roundhill Coattage Lezant. Son of Charles and Annie Lane, of Lezant Cornwall. His Father was an Agricultural Labourer. By 1911 Wilfred was working for Mr. Albert Evans at Undertown Farm, Lezant as a Waggoner. He emigrated to Canada in 1913 at the same time as Henry Doney, arriving in Halifax, Nova Scotia on the 8th of April 1913. He was a Farmer by trade. He enlisted and passed fit on the 13th of September 1915 at Winipeg, Manitoba, Canada as a Private (Regimental No 82977)3 with the 44th Battalion, Canadian Infantry (New Brunswick Regiment).Height 5 feet 2½ inches, girth 35 inches, complexion medium, eyes blue, hair brown; Methodist.
He had been reported as missing but it was confirmed that he had been killed in action on the 3rd of June 1917 aged 24. He is buried in LA CHAUDIERE MILITARY CEMETERY, VIMY, Pas de Calais, France. Plot V. Row B. Grave 13.
Walter Lee
Walter was born on the 13th of December 1894 at Abbotsham, Bideford to Samuel and Emily (nee Glover) Lee. His Father was an Agricultural Labourer and moved his family around to where he could find the work. By 1911 the family are residing at Watergate, St. Mellion and Walter is working as a Labourer working in a fruit garden. The family moved again around 1914, having been living at the Sportsmans Arms at Treburley to Lower Larrick, Lezant.
Walter joined the Royal Navy as a Stoker 1st Class (Service No. K/16772) on the 13th of November 1912 for a 12 year service period. After his initial training he joined the crew of 'HMS Indefatigable' on the 17th of June 1913. The Indefatigable was sunk during the Battle of Jutland and he died on the 31st of May 1916 aged 20. No known grave. Commemorated on PLYMOUTH NAVAL MEMORIAL, Devon. Panel 16.
Indefatigable was sunk on 31 May 1916 during the Battle of Jutland, the largest naval battle of the war. Part of Vice-Admiral Sir David Beatty's Battlecruiser Fleet, she was hit several times in the first minutes of the "Run to the South", the opening phase of the battlecruiser action. Shells from the German battlecruiser Von der Tann caused an explosion ripping a hole in her hull, and a second explosion hurled large pieces of the ship 200 feet (60 m) in the air. Only two of the crew of 1,019 survived.
William Osborne
William was born in 1897 to Thomas and Emma Osborne at Lawhitton. His Father was a Carpenter working on his own account. On leaving school, William went to work for Mr. John Wills of Trelinnoe Farm, South Petherwin as a Farm worker. He enlisted at Bodmin with the Duke of Cornwall's Light Infantry as a Private (Regimental No.240696) serving with the 1st/5th Battalion. He was killed in action during the German spring offensive at the Somme on the 21st of March 1918 aged 21. At the time of his death his Parents were residing at Penscombe Cross, Lezant. His body was never identified but his name is commemorated on POZIERES MEMORIAL, Somme, France. Panel 45.
Charles Roberts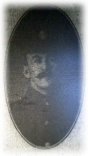 Charles was born in 1886 to George Henry and Henrietta Roberts at Newbridge Inn, Lezant. His Father was a Carpenter working on his own account. On leaving school, Charles worked for his Father as a Carpenter's Apprentice. By 1911 he is still living with his parents at Wooda Bridge, Lezant and working as a Carpenter and Wheelwright. He enlisted at Launceston with the Royal Army Service Corps. (Regimental No.TS/10556) on the 5th of January 1916 serving with the 2nd Depot Company as a Wheeler. Whilst beginning his service at Woolwich he caught cerebrospinal fever and was admitted to the Royal Herbert Hospital on the 9th of April. He never recovered and died on the 18th of April 1916 aged 30. He is buried at the Greenwich Cemetery, London.

Elias was born in 1895 to George and Mary Sanders at Wooda Bridge, Lezant. (The family were next door neighbours to Charles Roberts above). His Father worked as a General Agricultural Labourer. On leaving school, Elias went to work for Mr. Thomas Bickell at Hexworthy Farm, Lawhitton as a Farm Labourer. He initially enlisted at Launceston with the Royal Field Artillery (Regimental No.164212) but was later transferred to the Yorkshire Hussars (Alexandra, Princes of Wales' Own) as a Private (Regimental No. 42460) serving with the 9th Battalion. He was awarded the Military Medal. He was killed in action on the 20th of September 1917. His body was never identified but his name is commemorated on the Tyne Cot Memorial, Zonnebeke, West-Vlaanderen, Belgium. Panel 52 to 54 and 162A.
John Steed
John was born in 1886 to Thomas and Elizabeth Steed at Trekenner, Lezant. His Father was an Agricultural Labourer. On leaving school, John went to work for Mr. Richard Martyn at the Glebe Farm, Lezant as a Farm Worker. By 1911 he was working for his Father on the family's farm at Pengloss, Treburley. John enlisted at Launceston with the Duke of Cornwall's Light Infantry as a Private (Regimental No. 240943) serving with the1st Battalion. He was killed in action on 22nd the September 1918 aged 32. His body was never identified but his name is commemorated on theVIS-EN-ARTOIS MEMORIAL, Pas de Calais, France. Panel 6.
Lezants Fallen from World War Two
Richard Haig
Richard was born in 1902 to Robert Haig and his wife. In 1938 He married Amy Roberts at Launceston.Richard joined the Royal Navy as a stoker (Service No D/K 65336). He eventually made Leading Stoker. It was whilst serving at 'HMS Cochrane II' (HMS Cochrane II was the Rosyth supply and accounting base for tenders between 1940 and 1945) that he died on the 4th of June 1941. 
Percy John Rowe
Percy was born in 1910 to Edward and Edith Rowe at Lezant. His father was a General Carpenter and the family lived at Tredown Cotages, Lezant. Percy joined the Royal Navy as an Able Seaman (Service No. D/JX 128324). It was whilst serving aboard 'HMS Prince of Wales' that Percy lost his life. The Japanese had landed in northern Malaya. Prince of Wales, Repulse and four destroyers were sent to attack the invasion force. After finding no targets, the British ships were returning to Singapore when, late in the morning of the 10th of December, they were attacked by a strong force of Japanese high-level bombers and torpedo planes. With no friendly planes to protect them, both heavy ships were hit several times. Repulse sank at about 1230. Prince of Wales capsized and followed her to the bottom less than an hour later. His body was never recovered but his name is commemorated on the Plymouth Naval memorial. He left a widow, Joan (nee Munt) Rowe, of Chard, Somerset
---
Hits: 914