.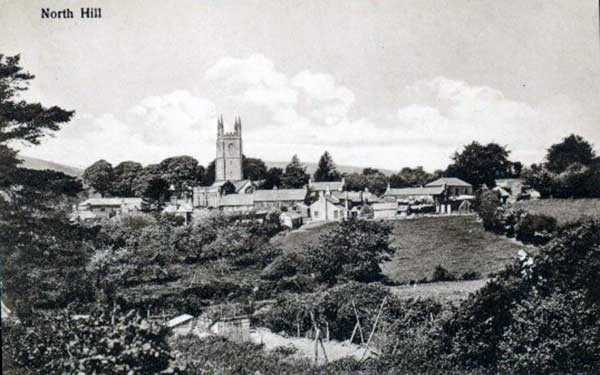 North Hill is a large rural parish on the eastern flank of Bodmin Moor bisected northwest to southeast by the River Lynher. It is bounded in the north by Lewannick parish, on the east by Lezant and Linkinhorne parishes, on the south by St Cleer and on the west by Altarnun. Settlements include the church town of North Hill and Coad's Green, Bathpool, Congdon's Shop, Middlewood, Illand, and Trebartha. The parish church is dedicated to St. Torney. The Trebartha estate is one of four farms mentioned in Domesday Book. There were Wesleyan chapels at North Hill, Bathpool as well as the present day one at Coads Green. The Bible Christians had chapels at Congdon Shop and Middlewood.    There were formerly chapels at Landreyne and Trebartha. The manor of Landreyne, according to Mr. Spoure's MS. of 1694, belonged to William Lord Wallis, attainted temp. Edward III. whose daughter Christian married John Trebartha. Mr. Lysons, however, could find no account in history of such a person as this Lord Wallis.
The parish is divided into east and west portions by the river Lynher. The eastern part is situated on slate; the western rests wholly on granite, and displays some of the most rugged, grand, and romantic scenery of the County. It is in this parish the celebrated group of rocks called Kilmar are situated. Their position is almost as remarkable as the Cheesewring, and stands at even a higher altitude, being 1277 feet above sea level.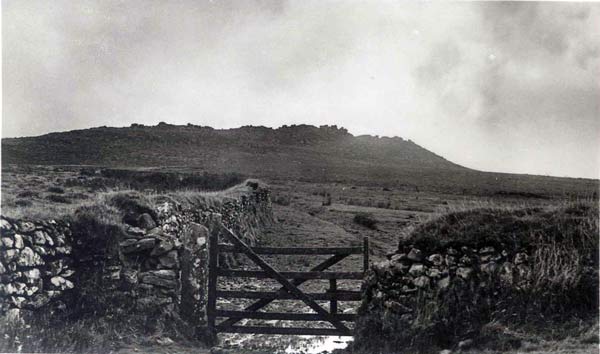 To the north of Kilmar Rocks- are also two other piles of rocks, which are strikingly grand — Trewortha Tor, which includes King Arthur's Bed, and Hawk's Tor. Ridge Hill, and the Cascade, are both situated in the parish.
The Church is dedicated to St. Torney and is an ancient building of granite in the Perpendicular style. It has a south porch, with fine roof of granite and parvise, and an embattled western tower with crocketed pinnacles, containing six bells ; also a chancel, nave, north and south aisles. The chancel was restored by the late Rector, Rev. Charles Rodd. Under the east window is an alabaster Reredos ; at each angle are ogee-canopied niches ; and there is an ancient piscina in the east wall and part of a hagioscope.
The tower is built upon the hard elvan rock, which may be seen protruding through the floor near the south door. The exterior of the Church was restored in 1892 at a great cost, and in 1897 internally (seen below in 1900) at a cost of £1,100. It will seat 350 persons. The register of baptisms dates from the year 1621 ; marriages from 1555; and burials from 1630.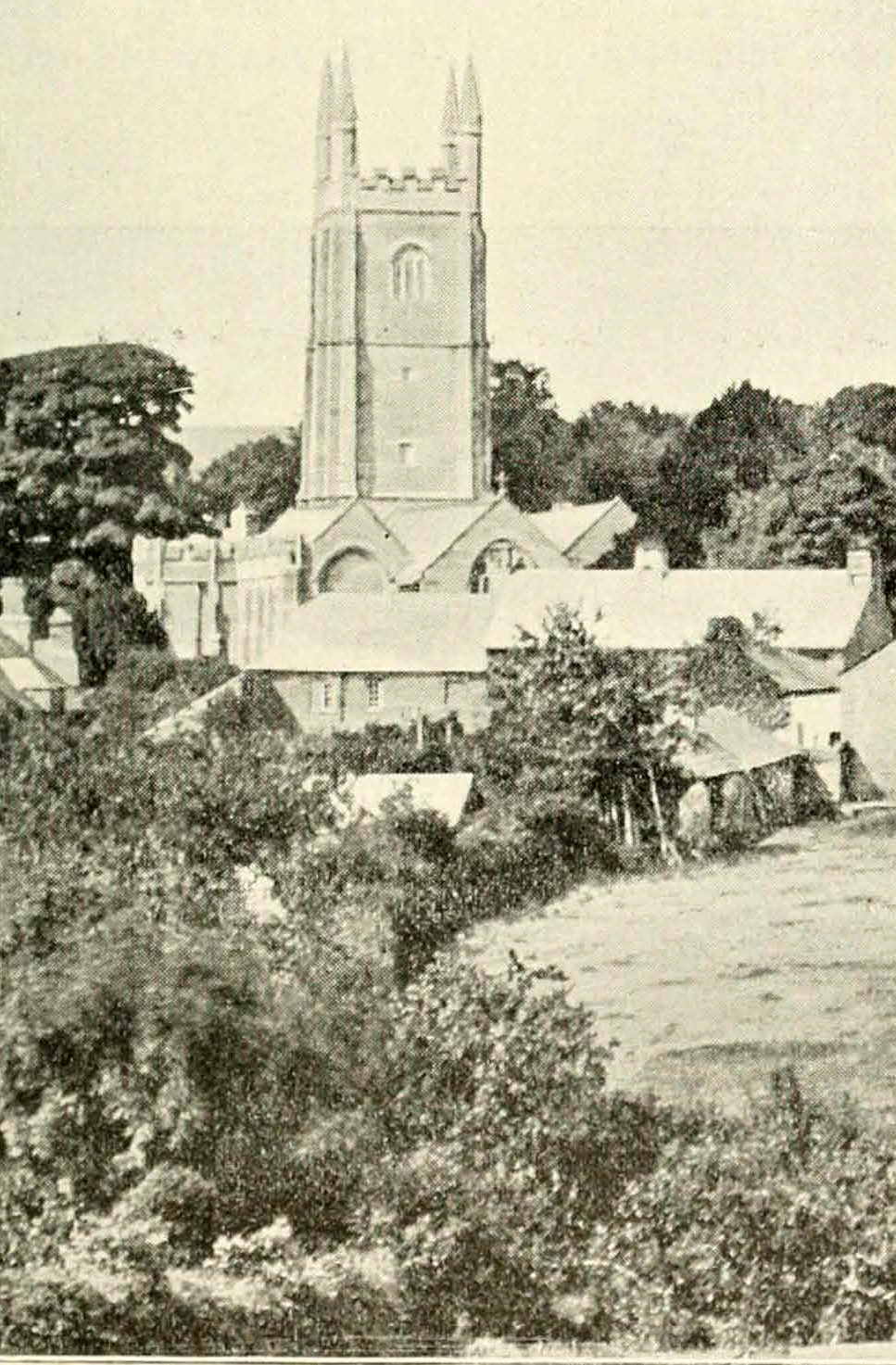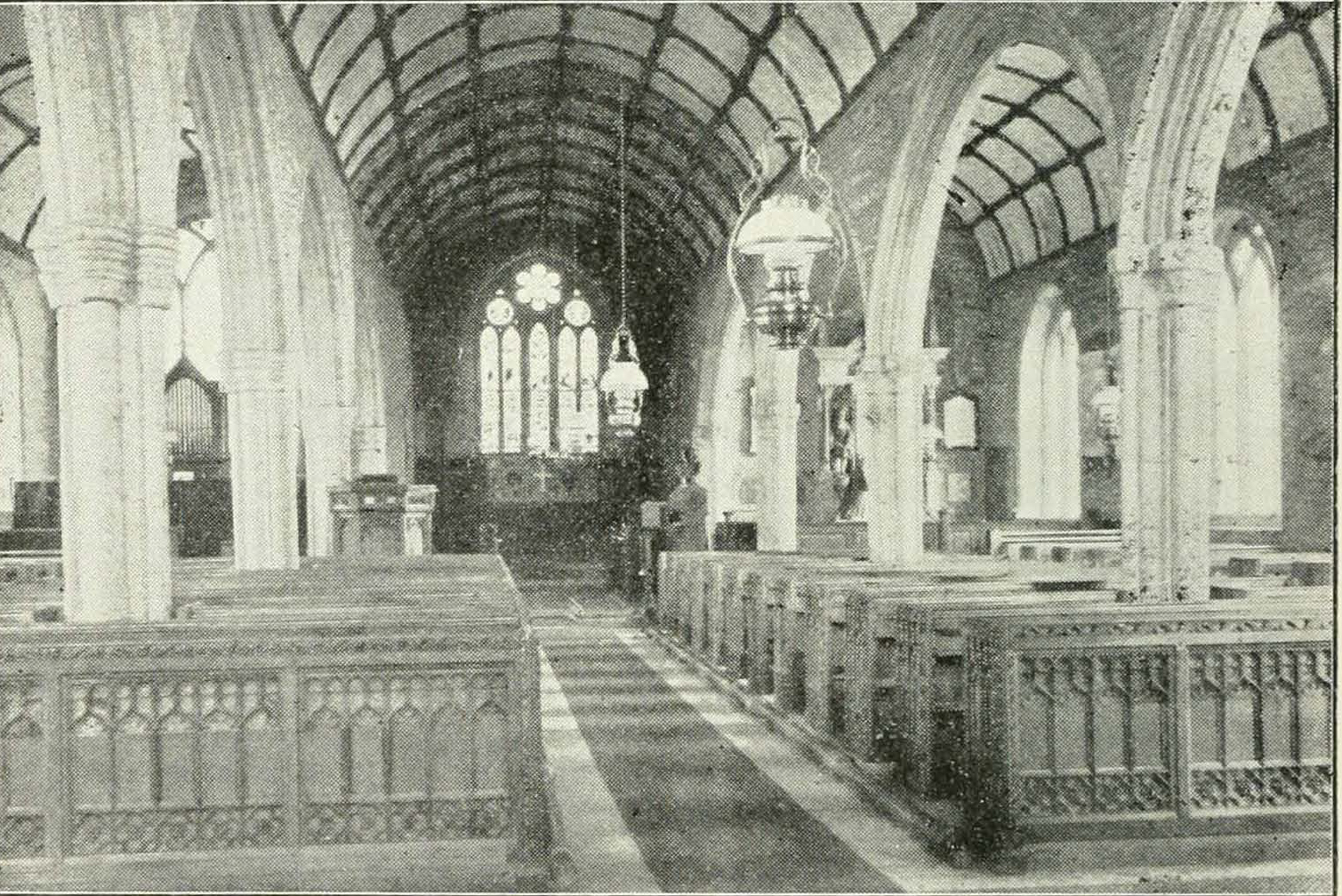 Monuments
In the north wall there is a tomb or Easter MONUMENTS, sepulchre; and at one end of the Church there is an ornamented altar tomb of slate, on which is the following inscription : —
" Here is ye body of Thomas Vincent Gentleman, and Jane his wife, by whome he had 8 sonnes and 7 daughters, he departed this life 29th of March 1600, she ye 7th Jany. 1601."
The effigies of both parents and their fifteen children are displayed in the attitude of devotion. There are also figures of death and of our Lord with Latin inscriptions. This monument formerly stood in the east wall of the church on the site of the present organ.
There are also monuments inscribed as follows : —
" Here lyeth the bodye of Henri Spoure, of Trebath, Esquier, who departed this life the VII daye of October, Anino domi 1603, who had issue V sonnes and VI daughters, his adge 61.
As thou art, so was I,
And as I am, so shalt thou be."
" Here lieth ye body of Richard Spoure ; ye son and heire of Henry Spoure,
Esq., and Elizabeth; who was buried ye 20th day of April in Anno Domini 1623.
This carved tombe the sad inscription beares,
Of my soone death, and of my parents teares
For my departure, Though that happy I
By that was freed from future misery ;
And now instead of their fond dandling kisses,
I now enjoy a heaven, — a heaven of blisses,
Waile not therefore for me, but heavens implore,
That God with other issue you would store ;
Whose pious lives may cause you joyful! eyes ;
And Tend your death with sacred obsequies."
In the chancel there is a memorial window :
" To the glory of God and in memory of Francis Rodd, who died March
2nd, 1880, aged 73. Also of Mary his wife, who died May 17th. 1866,
aged 56."
Another large memorial window is in memory of Emma, daughter of the late Rev. Charles Rodd; and there is also one in memory of Charles Edward Rodd, who died 13th December, 1865, aged 16 years. The Rev. Charles Rodd, late Rector of this parish, was buried in the family vault, and a modest marble monument has been erected in the chancel to his memory.
In 1899, a stained glass window was erected in the south aisle by Sir Rennell Rodd and his mother, in memory of the late Major Rodd.
It is evident from the only relic which is still preserved that there was once a Chapel licensed at Trebartha. It is a Mural Tablet of a child in a Chrysom garment, with a Latin inscription now quite illegible. This monument was originally found in a heap of rubbish near the Chapel at Trebartha, by Edmund Spoure circa 1694. It was subsequently re-discovered face downwards in the floor of an out-house at Trebartha, and is now fixed in the east wall of the Church in the Trebartha aisle.
List of North Hill Vicars from 1532-1901
1532 April 10th. Thomas Chard
1664 December 21st. Jonathon Darley
1700 June 29th. John Darley
1709 May 30th. George Porthbury
1714 October 7th. Peter Church
1717 July 22nd. John Roberts
1748 October 28th. James Trevillian
1767 June 3rd. Thomas Rowe
1772 June 27th. John Veryard Bratton
1821 May 31st. George Thomas Plummer
1828 November 27th. Edmund Trelawney
1832 April 30th. Charles Rodd
1885 March 25th. Theophilus Willing
North Hill Marriage Registers 1555-1748
---
Methodism from a piece published by Thomas Venning in 1901
The first preaching places in the parish were at the houses of a Mr. Richard Peter at Illand, and Mr. John Nile at Batten's Farm, in the village of North Hill. This John Nile previously referred to — who opened his house at the request of Adam Clarke for preaching services at Botternell, in Linkinhorne – removed from there to Batten's Farm in 1786, where he also opened his house to the Methodist Preachers. Here services were conducted every Sunday afternoon, and in course of time a Society was formed, the Class Leader being Mr. Thomas Jasper, of Tremollett. Adam Clarke preached at Batten's Farm once, at least, and his visit is connected with an amusing episode. Molly Nile, the farmer's wife, was a good old Christian, and took great care of the preachers when they came to Battens, always providing something special for the preacher's supper. On the occasion of Adam Clarke's visit, Molly anticipated supper-time by cutting off some dainty slices of meat from the joint at the dinner table, which she put away very carefully in the pantry. Forgetting, however, to close the door behind her, the cat walked in and seeing those delicious morsels devoured them, and the preacher had to go without his supper.
For several years there was preaching at Battens (below), varied by services at other places in the village, while prayer meetings were held at Trekernel, the residence of Mr. Wm. Wevill.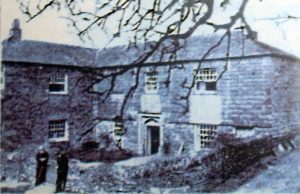 It was in 1809, when the Launceston Circuit was divided and the Liskeard Circuit formed, that all the places from Caradon southward thenceforth belonged to Liskeard ; and the Launceston Circuit reached from Botternell on the south to Kilkhampton on the north. The Revs. John Walmsley, Superintendent, and W. Beal, Junior Minister, were both stationed at Launceston when the Circuit was divided. The latter to the end of his long and useful life was never weary of talking about his first Circuit at Launceston, which embraced North Hill. Then there were flourishing Societies in this section of the Launceston Circuit, and it was suggested that suitable Chapels should be erected. The subject was discussed, approved of heartily, and in the year 1810 the building of Chapels began.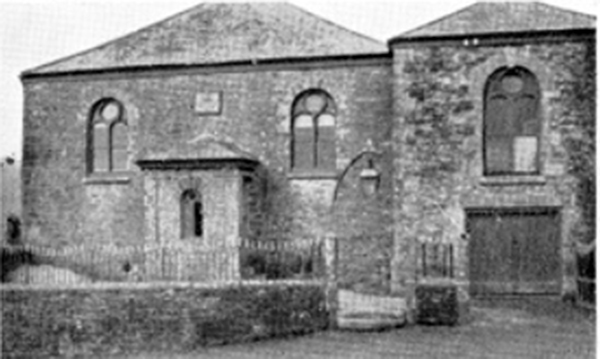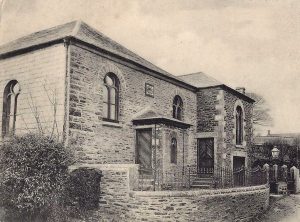 At North Hill the first Methodist Chapel (above) was erected (now converted to a private dwelling). It was the oldest place of worship in the Circuit. A Mr. Thomas Jasper, who was the Class Leader of the Society at Battens, took a prominent position in this undertaking, and advanced the money for the purpose of building. A piece of land was secured, and legally conveyed to a body of Trustees, all of whom were hearty supporters of the Wesleyan Society. The names of those forming the Trust of the first Methodist Chapel in the North Hill Circuit were Thomas Jasper, Tremollett; Matthew Wevill, North Hill; Edward Jasper, Tremolltt ; Edward Brown, Northhill; William Pearse, Tremollett ; Walter Dawe, Kingbear ; Samuel Peter, Illand ; Thomas Vosper, Richard Vosper, and George Vosper, of Upton, Lewannick ; and Reginald Jenkin, of Penhole.
The Chapel was opened by the Rev. John Riles, Chairman of the Plymouth Dock District, and great numbers came from, far and near. They trudged along the road ; many came on horseback with their fair spouses on a pillion behind them ; they thronged the Chapel to the doors, and many stood without unable to gain admittance ; and the service was a memorable one.
In 1786 Adam Clarke preached on Shrove Tuesday at Illand, in the house of Mr. Richard Peter. For many years services were conducted here until Mr. Peter's decease. The Methodists then held their services for a short time at Tremollett, after which they came to Coad's Green, and occupied an empty cottage in the road leading to Penhole. Here they met in Class, held Prayer Meetings, and established a Sunday School.
Four years before North Hill Chapel was built, a family resided at Trebartha Barton, which was destined to play an important part in Methodism in this parish and circuit. At that time a little boy was born at Trebartha Barton, and they called him Thomas. His father was removed by a painful and sudden death from his family. Some years after Thomas was taken to Lanoy farm at Coad's Green, where he lived with his elder brother William. When about 11 years of age a revival took place and many in this locality were brought to God, among them being Thomas Pethick and Richard Hicks, then boys together on Lanoy farm. Their zeal for God led them to hold Prayer Meetings in the barn. This was not approved of by Mr. William Pethick, and he forbade any religious service to be held on the premises. In fact, his opposition to Methodism was most decided at that time. One morning as William Pethick passed the bedroom of his younger brother, he heard him praying for his conversion ; his wife first heard the prayer and then called her husband. He was affected by the earnestness of the prayer. He felt there must be something in this new sort of religion after all, if it caused his brother thus to pray for him. He thought it over. About this time he had a dream which produced a great effect upon him, and William Pethick and his wife  converted.
It was now decided to build a Chapel at Coad's Green, and in 1826 a piece of land belonging to William Pethick was conveyed to Trustees, and the foundation of the present old Chapel — now used for a Sunday and Day School — was laid. Thomas Pethick , used to relate, with a smiling countenance, how he held one end of the tape by which the size of the building was determined, and watched the workmen put in almost every stone until it was finished. Thomas Pethick heartily and energetically laboured in connection with the cause, and sometime afterwards the old Chapel had to be enlarged to meet the growing demands of the congregation. Thus Methodism prospered at Coad's Green, and in all the prosperity no one rejoiced more than Thomas Pethick. Although for many years previous to his death Mr. Pethick had not resided in the neighbourhood, yet he had always taken the heartiest interest in North Hill Methodism. Thomas Pethick, who went to reside at Bristol and succeeded in business as a merchant, was up to the time of his death, which occurred February 23rd, 1884, a great supporter of Methodism not only at Coad's Green, but throughout the Circuit.
In the Chapel at Coads Green there is a beautiful Marble Tablet in the shape of a scroll on which is inscribed :
" In Revered and Loving Memory of Thomas Pethick (late of Lanoy) Born at North Hill February 3rd, 1806. He received the Kingdom, of God as a little child and walked in its Light and Freedom For a Period of Sixty Eight Years. As Local Preacher, Class Leader and Steward, He served his Generation Faithfully, and Fell Asleep In Jesus February 23rd. 1884.
Also of Susan his wife who entered into Rest September 9th, 1886.
' Lo He bringeth them unto the Haven where they would be.' — Ps. 107.30."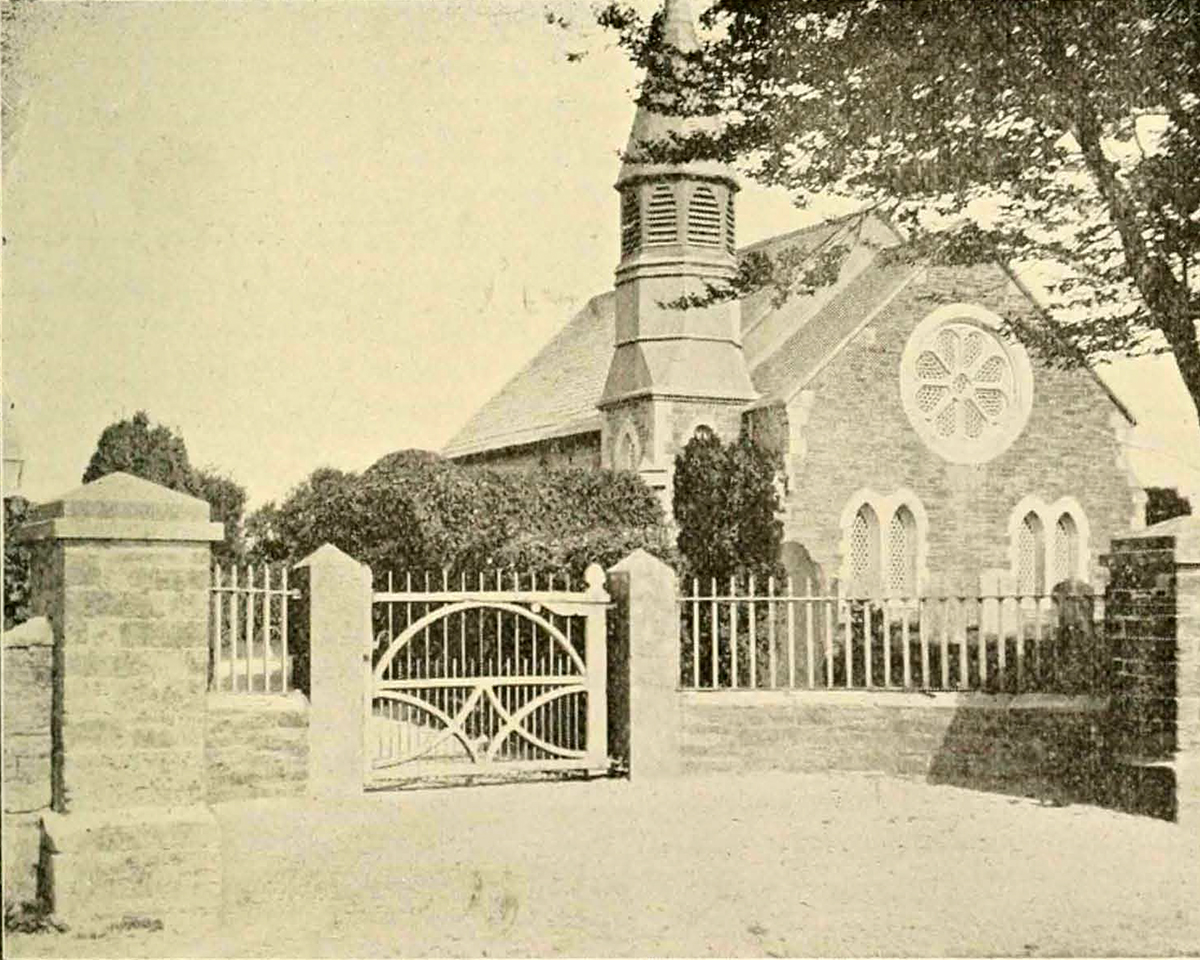 The present neat and pretty little country Chapel at Coads Green (seen above in 1900) was erected in the  year 1848. There are convenient vestries adjoining the Chapel at the rear. A School-room is also near, which was formerly used as the old chapel.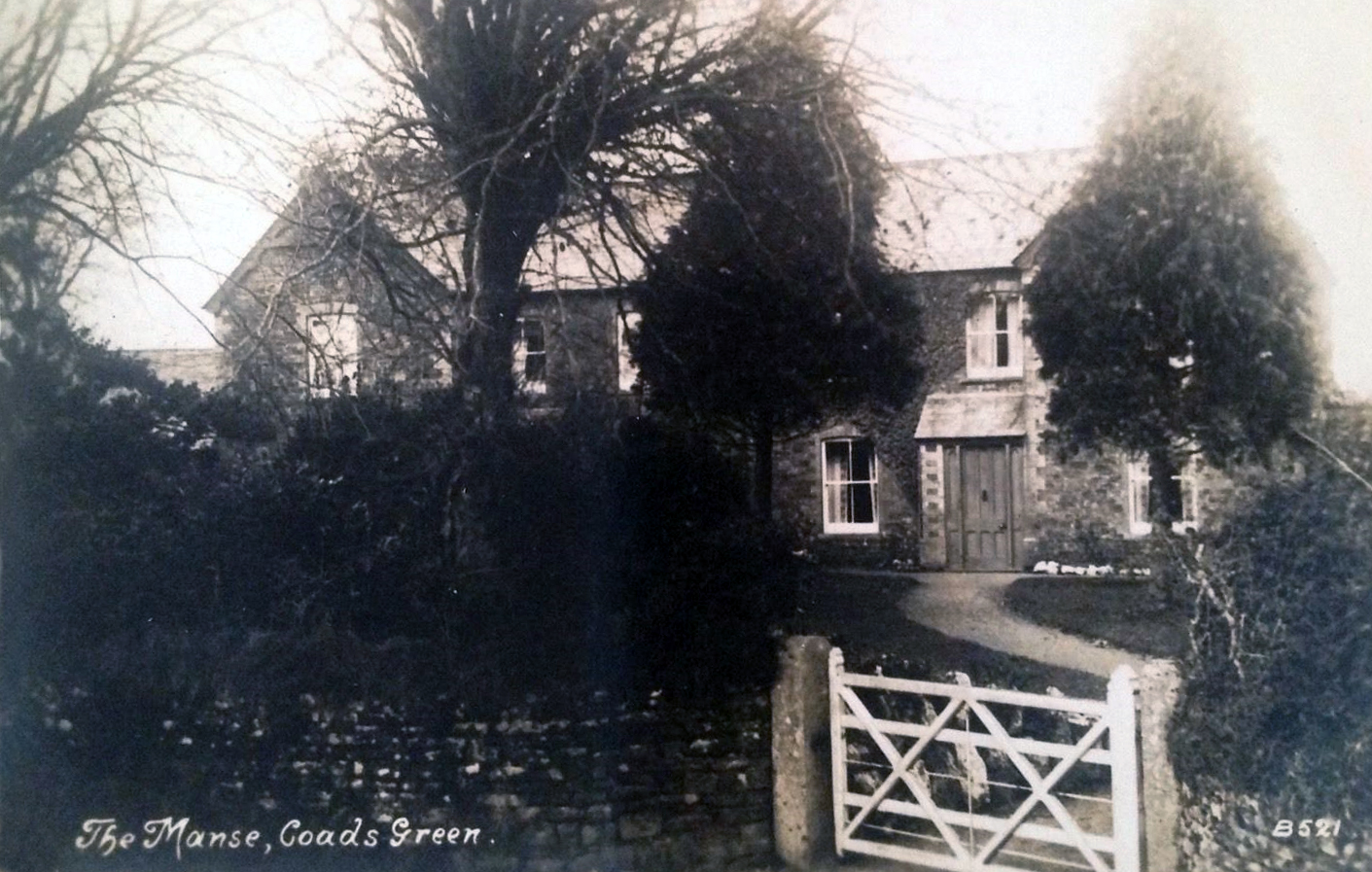 In 1868, when the North Hill Circuit was divided from Launceston, Coads Green was made the head of the Circuit, being the most central. In addition to the complete set of premises which the Wesleyans previously possessed, a Minister's house called "The Manse" (above) was erected very near the Chapel, the site of which was granted by the late Mr. Thomas Pethick, who also contributed largely towards the erection, the cost of which, about £400, was soon entirely defrayed by the Circuit. There were eleven places of worship in the Circuit, nearly all of which had possessed complete premises with conveniences attached, including Cemeteries. The North Hill Circuit was often called " The Model Country Circuit of Methodism."
---
Trebartha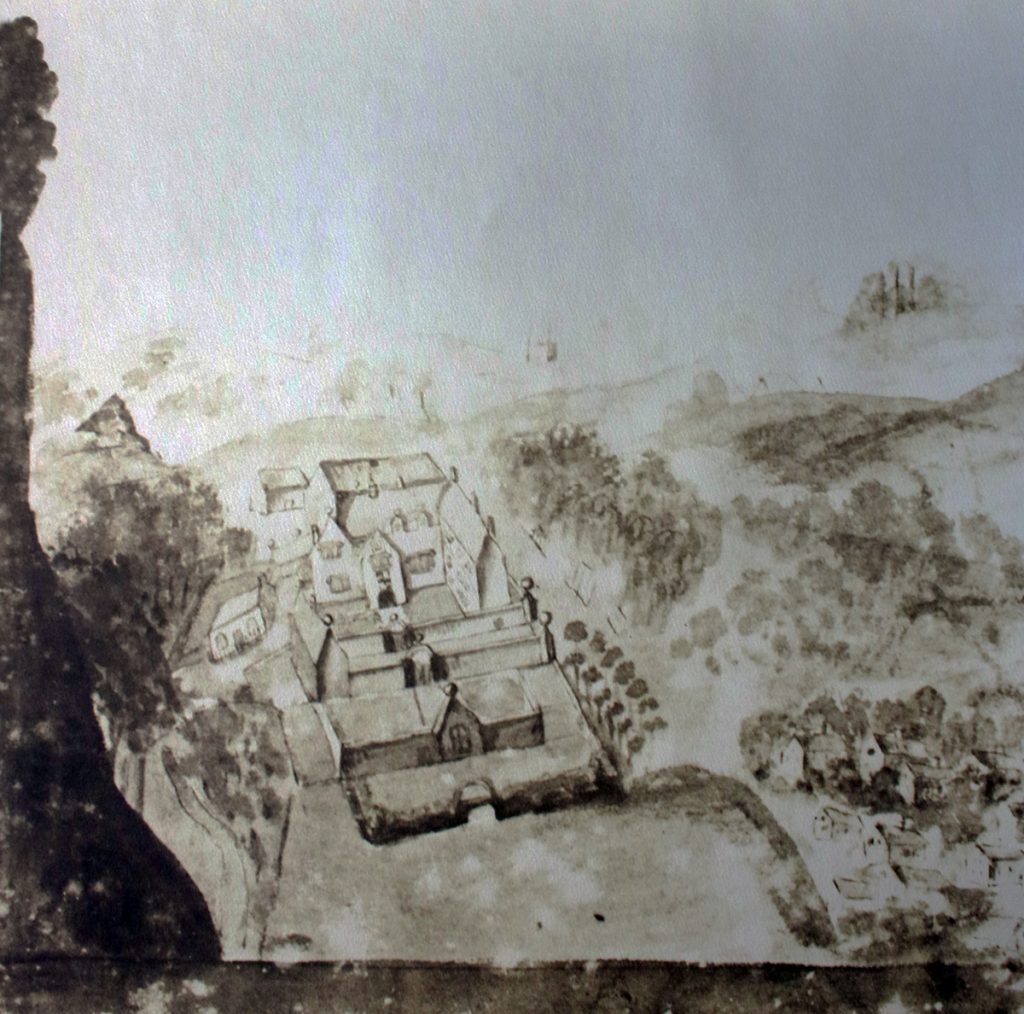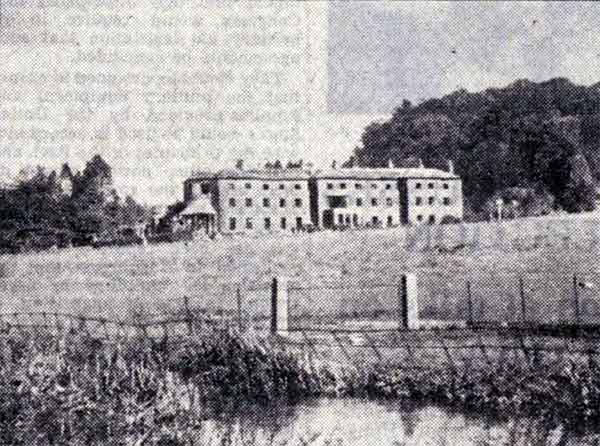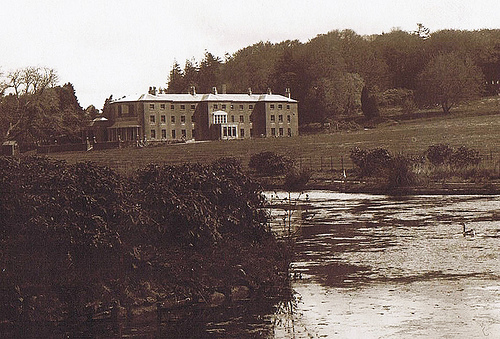 Trebartha Hall (above) has a long history with the original house being built in the 12th century. In the time of Edward III, the property was held by a family who assumed the name of Trebartha. Nicholas Trebartha, the last male heir, died in the reign of Henry VII, leaving a daughter who married Thomas Spoure. Thereafter Trebartha was the seat of the Spoure's and the Rodd's in turn for over 200 years each.
One of the descendents, Henry Spoure, discovered a rich tin lode on the estate. The yield was so generous that he gave £1,000 to each of his five daughters. According to Edmund Spoure, the family chronicler of 1694, this was the first £1,000 ever given to a daughter 'for a portion by any private gent of his quality in Cornwall.' Gold in small quantities was also obtained, and some of it was fashioned into a seal ring which became a family heirloom. 'Full five descents this old ring has been possessed,' wrote the chronicler, 'since first extracted from the tin by the Spoure's, so by succession now has come to me, of the first line now the last son. Then let's begin and dig, ne'er doubt of small things, leave the success to Him who governs all things.'
The reign of the Spoure's ended in 1727. In that year, the heiress, Mrs. Mary Grylls, a widow, died before her intended marriage to her cousin, Francis Rodd, and to him she bequeathed Trebartha. The property remained with the Rodd's until 1940. Curiously enough, a portion of the estate was levied in the payment of a feudal due to the Duke of Cornwall whenever he crossed the Tamar into the Duchy. It was a pound of cummin. The last payment of this aromatic seed was made at Launceston Castle in 1973 to Prince Charles.
In the 18th century the mansion of the Trebartha's, Spoure's and Rodd's, including a domestic chapel, was demolished by Colonel Francis Rodd and he built Trebartha Hall on the same site.


In 1940 the ancestral home was sold by Major Edward Rodd to Trebartha Estates Ltd who were based in London. The hall was then commandeered for use in turn as a RAMC hospital for British then US soldiers and finally for POW's. The heavy expenditure necessary to restore the property, and the impracticability of converting the hall to flats, were among the economic reasons which led to the company's decision to demolish the premises with the materials being placed for auction.
Some of the buildings to the north of the main hall still survive today and are in domestic use. The estate and the wonderful gardens still survive and are now in the hands of the Latham family. For more on Francis Rashleigh Rodd.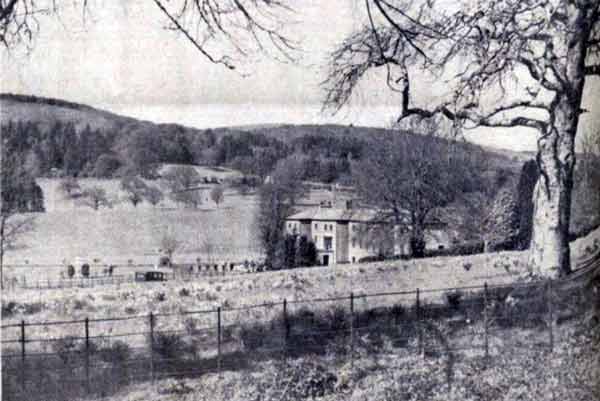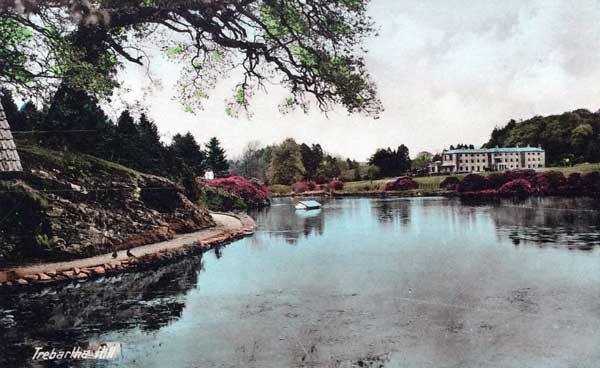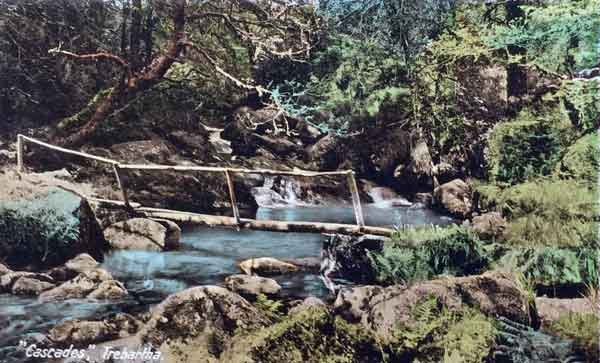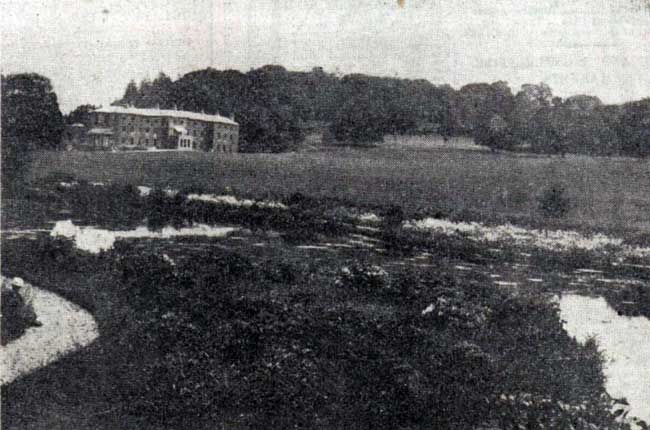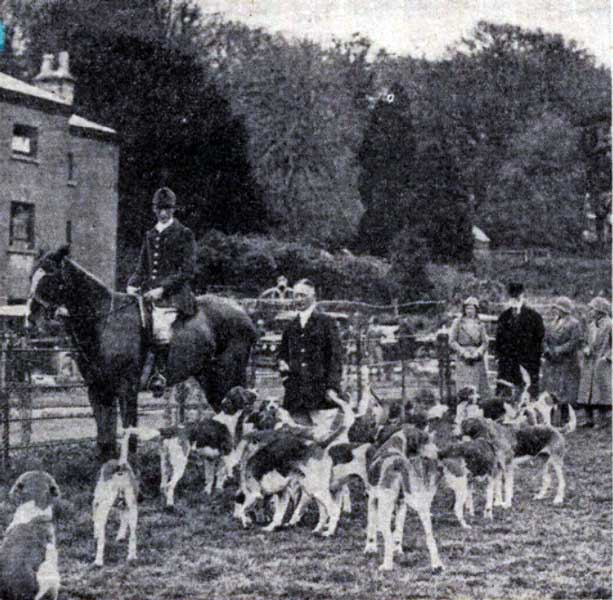 ---
North Hill Gallery.
---
North Hill's Fallen from World War One.
North Hill Parish Roll of Honour. For further information visit the North Hill History Group website.
Leonard Richard Bartlett (1889-1917)
312030; Driver; Canadian Field Artillery, 3rd Division; Ammunition Column
Buried at St Torney, North Hill
North Hill Parish War Memorial
Roll of Honour in St Torney's Church, North Hill
William Frederick Bettess (1889-1917)
203106; Lance Corporal; 2nd Battalion Wiltshire Regiment
Buried at Torreken Farm Cemetery in Belgium
Lewannick War Memorial
Edred Buckingham (1876-1916)
269315; Chief Engine Room Artificer 1st Class; HMS Nottingham
Lost at sea
Plymouth Naval Memorial
North Hill Parish War Memorial
Roll of Honour in St Torney's Church, North Hill
Coad's Green Sunday and Day School Roll of Honour
Albert Colwill (1889-1918)
K/18812; Leading Stoker; HMS Anchusa
Lost at sea
Plymouth Naval Memorial
North Hill Parish War Memorial
Roll of Honour in St Torney's Church, North Hill
Mark Duance (1897-1916)
24198; Private; 7th Battalion, Royal Dublin Fusiliers
Buried at Struma Military Cemetery, Greece
North Hill Parish War Memorial
Roll of Honour in St Torney's Church, North Hill
Coad's Green Sunday and Day School Roll of Honour
Alfred Edward Foott (1896-1917)
M/16360; Carpenters Crew; HMS Vanguard
Lost at sea
Chatham Naval Memorial, Kent
North Hill Parish War Memorial
Roll of Honour in St Torney's Church, North Hill
James Aunger Foott (1892-1917)
M/15887; Carpenter's Crew; HMS Vala
Lost at sea
Plymouth Naval Memorial
North Hill Parish War Memorial
Roll of Honour in St Torney's Church, North Hill
Elsie Margaret Humphrey (1889-1920)
Sister; Territorial Force Nursing Service
Click here to read more about Elsie Humphrey …
Buried at St Torney, North Hill
John Henry Hutchings (1882-1918)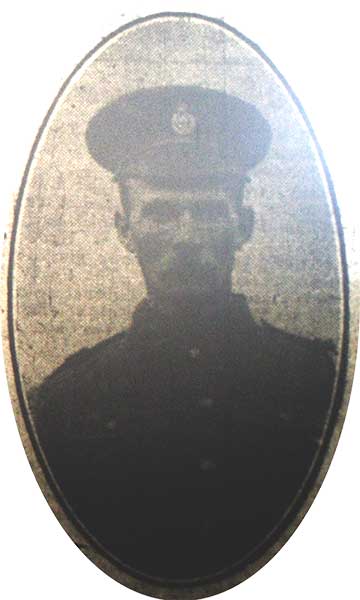 33969; Private; D Coy, 13th Battalion Yorkshire Regt. (Green Howards)
Buried at Mory Abbey Cemetery near Arras , France
Launceston War Memorial (as 'I' Hutchings)
North Petherwin War Memorial
Ernest Albert Jasper (1882-1917)
13th Battalion Hants and 34th Training Battalion
Buried at the Wesleyan Church, Coad's Green, North Hill
South Petherwin War Memorial
Lezant War Memorial
Frank Jasper (1893-1917)
36436; Private; 1st Worcestershire Regiment
Body never identified or recovered
Thiepval Memorial, France
Lewannick War Memorial
Coad's Green Sunday and Day School Roll of Honour
John Jasper (1888-1918)
1947; Private; 2nd/7th Cyclist's Battalion, Devonshire Regiment
Buried at St Torney, North Hill
Roll of Honour in St Torney's Church, North Hill
Linkinhorne War Memorial
Ernest Jeffery (1886-1916)
4520. Private. B Coy. 52nd Battalion, Australian Imperial Forces (AIF)
Buried at Lebucquiere Communal Cemetery Extension, Bapaume, France
North Hill Parish War Memorial
Roll of Honour in St Torney's Church, North Hill
Cecil William Kelly (1891-1916)
10/3620 (alternatively 628493) Private. 2nd Battalion, Wellington Regiment, New Zealand Expeditionary Force (NZEF)
Body never identified or recovered
Caterpillar Valley (NZ) Memorial at Longueval, France
North Hill Parish War Memorial
Tikokino War Memorial, New Zealand.
Roll of Honour in St Torney's Church, North Hill
William Werry Landrey (1897-1918)
92871; Private; 11th Battalion, Royal Tank Corps
Buried at Windmill British Cemetery, Monchy-le-Preux, France
North Hill Parish War Memorial
Roll of Honour in St Torney's Church, North Hill
Claude John Hoskin Mitchell (1894-1914)
1453; Private; 5th Battn, Duke Of Cornwall's Light Infantry
Buried at Seaton Valley (Cramlington New) Cemetery, near Blyth, Northumberland
North Hill Parish War Memorial
Roll of Honour in St Torney's Church, North Hill
Sydney Perry (1895-1916)
17268; Private; 1st Battalion Duke of Cornwall's Light Infantry
Buried at Heilly Station Cemetery, Mericourt-L'abbe, France
Roll of Honour in St Torney's Church, North Hill
Coad's Green Sunday and Day School Roll of Honour
Lewannick War Memorial
Linkinhorne War Memorial
Lewis Reed (1896-1918)
K/30424; Stoker 1st Class; HMS Active
Buried at St Torney, North Hill
North Hill Parish War Memorial
Roll of Honour in St Torney's Church, North Hill
George Sargent (1892-1919)
VR/772 CPO Engine Room Artificer 4th Class; HMCS Niobe
Buried at Halifax (St. John's) Cemetery, Nova Scotia, Canada
Roll of Honour in St Torney's Church, North Hill
Linkinhorne War Memorial
John Sloman (1896-1916)
105088; Gunner; Royal Field Artillery; 'B' Battery 51st Brigade
Body never identified or recovered
Thiepval Memorial, France
Coad's Green Sunday and Day School Roll of Honour
Claude Snell (1884-1918)
14693; A/Lance Corporal; Royal Engineers
Lost at sea
Chatby Memorial, Alexandria, Egypt
North Hill Parish War Memorial
Roll of Honour in St Torney's Church, North Hill
Launceston War Memorial
George Snell (1884-1918)
314912; Corporal, RAF
Buried at All Saints New Churchyard, Nafferton, Yorkshire
North Hill Parish War Memorial
Roll of Honour in St Torney's Church, North Hill
Launceston War Memorial
Ernest Thompson (1892-1916)
G/6708; Private; 6th (Service) Battalion, The Buffs (East Kent Regiment)
Body never identified or recovered
Loos War Memorial, Dud Corner Cemetery, near Loos in France
North Hill Parish War Memorial
Roll of Honour in St Torney's Church, North Hill
Alfred James Wills (1895-1918)
Second Lieutenant; Royal Garrison Artillery, 182nd Siege Battery
Buried at Highland Cemetery, Le Cateau, France
Stoke Climsland War Memorial
The above names were researched by the North Hill History Group and full information can be found at their excellent website; www.northhillhistory.co.uk/warmemorial.htm
North Hills Fallen from World War Two
Leslie Daniel
No information available
William A. Evans
Born on January 4th, 1910, William lived with his wife Rosina in North Hill village. In the 1939 register he is listed working as a pig and poultryman. His military record is sketchy, but it is likely that he served with the Royal Engineers as a driver (Regimental No. 1946988) and died on October 27th, 1942 whilst serving in Iraq.
Lesley  Maunder
Lesley Maunder was the third of Mr. and Mrs. Ernest Maunder's six children. Lesley was born at Tremollett, and went to school in Coad's Green and attended Sunday School at the Chapel in the village. Indeed, it was Leslie's Sunday School teacher who encouraged him to join the Navy. At 14 years old, Lesley enlisted as a boy telegraphist, receiving his training at HMS Impregnable. He joined the crew of HMS Exeter in 1941. On March 1st,  1942 the Exeter was fatally damaged in the Battle of the Java Sea, and sunk.He survived but was captured by the Japanese and taken prisoner. He was placed in the dreadful prisoner of war camp on the remote Ambon Island. Lesley died on April 13th, 1945, just four months before the Japanese surrendered. He was interred at the Ambon War Cemetery (grave no. 29B11).
Harry Wakem
I believe this to be Harry Buckingham Wakem who was born in 1901 at Trebartha , North Hill to William and Jane (nee Buckingham) Wakem. His death occurred on the 13th of April 1940 and he is buried at North Hill Parish Church. I have been unable to find any information on his military service.
Click here for the Coads Green Auxiliary Unit Patrol.
---
Hits: 763