.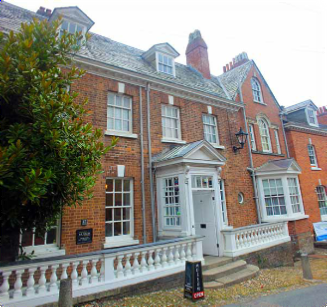 It may seem a little strange to historically list a museum amongst these pages, but Launceston's museum has quite a past starting with its humble beginnings in the 1870's.
You would think given Launceston's deep history that records would have been kept detailing its evolution, indeed there were various pieces of documentation but in the late nineteenth century nothing had been placed together to give a concise historical value to its name. With the arrival of Mr. Richard Peter to the town this changed. A man with a keen interest in all things especially history, Richard was surprised to see the state of affairs in regard to Launceston's history so in 'The Launceston Weekly News' of the 30th of January 1874 he placed an advert;
'A history of Launceston is needed: In the hope of creating a little interest in this subject I will place 5 guineas (£5.25) at the disposal of the mayor and the reverends G. B. Gibson and S. Childs-Clarke, to be distributed in prizes among contributors to authentic or legendary information relating to the Borough and its immediate neighbourhood. Contributions in sealed covers, and (if desired) under assumed signatures, to be delivered to the mayor on the 30th of June, next. Dunheved castle is mentioned in Domesday book (1086). Other ancient MSS refer to Launceston. Its parliamentary history can be traced. Our church records and municipal records, the private deeds, or memoranda of individuals, coins, tokens, implements of peace or war locally found, magazines, etc., combine to illustrate the former jurisdiction, privileges, ecclesiastical buildings, charitable foundations, customs, families, etc., of the place. I beg leave to add that if from the desired materials a history can be compiled, the profits to arise from the publishing shall be added to the charity funds of the borough'.
From the above little acorn grew the huge oak of 'A History of Launceston', the joint work of Richard and son Otho, published in 1885, and many other works since that time including Sir Alfred Robbins excellent 'Launceston Past and Present'. Over the following years the museums collection began to grow with gifts, loans and purchases being made.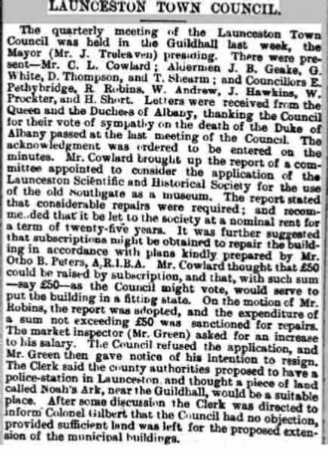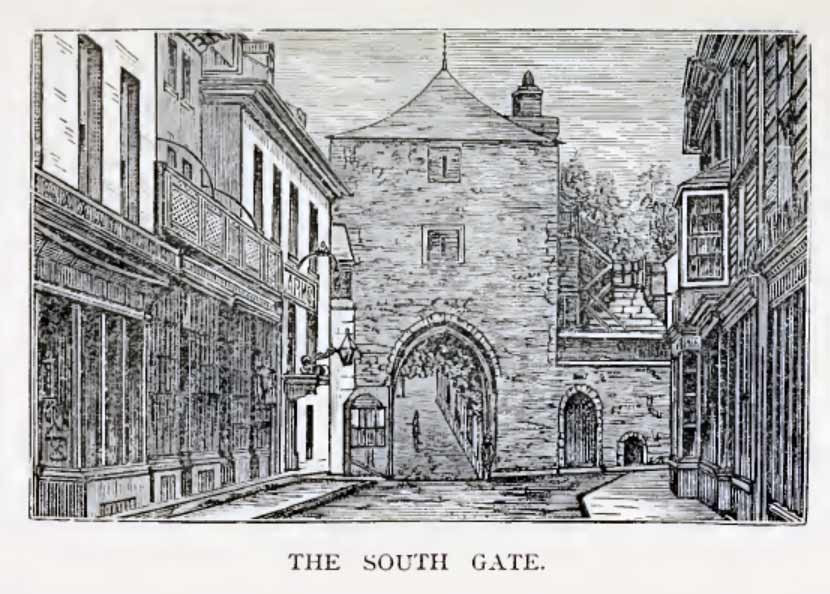 ---
From the Cornish and Devon Post February 23rd 1889:
The following gifts, loans and purchases have lately been added to the museum: a bronze axe-head or celt, found at Hingston Down, from Mr. Baker Launceston; specimens of fossils, excavated at Southampton Docks, in 1888, and specimens of Jersey granite, from the president; an old Launceston yarn account book, from Mr W Cater; two oil paintings- one being a view of the excavations of the site of Launceston Priory, July 1888, the other a sketch of a large trout caught by Mr Dennis in the Inney, from Miss E. F. Smith, Mount Pleasant; a 2nd edition of John Wesley's new Testament, lent byMr Gifford; a selection of coins from the offertories in Launceston church, C19, Mr Gifford; a cormorant and a young cuckoo, Mr H M Harvey's sale; a George III jubilee token found in Fore street; a photograph of the Priory excavations, by Mr Hayman; portions of a fossil tree from Thorndon, Ashwater, from Mr J Oag; two ancient daggers, a short sword used at Waterloo; a pair of Red Deer horns, and a sharks tail, from Mr W Braund, Lezant. Specimens of manganese from Hog's Tor mine, and a coral from India, Mr Doidge, Lifton; a 2-hour glass, Mrs Littlejohns, Launceston; an ancient sack bottle, Mr Cornelius, Stoke Climsland; a rare Maximillian silver coin, from Mr E Mellish; a meteorite found in the chalk, in the White Horse Vale, Mr E Nicolls, Launceston.
The museum has been visited by thousands of persons since it was opened by the Scientific &Historical Society in June last.
---
The collection continued to grow with items such as as a letter of Kings Charles found rotting in Blindhole, and the painting of King Charles and his equerry found in John Ching's attic.
During the second World War the museum was locked up until the hostilities had ceased, but on opening the premises up it was found that many of the artefacts had suffered from damp, old age and general neglect. With this discovery it was decided that the Southgate was unsuitable for the requirements of the museum and, after a long search, arrangements were made in 1950 between the town council and the county library committee for the use of a room at the free library at Northgate street (below).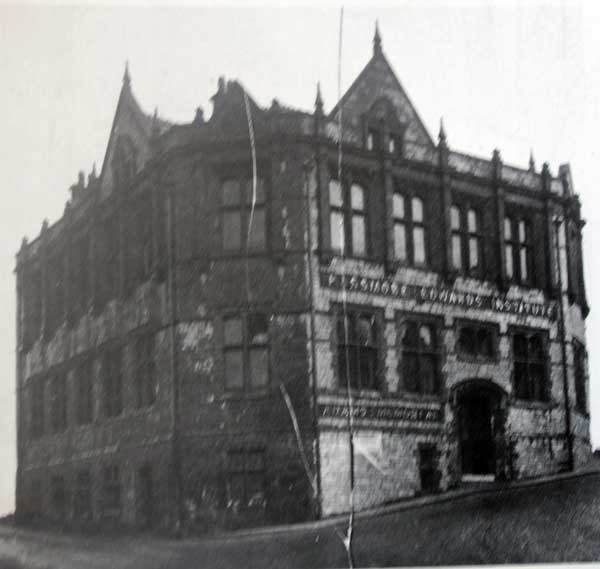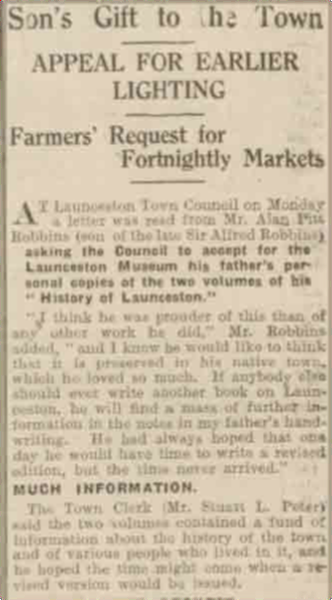 ---
From the Cornish and Devon News February 16th 1935:
Professor Couch Adams bequeathed a set of books to Launceston a complete set of Sir Walter Scott's 'Waverley' novels, amongst others, published over a hundred years ago.
---
The exhibits were sorted, many of the Victorian 'white elephants' being discarded, and on Friday night, 29th July 1960, the museum was re-opened to the public. In an address by councillor S G Adams, chairman of the general purposes committee, praise was given to good offices of the county library committee in providing the accommodation, and he thanked Freeman Stuart Peter and Alderman Spencer Toy for their part in sorting the 'sheep from the goats'. Some gifts of exhibits were made to Pennygillam school and the museum itself would now be a more streamlined exhibitor which should prove of interest to the townspeople, he said.
In 1965, Mrs Gladys Kittow (widow of Mr Horace Kittow) gave her home, Lawrence house in Castle street, with furnishings, fittings and an endowment (under certain conditions) to the National Trust. Later that year the property was leased to Launceston town council for 'civic and cultural purposes' and the town museum had, at last. A more permanent adequate home. The museum is well worth a visit and is open from May to the end of October with free entry check out their website for more information : www.lawrencehousemuseum.org.uk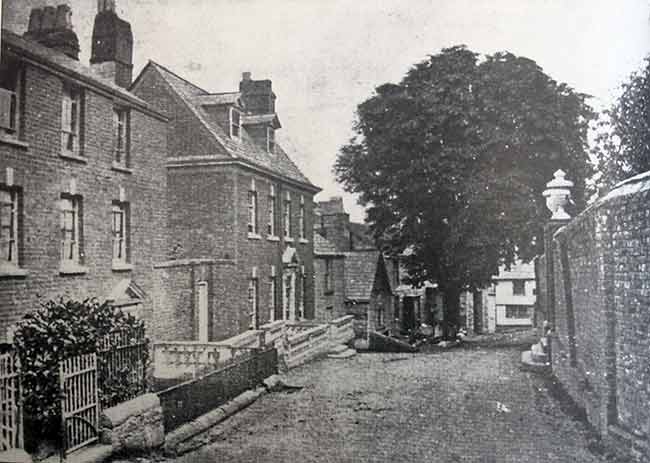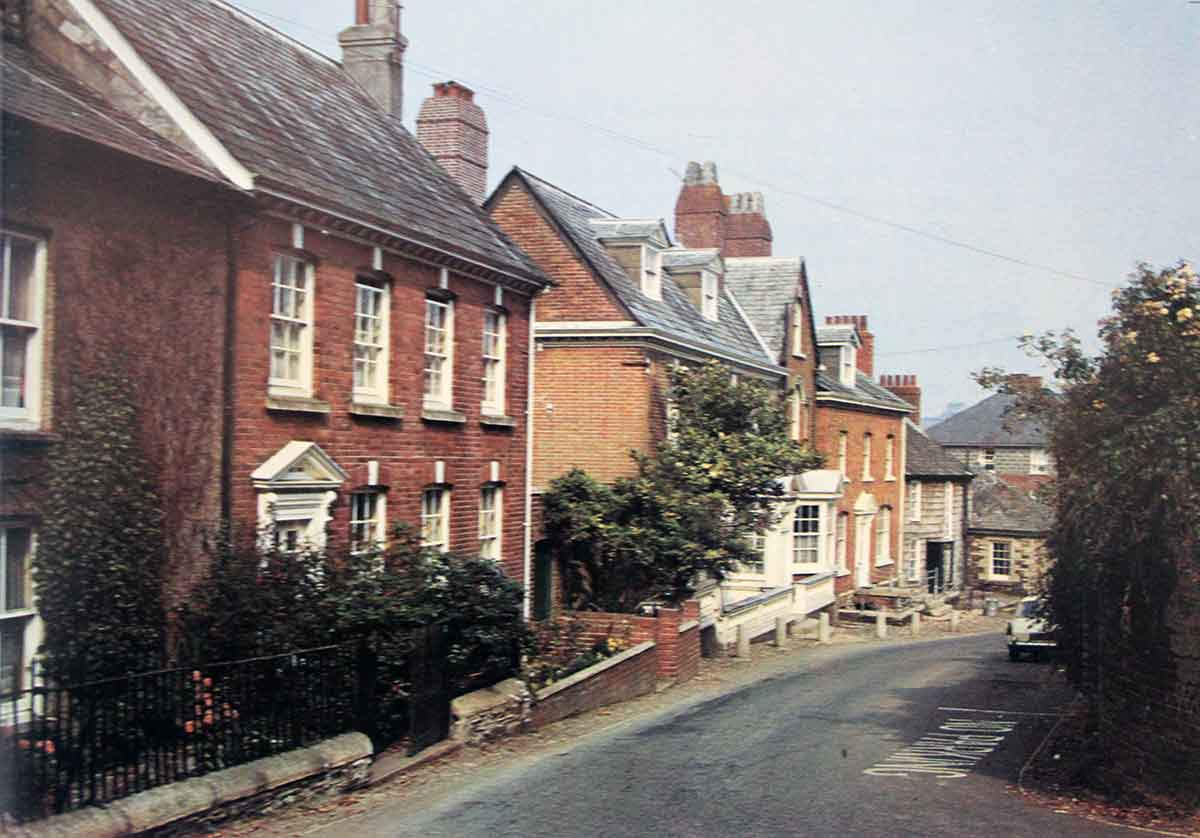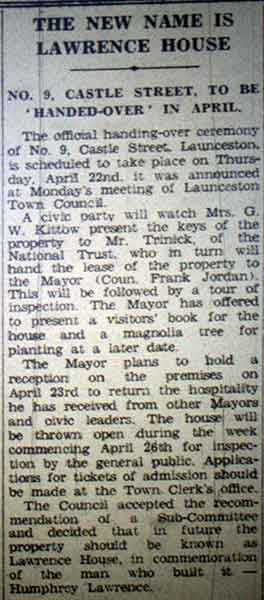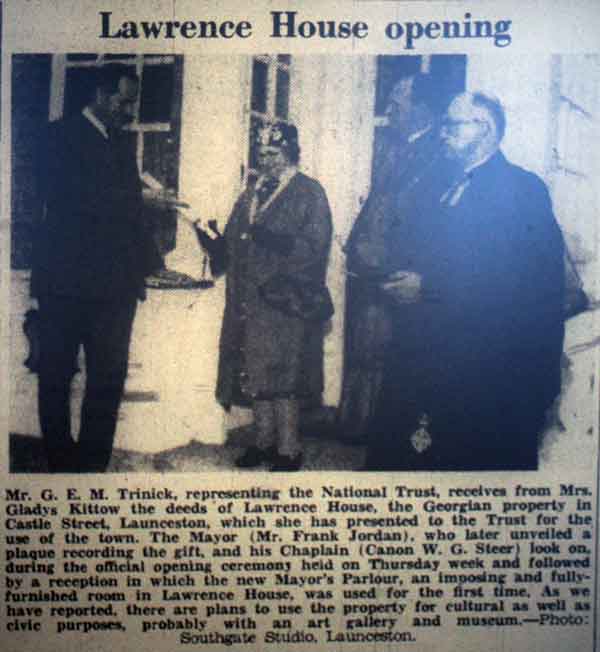 Lawrence house was built in 1754 by the Solicitor Humphrey Lawrence. For more information go here.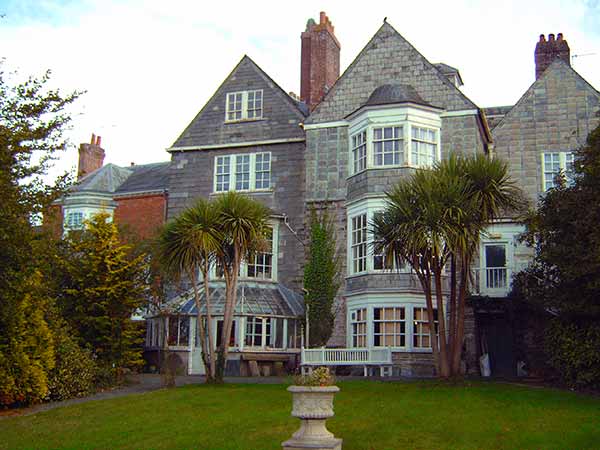 Hits: 789