With special thanks to Win Westaway.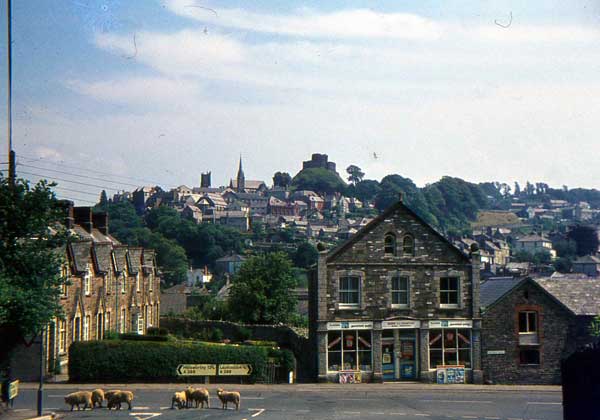 Winsor Terrace was originally owned by Algernon Duke of Northumberland who owned Werrington Estate and most of Newport up to 1864 when the Cottages  were sold to A H Campbell together with various other people and eventually being sold to J H Deakin (who was a Member of Parliament for Launceston), as was his son James (1874 – 1977) in 1871.  On the death of J H Deakin in 1880 Winsor Terrace (Then called Deakin Cottages) was sold to J W Grant (John Winsor Grant) in its entirety, by J H Deakins two sons J Deakin and E Deakin and H Goodwin.  Colonel Deakin, past owner of the Werrington Estate, who had also offered the Borough Council part of the land behind the Winsor Terrace on which to build a road from Roydon Road to join with Newport river bridge. The council declined the offer believing that the railway would take away traffic, leaving the very sharp corner beside the Inn. John Winsor Grant then changed the name of the Terrace to Winsor Cottages.  (Winsor being his mothers' maiden name).  He came to Launceston as a young man to train as a monumental mason and him and his family lived in No 1 Deakin Cottages at the time of purchase.  The cottages went on to remain in the family for 4 generations. On the death of John Winsor Grant they passed to his three remaining daughters, Alice Bright, Louise Grant and Grace Loughman who had two cottages each. They then passed down to Alice Bright's daughters (the other two had no children), Winifred Bright had No 1, Alice Hall had No 2 and No 4, Grace Hunt had No 3, Marjorie Angear had No 5 and Rose and Wilf Parrish had No 6.  (Grand daughters of John Winsor Grant).  No 1 is the only cottage still in the family being through Sylvia Parrish (great grand daughter of John Winsor Grant).
Winsor House was built in 1898 by John Winsor Grant after he had purchased the extra land from George Burt, landlord of the White Horse Inn. The granite pillars on the font of Winsor House are a testament to his skills as a monumental mason as well as gravestones in the local churchyards which bear his name and the family is very proud of.  He lived in Winsor House until his death in 1922 and it remained in the family until it was purchased again within the family by his Grand daughters Winifred Bright, Marjorie and James Angear in 1949 when they opened Bright and Angear grocers shop.  They retired in 1971 (when it was sold to Crawfords) and moved into No 5 Winsor Terrace which stayed in the family until 2004. The building is now the Spar shop.
Hits: 587