.
January
Post & News 1st January 1916: Christmas at Launceston; (extract:)
At the close of his sermon, the Vicar of St Mary Magdalene made reference to Nurse Nicolls, who went to Serbia, and to the 115 men serving from this parish. He mentioned that during the past year four have been wounded, four struck down by fever, and four have fallen in battle.
A special memorial hymn was sung and Mr Horrell sang "He shall feed his flock."
News From Serbia: Miss Marion Nicolls Safe & Well.
Great anxiety has been felt during the last three months as to the fate of the Serbian units of the Scottish Women's Hospital. At last this tension has been relaxed. We congratulate Mr and Mrs E Nicolls, of Cyprus Well, on the news that they have had this week concerning their daughter.
Last week forty-six members of the Serbian units arrived in England having met with extreme hardships as they crossed the hills of Montenegro. The journey, however, was accomplished without any casualty with the exception of the overturning of a motor car in which were some nurses, and unfortunately one lost her life owing to the injuries she sustained. All members were given the choice of leaving Serbia or remaining, but as the dangers of the journey were great, those leaving were asked to sign a paper stating that they did so of their own will.
These returned members state that Dr Elsie Ingles – the founder of the hospitals – is at work in
Kriesheratz with some members of the Lazaravatz and Krazeretz units, and that Dr Alice Hutchinson, with the greater part of her unit, to which Miss Marion Nicolls is attached, is at
Uriyatschka Birya, near Kraljevo.
We are glad that that Miss Marion Nicolls is well and that some of the units are still at work.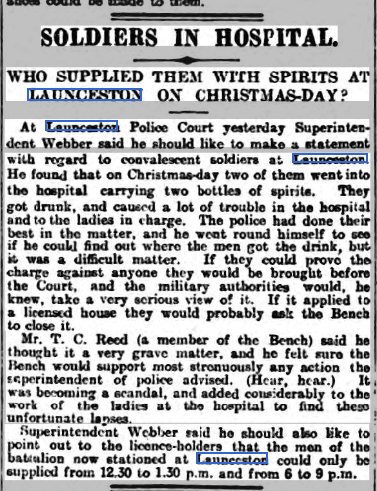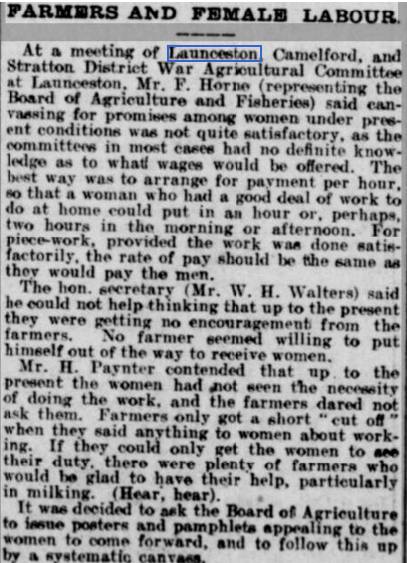 Dunheved Bed: Mrs Newton Davies, Press correspondent for the Scottish Serbian Units Hospital, send us, in addition tot he above information, a list of quarterly subscriptions received in Launceston towards the Dunheved Bed where Miss Nicolls is. The annual cost of this bed is £50. We reserve this and other particulars for full publication in our next edition.
Post & News 8th January 1916: Launceston News. The Dunheved Bed at the Scottish Women's Hospital at Kraljevo costs £50. a year to maintain. Miss AS Nicolls is the collector, and subscriptions will be gratefully received by her or by the treasurer, Miss Morehead, Trevenna, Dunheved Road, Launceston. Mrs Newton Davies informs us that the local committee have received from headquarters a number of lantern slides illustrating the work of hospitals in France and Serbia. These will be shown one evening in February.
Launceston News: Marriage: At Launceston Congregational Church, by special license, on Thursday, December 23rd by Rev F Soper, BA. ED., Trooper WW Edwards, 3.1 Royal North Devon Hussars, third son of Mr and Mrs WH Edwards, of Camelford, to Edith Annie, second daughter of Mr and Mrs CH Ball, Westgate Str, Launceston.
Congratulations to Mr and Mrs Harry Walters, who have this week celebrated their silver wedding.
Roll of Honour: Laneast. T Ayres; 2/Lt. CE Bowden; George Buckly; Lt. AH Cope; R Duke; C Harvey; Col. AJ King; Major JGB Lethbridge; Captain RCB Lethbridge; Lt. JCB Lethbridge; 2/Lt. JEB Lethbridge; TO Penhale. Navy: Davies; CF Wadge.
Trigg Major Magazine: 1916 – St Thomas. News of Service Men. Interesting letters received from Pt H Venning and Pte R Medland, both of whom describe daily life in the trenches, and what is of special interest, tell of the attendance at Holy Communion services before going to the trenches. "The service was conducted," wrote H Venning, "in a barn four hundred yards from our front line; the roof of the barn was full of shrapnel holes, our only light was a few candles; all the time the guns were thundering all around." We regret to hear that Pte H Pode had been wounded on the Persian Gulf Expedition, and that Pte R Dew has been slightly wounded in France. Thanks for cigarettes have been sent from Pte Sleeman. We congratulate 2nd/Lt. WL Cater on his well-deserved promotion.
Nurse Nicolls. After many months of splendid service in the relief of suffering in Serbia, news has been received that Nurse Nicolls must be regarded as a prisoner of war. May God speed the day of her happy deliverance and restoration to her anxious parents.
Broadwood. Mr Harold Squire, son of Mrs Thomas Squire, is with the Australian Army in Egypt.
Everybody will be sorry to know that Pte Froude Burnett is ill in hospital at Boulogne, also that Pte Harold Squire is laid up with fever at Cairo.
Lawhitton. A very pretty wedding was solemnized on Tuesday 17th January, between Driver Alfred Lane, and Miss Beatrice Anne Lewes. The bridegroom, who enlisted at the commencement of the war, had only seven days leave from France.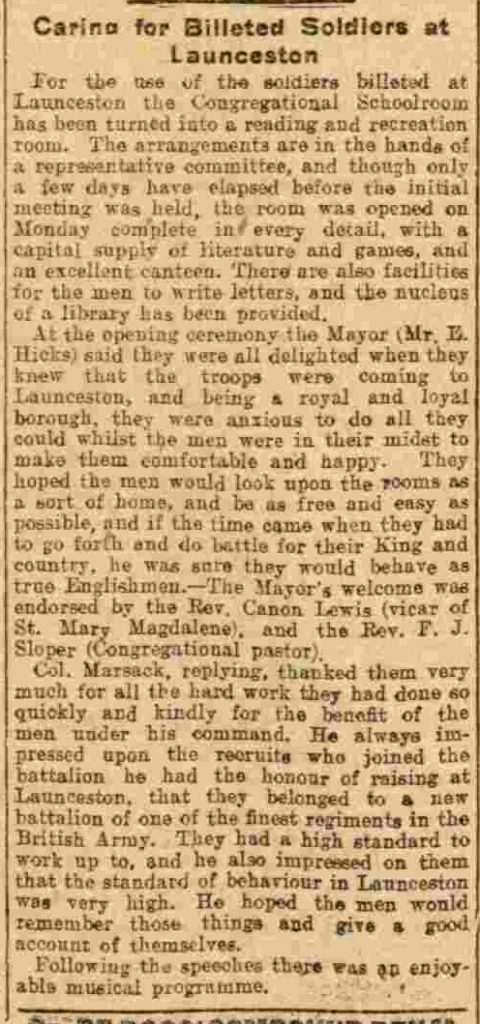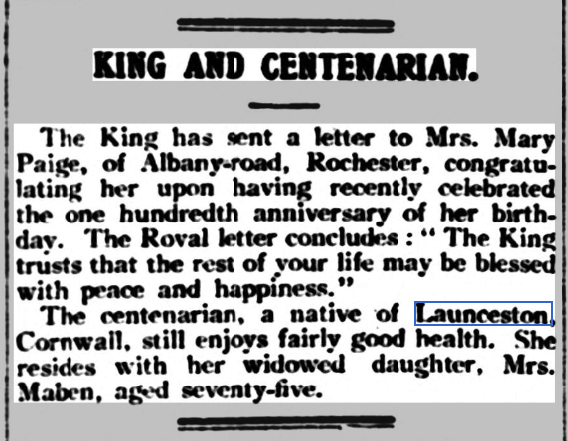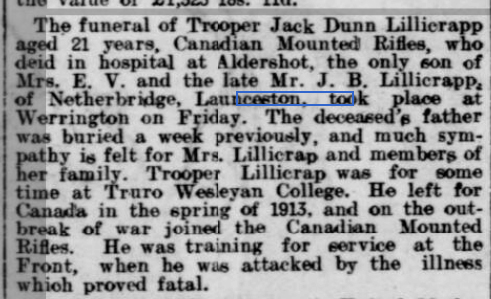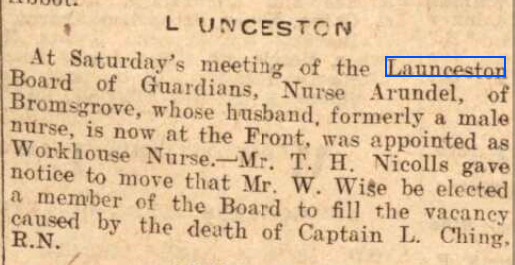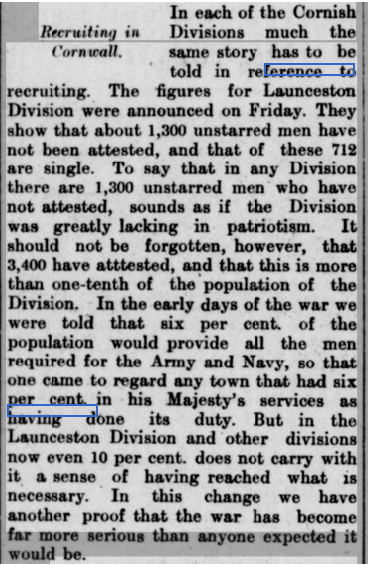 February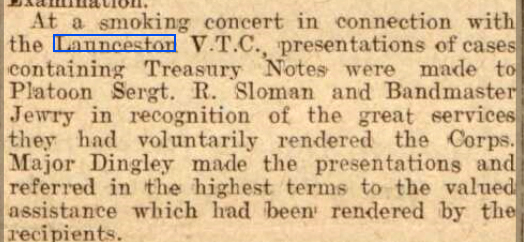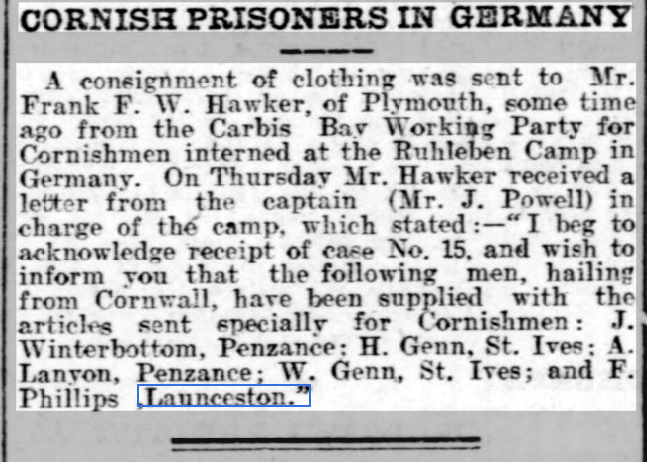 Trigg Major Magazine: Feb 1916: North Petherwin – Vicar Rev Chas. F Kite. The Statutory Committee for the Army and Navy will take up the work of the various voluntary societies which have hitherto supported the pensions paid and funds are badly needed. Many who are disabled have given up good positions and the few shillings a week pension is not sufficient compensation.
Parishioners will be interested to know that the Vicar visited Yealmpton Military Hospital and saw WJ Hatch who was wounded last March. He has had five operations and has to undergo another. He lost one eye and may lose the other. He is only seventeen and the pension he will probably get will be seven shillings a week.
The calling up of the Group will mean the departure this week of George Gilbert and Edward Hutchings.
Werrington, Feb: Burial: Jack Dunn Lillicrap, aged 21, son of the late John Burt Lillicrap, who was buried 7th January, aged 57 yrs.
Boyton, Feb: Acknowledgements have been received for small presents from: GF Perry, Salisbury Plain; W Parnell, France; F Batten, H Cann, Allen, L Harding, W Dinner,
WF Finnemore, A Finnemore, S Dinner, India.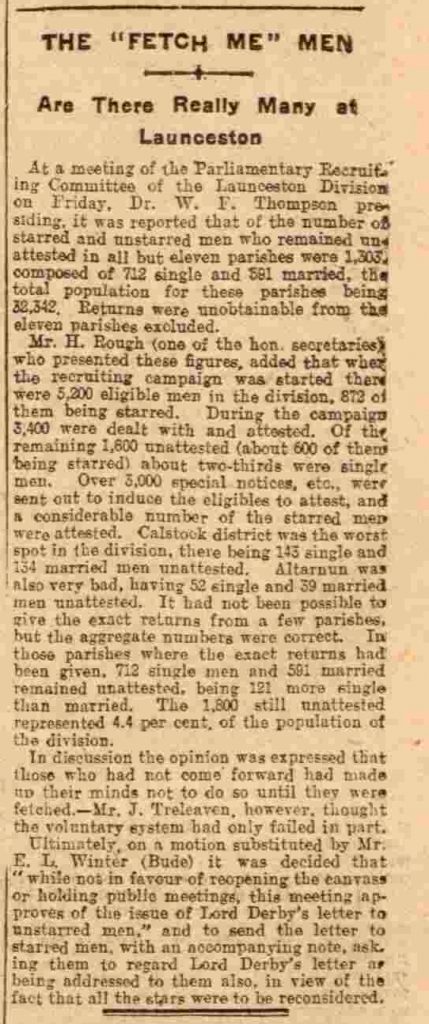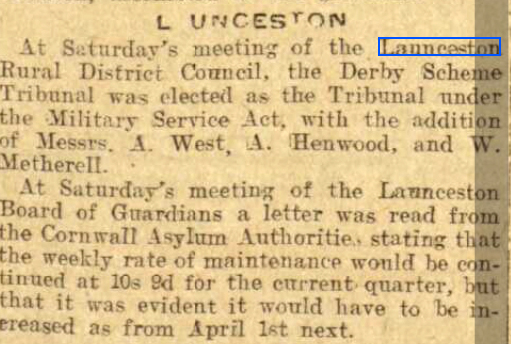 Western Times – Thursday 17 February 1916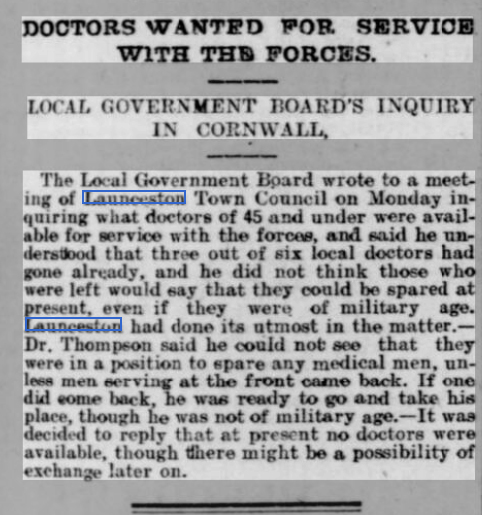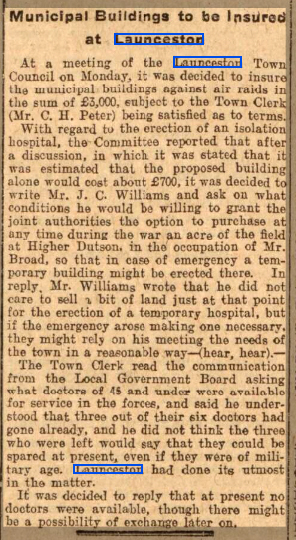 March
St Mary Magdalene, March: We are sorry to hear that L/Cpl Harold Walters, RE., has been wounded in the head from a machine gun bullet. He has been out at the Western Front from the beginning f the war.
St Thomas, March: Thanks for the cigarettes and small presents from: Pte R Duke, Pte T Horrell, Pte C Hillman and Trooper W Gynn. Pte H Poole was wounded in the Persian Gulf Expedition; he is now making a good recovery. Pte H Northcott is now out of Hospital.
Boyton, March: Receipt of presents, etc, have been received fro Cpl F Phillips, J Jasper, F Davey [India], W Treadwell (Malta), T Ridgeman, Fred Hicks (France). We have also heard from W Parnell (Witley Camp, Surrey), and J Northey who have not yet received their small gifts.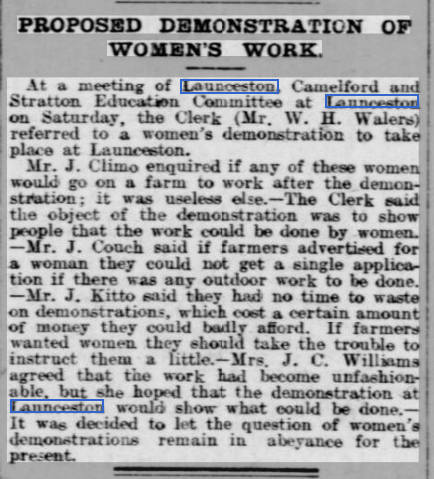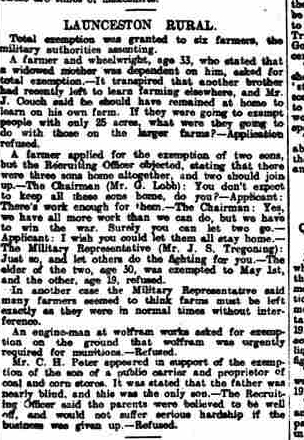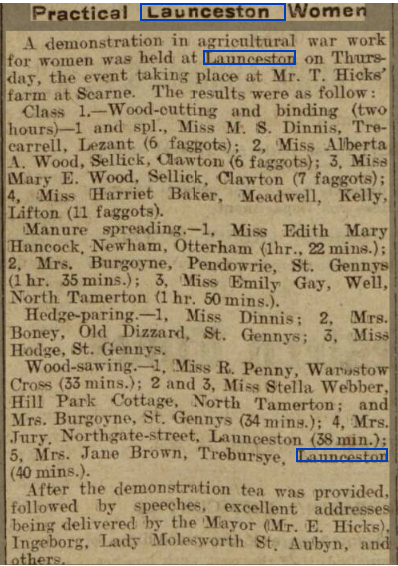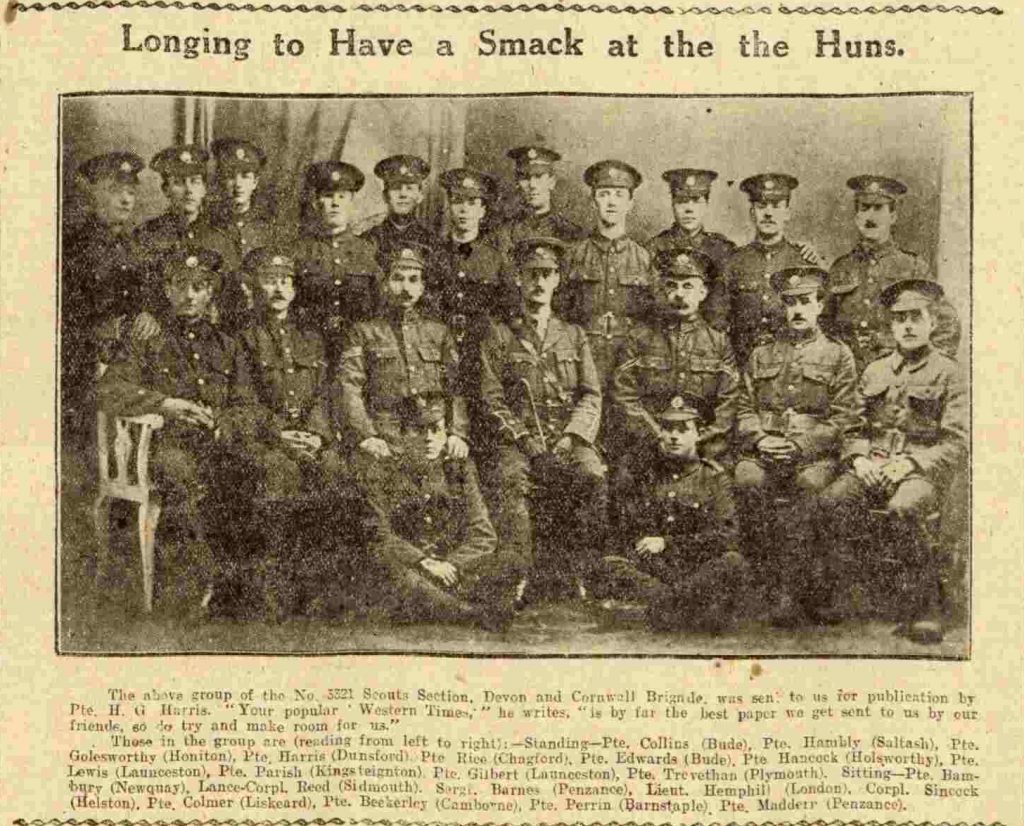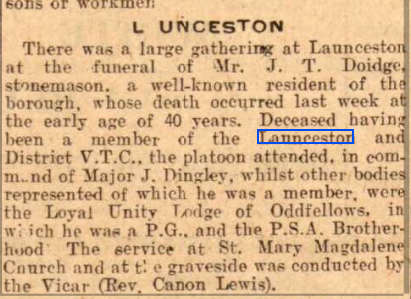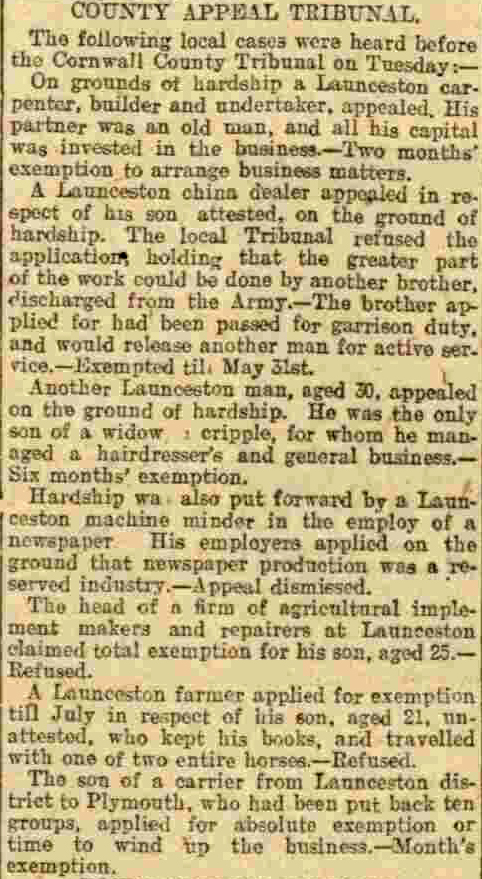 April
St Thomas, April: News of Servicemen Thanks for cigarettes, etc., received from: 2/Lt. GN Carter, Pte Body, Driver R Gerry, Pte W Turner, Pte F Parkhouse, Pte R Parkhouse, and Bombardier Penfound. Pte W Turner has been wounded and is in hospital in France. L/Cpl J Manning is in hospital in Glasgow with Trench Fever.
Broadwood, April: Promoted: Lt. F Burnett, gazetted as 2/Lt. in the Royal Engineers, on 24th February
Late Sgt W Whyte, 1st Gordons. It was our sorrowful duty to lay the body of this gallant Scot to rest in our Churchyard, by the side of an equally gallant comrade, the late Pte G Harding.
Burial: April 7th, 1916: William Whyte, aged 22 years.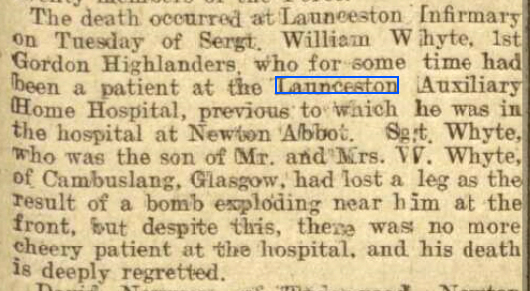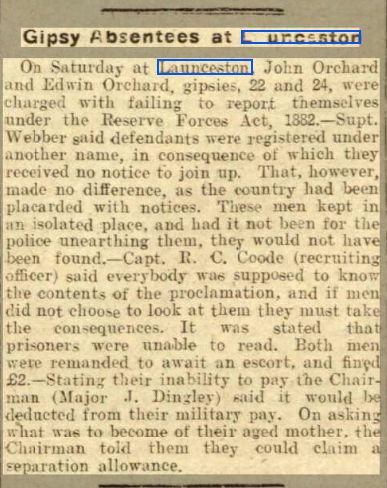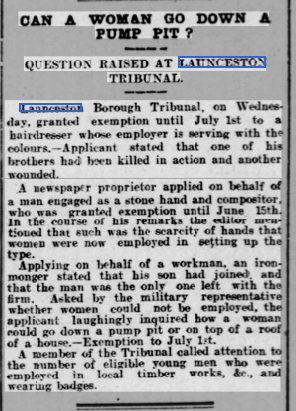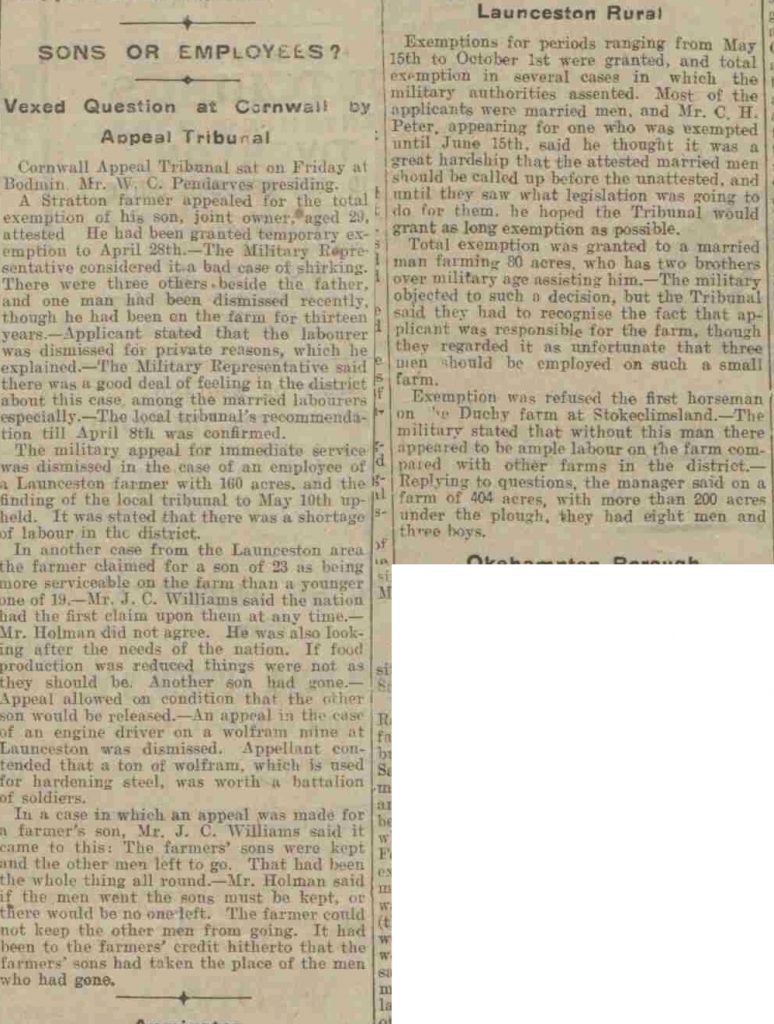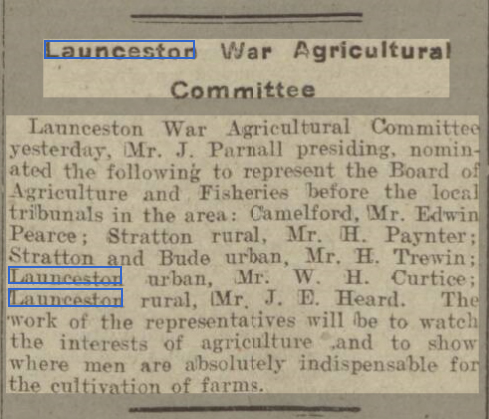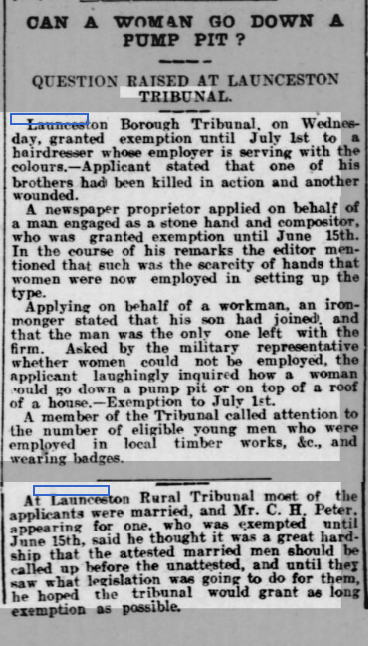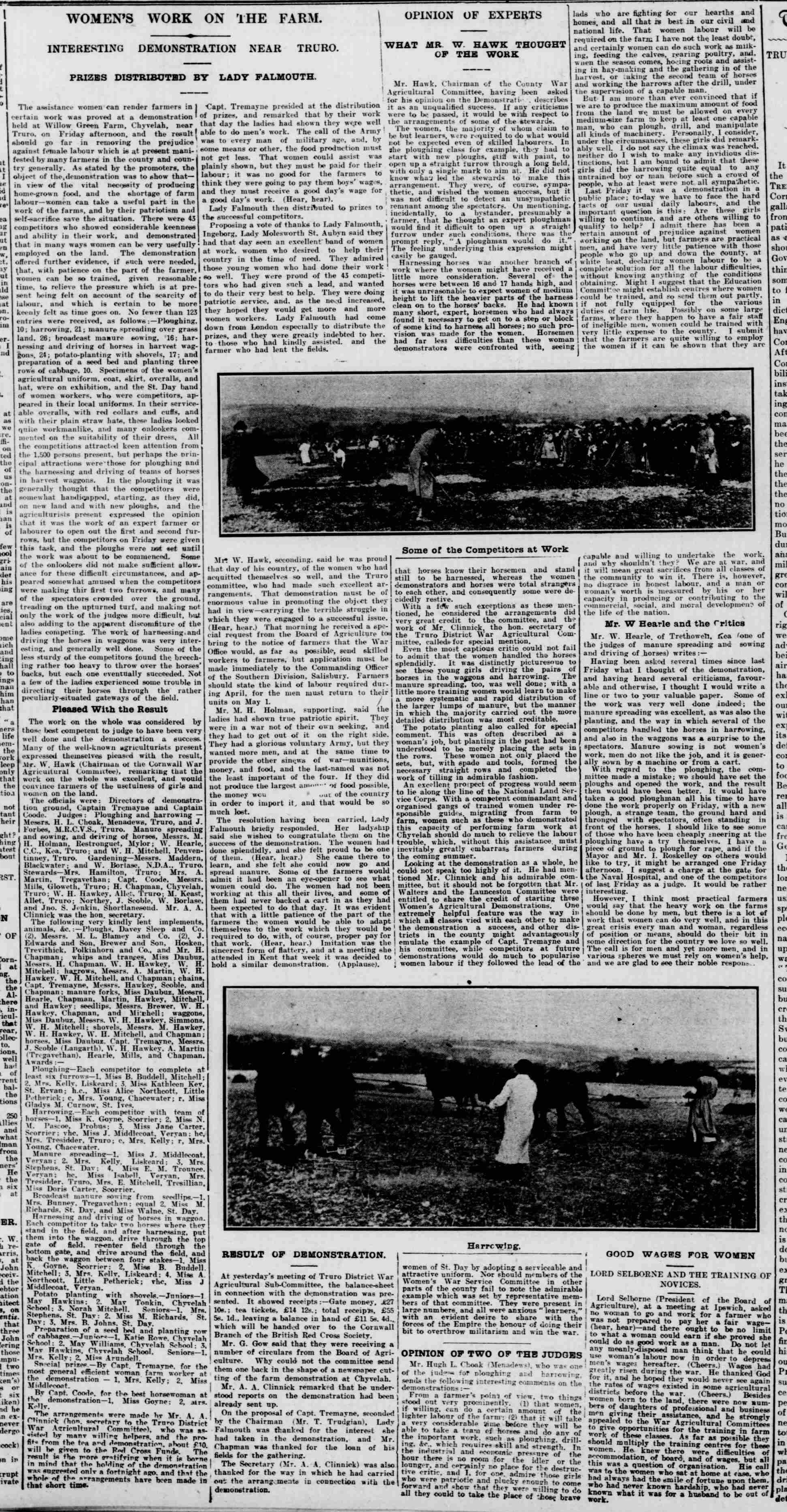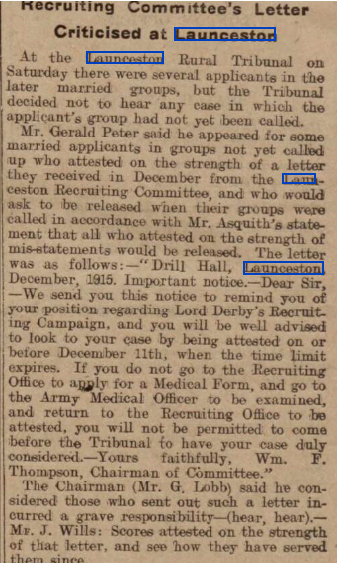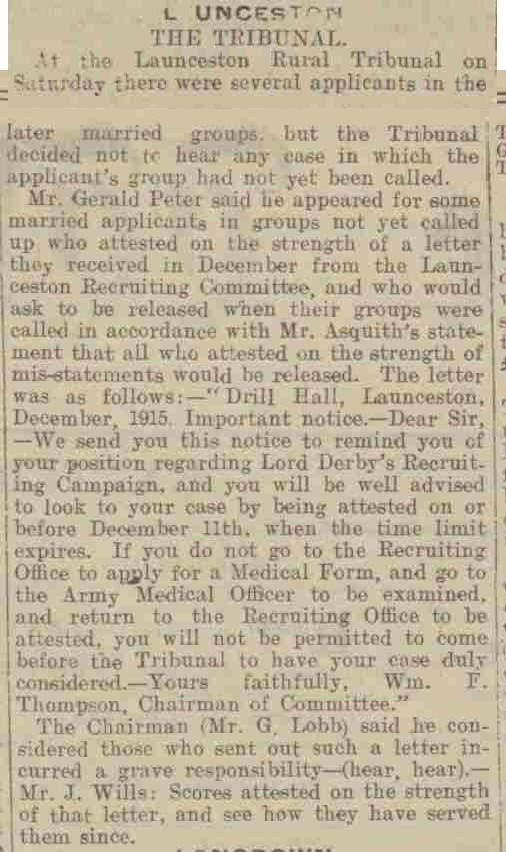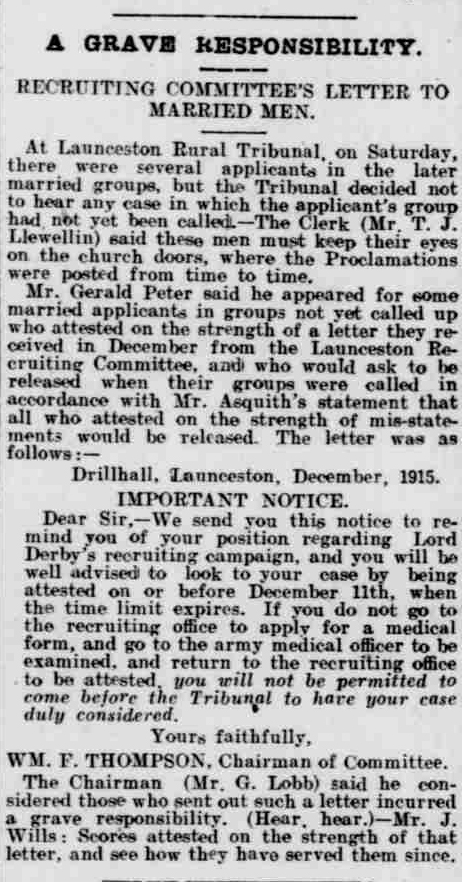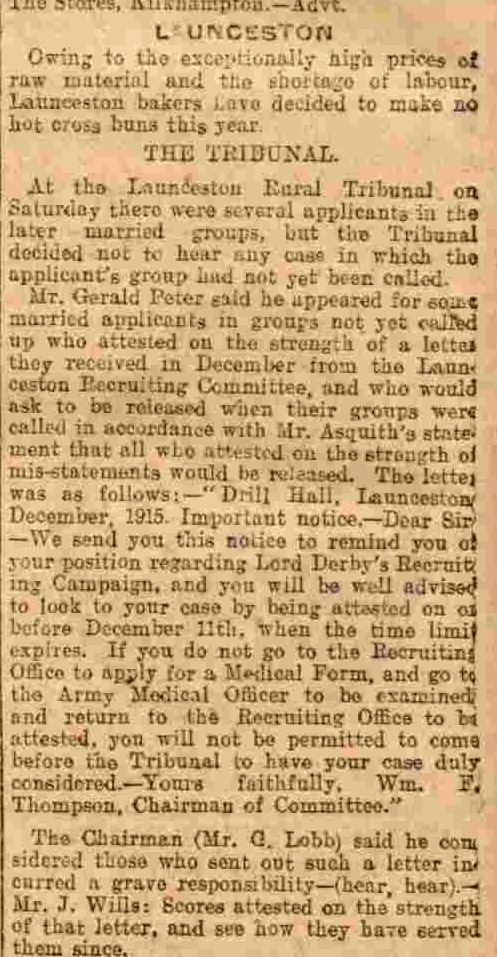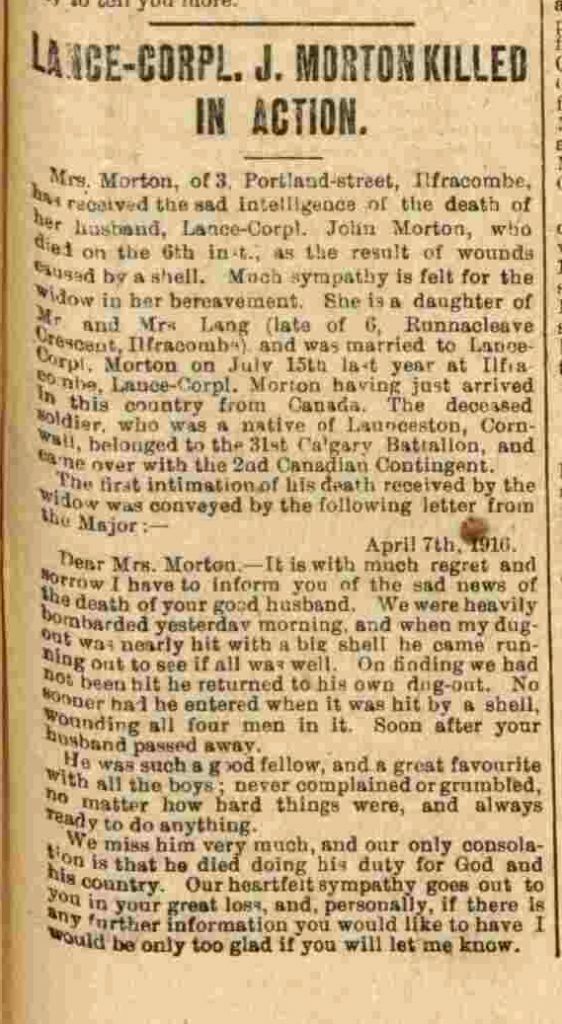 May
St Thomas, May: News of Service Men: Letter of thanks received from: Signaller WT Steer, Pte S Doidge, W Heard, C Hillman, WG Trewin and W Turner. Turner is recovering from wounds and hope to be home soon on furlough.
North Petherwin, May: The War. The Vicar has had interesting letters from Signaller Wesley Banbury and Pte WJ Phillips. The former is in the thick of the fighting line, and the latter is in hospital again. We learn that Pte James Jones is expected home this week. Trooper S Baker has been home for a few days previous to embarking for India, and Lt. W Hawk, after a week in hospital, has been home 0n sick leave.
We missed Pte Sam Banbury this time, but Edwin Rowe, serving with the Canadian Troops, is home for a few days and is looking well, and Chief Stoker Willcocks writes he is in very good spirits, from the high seas.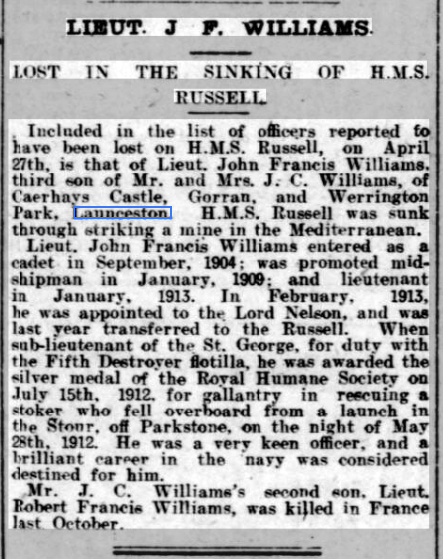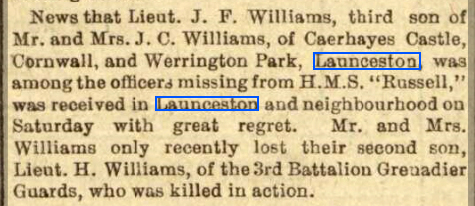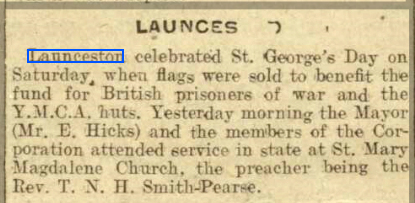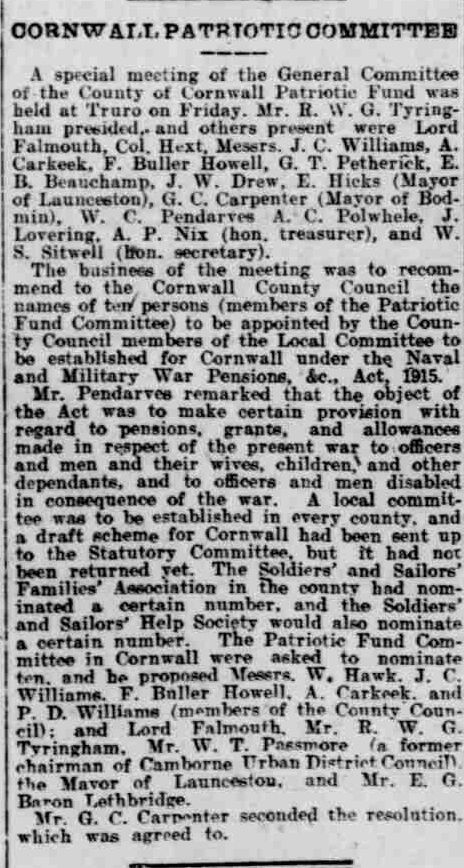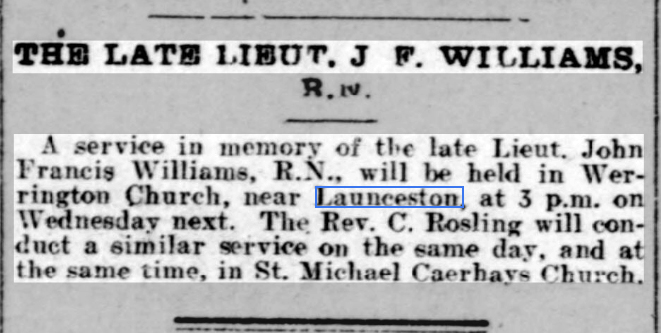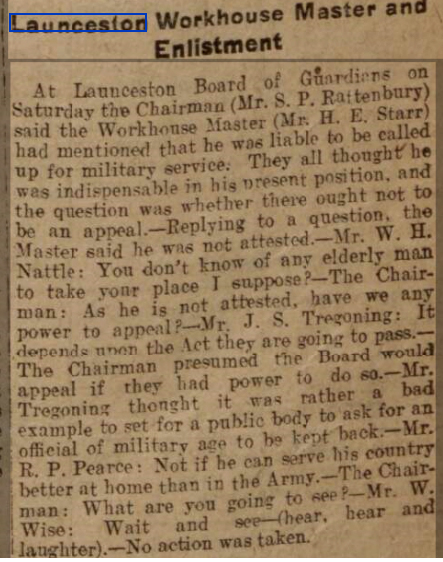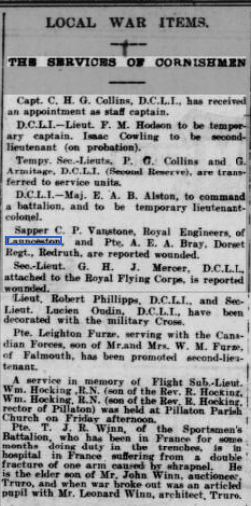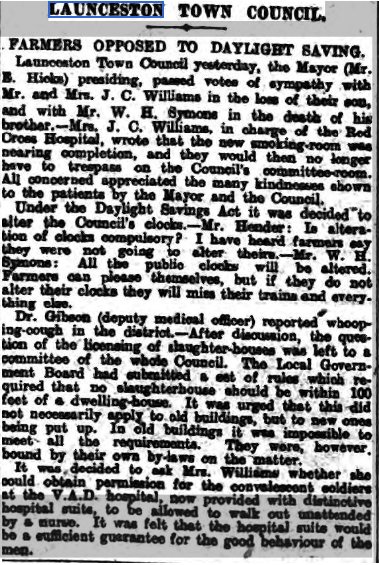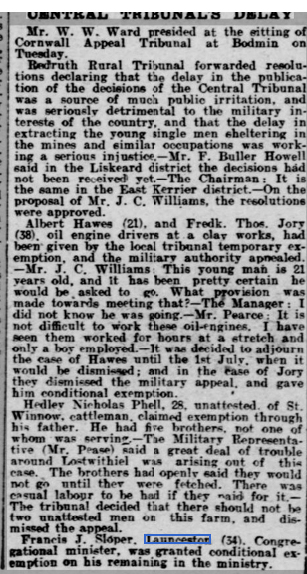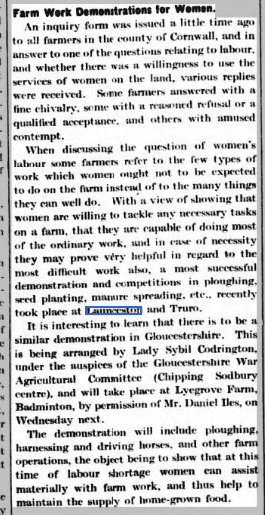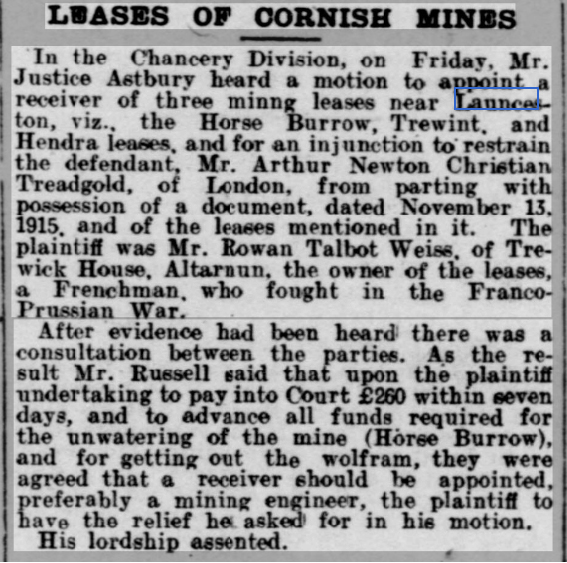 June
St Thomas, June: The late Pte Symons.
Broadwood, June: On Leave. Lt. F Burnett, on his first leave from the Front. Cpl Roy Mills is at home for a month, from India.
Werrington, June: Lt. John Francis Williams, son of Mr and Mrs Williams.
North Petherwin, June: W Eastcott and Ted Hutchings have joined the Army. Pte T Ridgeman has been home, his brother Will, is at home. Pte Philips is in Derby Military Hospital.
North Hill, June: Mr Edwin Thompson has resigned his post as Organist owing to his call to the Colours.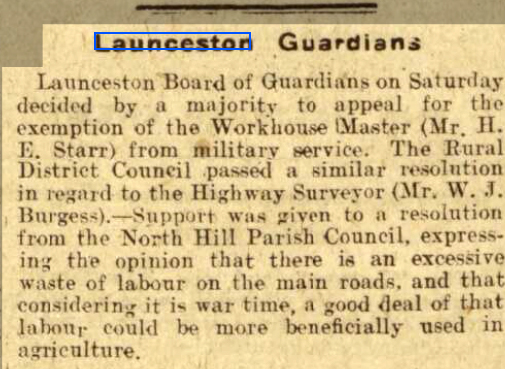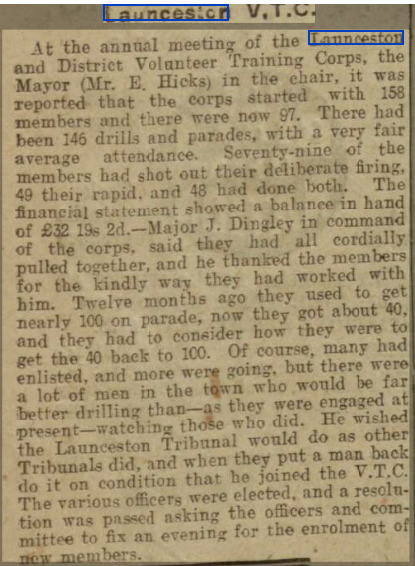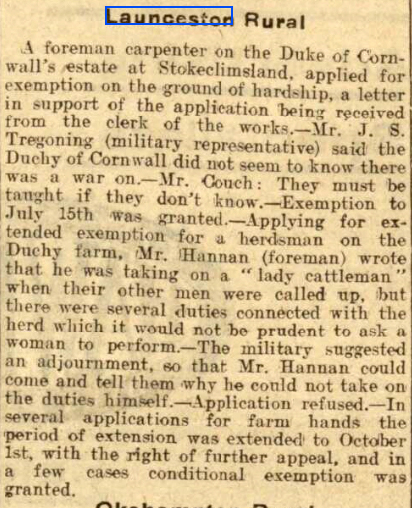 Marriage: June 12th, Driver James Henry Cowling to Adeline Ethel Sutton.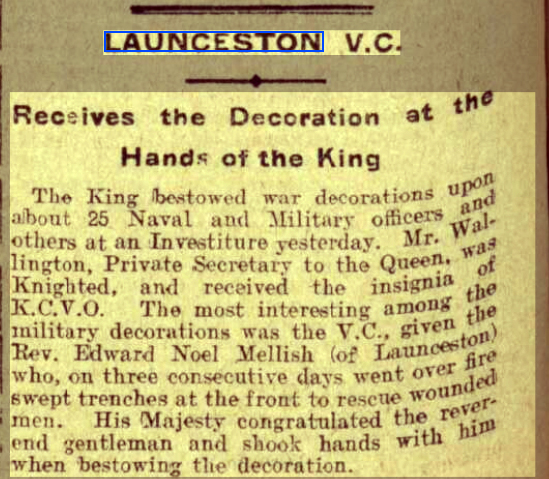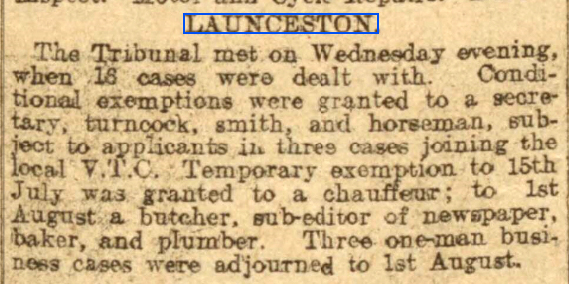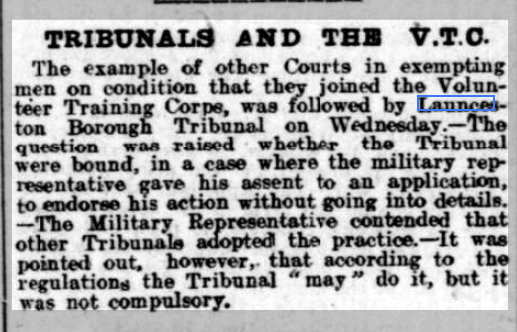 July
St Mary Magdalene, JULY: The Naval Victory. The Battle of Jutland. The victory cost us a great loss of life. From our own parish we have lost five gallant men: Edwin Howe, Claude Tucker, John Stanley Orchard, James Hill, AL Quintrell
St Giles & Virginstowe, July: It gave us great pleasure to see one of our old ringers again, Gunner William Balsdon, Canadian Field Artillery; he had been in Canada three years and had only a few days leave before going to France.
Police Constable 101- Archie Hillman, of Launceston, tailor, aged 22 years. 9-8-1911; mrd Florence Scantlebury, of Launceston; Public Service- C Company 5th Bn DCLI – 4 years. promoted 1/3/1909. promoted 1-3-1912 to 2nd Class Constable; 1-4-1923 Sgt.
Police Constable 24- Wilfred Bullock. 15-12-1895, appointed 1-3-1921.
Promoted 1-4-1939 to Sgt. Stationed: Launceston, Egloskerry, Stratton, Kingsand, Newquay, Falmouth, St Columb. 30-8-1945- the County Emergency Committee placed on record their appreciation for Sgt Bullock's devotion to duty at all times during his secondment with the Civil Defence. 28-1-1951 retired
Trigg Major Mag. July 1916: St Thomas. News of Service Men. Letters have been received from Pte WJ Trewin [members of the choir will be glad to know that Trewin is in a soldier's choir], Gunner W Rundle, WR Atwill, L/Cpl/ GH Hicks, who reports that C Martin and FJ Edgcombe are quite well. Sapper S Pearse has had a slight gas attack, but is otherwise well. The other night I read a splendid letter from H Venning, who, with young Horrell and Eveleigh has been on the Front line many months. Reg Dew is battalion sniper. E Oliver and S Meddleton are now sergeants. Pte Sleeman has had a short leave, also Stokers Dymond and Towl. Pte Ernest Parish is in India recovering from wounds received in Mesopotamia Cpl Manning and Pte W Turner has so far recovered as to return to their depots.
Roll of Honour: Another name must be added to the number of parishioners who have laid down their lives for King and Country. Edwin Howe, K.I.A., on HMS Indefatigable in the recent Naval Battle.
North Petherwin: The War and North Petherwin. The most interesting visit home has been that of Gun Instructor Deacon who was in the naval battle, and, needless to say, gave a very different account from that of the Germans. Chief Stoker T Willcocks had rather a short leave considering his long absence, and after a most affecting good bye, returned the next day for a longer leave.
Great concern was felt last week for Trooper W Fry because of a relapse of rheumatic fever, but is now recovering. We are also thankful that Pte WJ Phillips has come successfully out of the operation for appendicitis. Pte W Ridgman has gone to a dangerous post at the Front. Others who have been home are Troopers Pope and Baker, Ptes S Banbury, H Willcocks and T Harding.
North Tamerton: July 1916: We Extend our sympathy to Mr and Mrs Shuker, of Hornicott Manor, who have lost a very dear nephew in the recent naval battle off the Dutch coast, Assistant-Constructor AK Stephens of the Royal Corps of Naval Construction. Mr Stephens was then serving in the Queen Mary, and went down on that ship. A very promising career has thus been cut short, as Mr Stephens had won honours and distinction at school and college. Eventually he was appointed to Devonport Dockyard, where he was indentified with the construction of a number of the most recent war ships launched at that port. Later he had a sea appointment and was in a fight off Heligoland and also in the battle of the Doggar Bank.
(Note: Lezant July 1916: Landue Working Party & Red Cross Society; making things for service men.)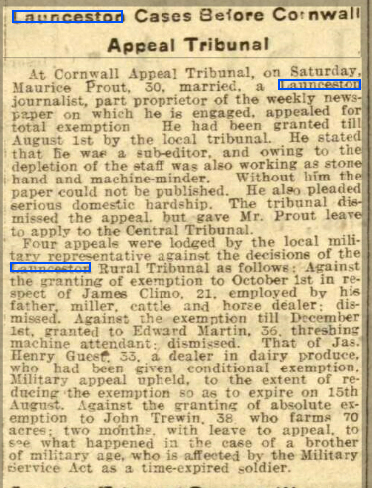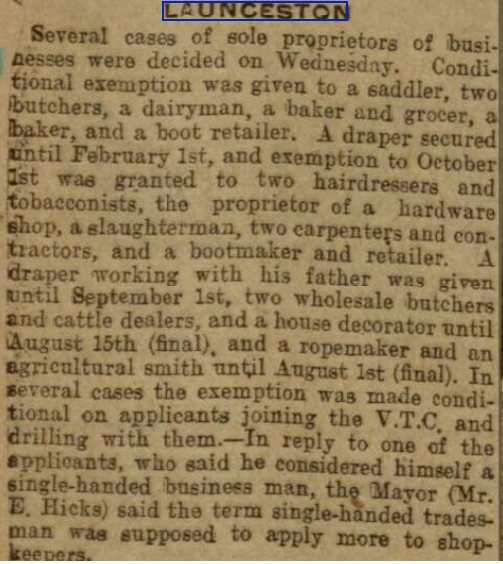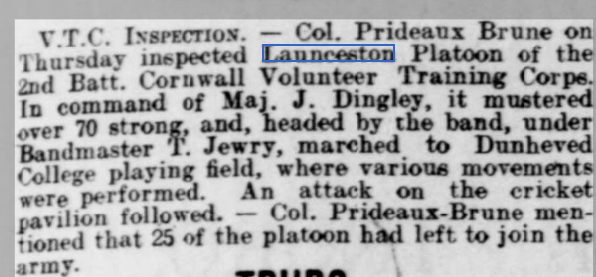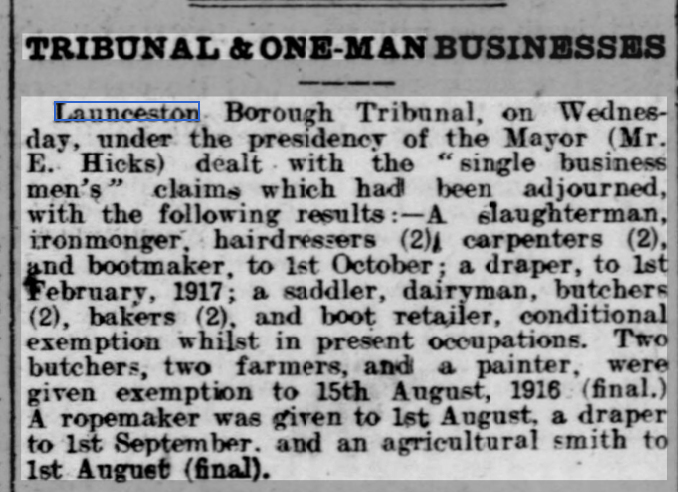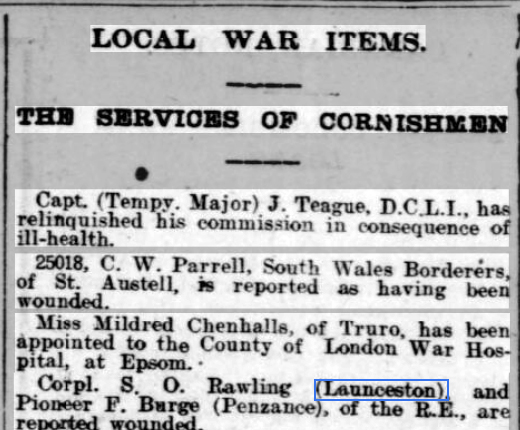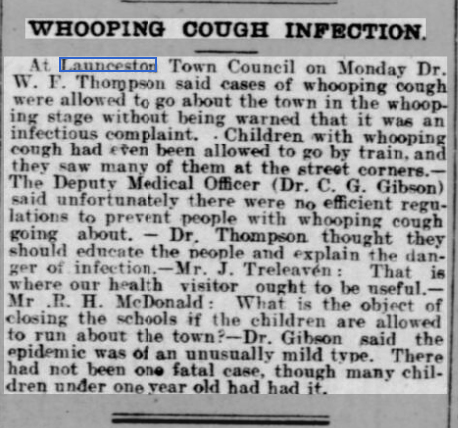 Stoke-Climsland: A word must be said of thankfulness for the example of George Brock, who was Killed In Action at the beginning of July at Le Boiselle.
Lawhitton: On Wednesday 19th July, the marriage was solemnized between Bdr Harry Bray and Miss Ethel Lane. (marriage: July 19th, Thomas Henry Bray & Ethel Lane.)
Broadwoodwidger: We are very sorry to record that Broadwoodwidger figures on the list of those brave men who have fallen for their Country, and our sympathy goes out to their parents:- William James Tubb, of Ashwater; Leonard Melsome, son of Mrs Rundle, of Thorn Moor.
Werrington: The Red Cross Auxiliary Hospital at Werrington Park.
How very delightful for our brave Canadian Soldiers in the establishing of the above hospital, with such charming surroundings and opportunities for recuperation! Most grateful indeed we know they are for the kindly thought and care of Mr and Mrs Williams, who have so generously afforded them this privilege and pleasure.
Advert: Church Street, Launceston, SC Murton, Garden Seed Specialist.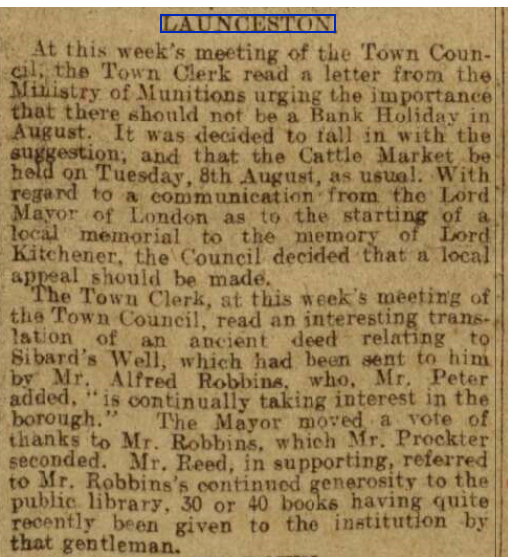 August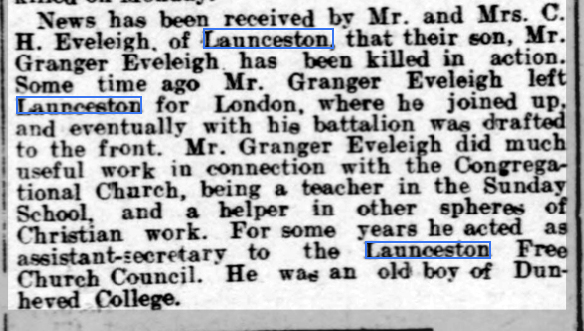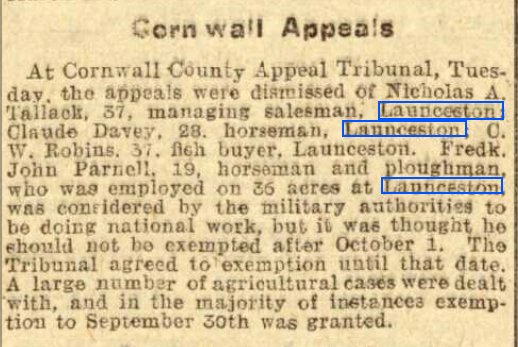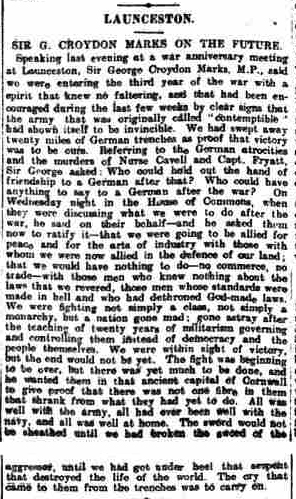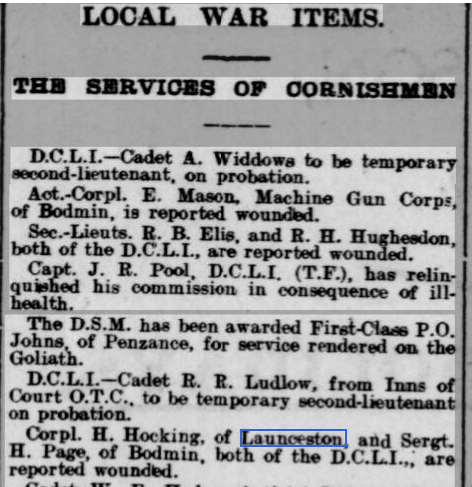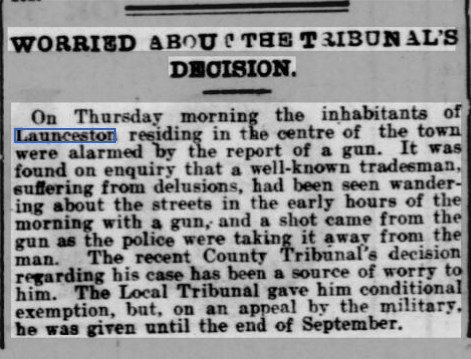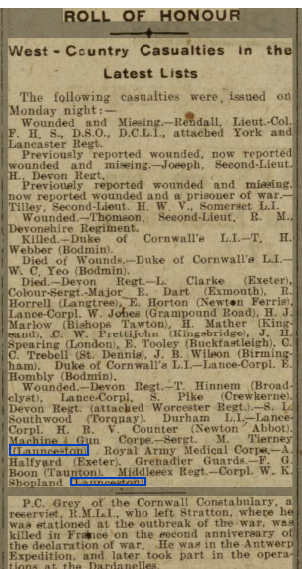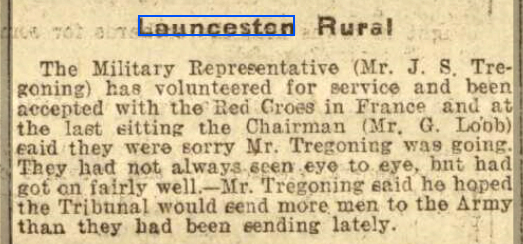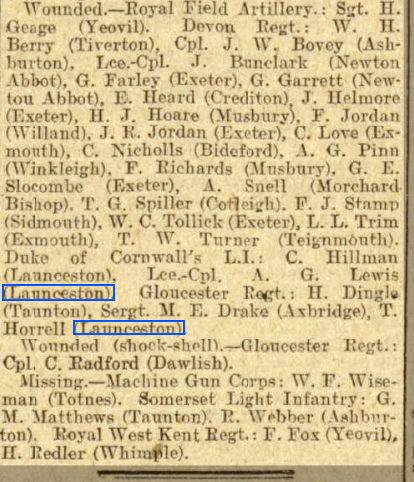 September
Trigg Major Magazine: 1916: St Mary Magdalene. Vicar FC Lewis, Hendra.
The Sunday School Festival. "I should like to take this opportunity of thanking the members of St Mary's for the warm welcome back to Launceston. After a year's Hospital work in Egypt on a Hospital Ship with its appalling sights, and testing a temperature of 110 degrees in the shade in Salonika, and travelling 15,000 miles by sea, you will understand how I appreciate the refreshing scenery of this neighbourhood. Chaplains renew their commissions from year to year, but as I didn't see any chance of being transferred from Hospital to Field work I didn't apply for an extension of my year's leave from Launceston. Since leaving England I have been to Gibraltar, Malta, Mudras, Alexandria, Cairo, Salonika, Stavros, and Hague, and have come back more than ever impressed by the splendid sacrifices and the wonderful qualities of our Army and Navy.
I could write pages in testifying to the fortitude of our men in hospitals, of their cheerfulness and appreciation of all that is done for them, and I think they value the work the chaplains have tried to do. Perhaps I shall have an opportunity later on of telling you something about a Chaplain's life and work. Charles P Triplett."
Mr Smith-Pearse terminated his work as Assistant Priest in the parish on August 13th. He very kindly consented to help in the parish until Mr Triplett should return. We are very grateful to him for his ministerial work, and hope that he will consider himself one of the staff of the Clergy of St Mary Magdalene.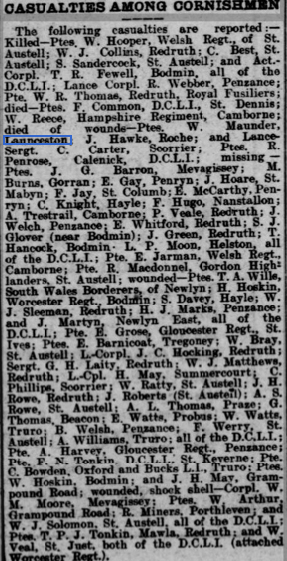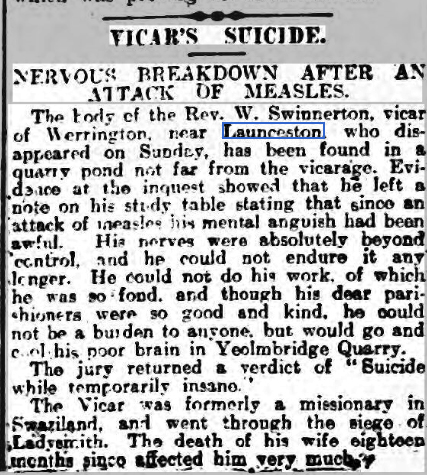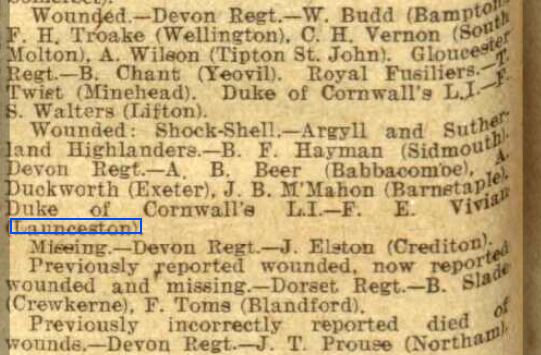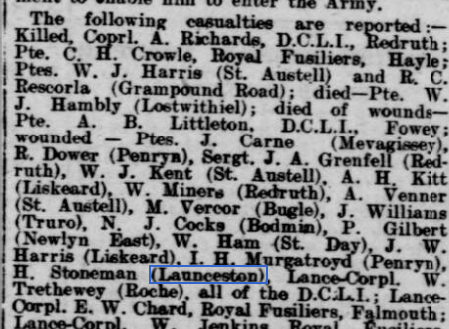 St Thomas, Sep 1916: Ernest Granger Eveleigh. The Parish of St Thomas lost one of its bravest and best young men when Granger Eveleigh fell at the post of duty on Sunday, July 16th. There was a singular charm about young Eveleigh's character which endeared him to all who knew him, so that his death cast a gloom over many hearts.
News of Service Men: I have received letter of thanks for cigarettes, etc., from Corporals C Westlake and GH Hicks; L/Cpl CH Kingwell; Sappers WH Abbot, S Cowling, F Stanbury and W Bridgman; Drivers JH Cowling and Causley; and Ptes WJ Trewin and W Nute. The last named writing from the trenches says, "The greatest thing is we are winning," it is surprising what one can put up with knowing that. It is wonderful what a strange calmness is given from God when in the greatest of dangers." 2nd Lt. Carter, Ptes Horrell and Hillman have been wounded in the recent heavy fighting and Sapper S Pearse has met with an accident. The last I heard from the all was favourable.
Lezant, Sep 1916: Lezant Workers – To The Red Cross at Launceston. (Amounts of work given)
To the Navy League 47; DCLI and others 83; Mine Sweepers 22; Belgian Soldiers 45;
RAMC and Ambulance Train 486; Prisoners of War 33; Sandbags 172; Amongst them have been; 159 prs slipper; 104 prs socks; 68 day shirts; 88 operating gowns, 39 pyjama suits; 60 woolies. The knitting is all done by home workers; there are about 30 of these who work occasionally, and five or six who work regularly. Mrs Folley of Rezare has obtained her Certificate and Voluntary Worker's Badge. Miss Tregonning will be glad to give out wool to anyone able to knit mufflers, socks, mittens, or sleeping socks, when outdoor work is not so necessary, and the evenings are more free for this kind of work.
Since the members first met, on August 14th, 1914, over 3,000 things have been sent for the use of our sailors and soldiers, or for those working for them, and many letters of thanks have been sent to Landue by those on active service.
Egloskerry & Tremaine: Sep 1916: The death took place on May 29th of Sister Emily Cleave, the first Mother Provincial of the Community of St Mary the Virgin in India. She was the fifth daughter, and last surviving child, of Rev. Henry Addington Simcoe, of Egloskerry, and half-sister to Captain Simcoe, RN. In 1883 she joined the Community at Wantage, and in 1885 was sent to India, where she worked for seven years in the Poona Mission. She returned to England in 1892 and laboured for a time in St James' Home, Fulham, but she returned to Poona in 1895, since when her life was given entirely to India. The Quarterly Mission Paper of the Wantage Community, at the close of its eloquent record of her life and work, says: "She has done a wonderful work for India, and Left us a great example, and her loss will be felt, not only in Poona, but among the many workers and friends from other parts of the country with whom she came in touch, who came to seek her never-failing sympathy and counsel, borne of long experience, but we know that we still have her loving interest and prayers. R.I.P."
North Hill, Sep 1916: Our Red Cross Working Party has met 100 times during the two years from August 20th, 1914, when they began work, to August 20th, 1916. They have made 900 garments, which have been sent to the Depot of the Society in Launceston, viz; 73 pyjama suits; 15 Dressing gowns; 42 Cardigan Jackets; 18 Under vests; 8 Helpless Case flannel shirts; 91 Day shirts, 20 prs Pants; 148 prs Day socks, 3 prs Night socks, 14 prs Slippers; 2 Cotton Night-shirts; 7 prs Mittens; 7 Belts; 60 Handkerchiefs; 8 Mufflers; 72 Towels, 96 Pillow cases; 12 Garden Cushions; 12 Kit bags, 192 Articles in Kit Bags. signed: Julia E.D. Rodd.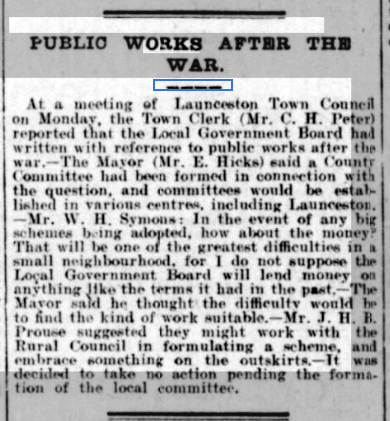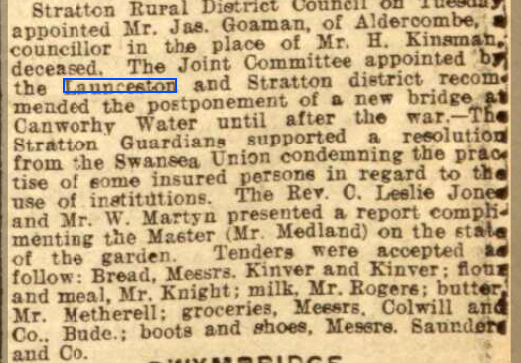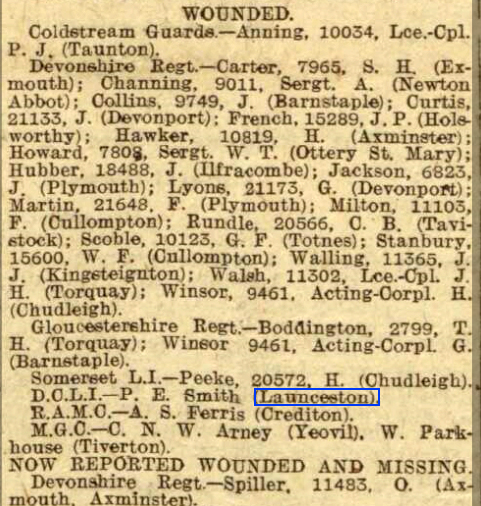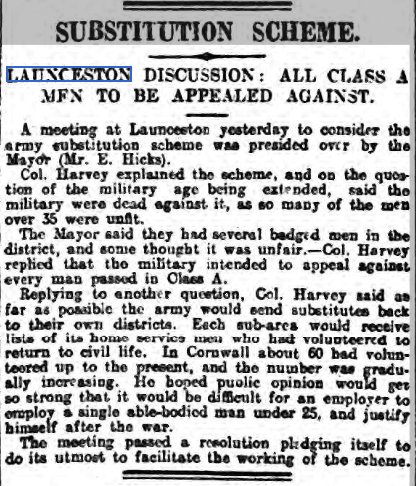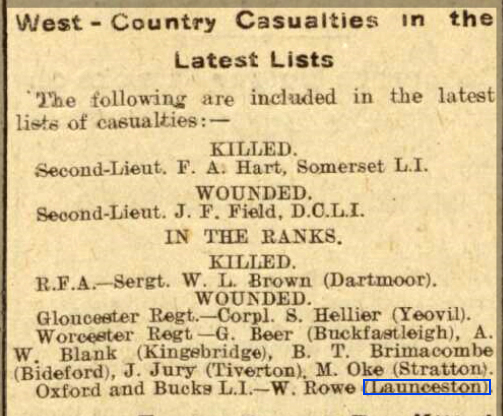 October
Stokeclimsland; OCTOBER 1916: A sincere note of sympathy is expressed to Mr and Mrs Cornish in the loss of their son John, Royal Warwickshire Regiment, and to Mr and Mrs Perry and family of their great anxiety for Charles Perry, Canadian Contingent.
St Thomas, Oct 1916: News of Service Men. We are anxiously awaiting news of Pte H Venning and Pte R Duke, both of whom, after long and valiant service, have been wounded in the recent great push. We are delighted to hear that Gunner Wenmoth – in the Land Navy – has some through trying and thrilling experiences which, he says, "I shall never forget." Warm thanks with good and cheering news have come from Ptes F Edgcumbe, S Lawrence, A Woodman, WJ Trewin; Stoker F Maunder, who was rescued from HMS Falmouth. It was a pleasure to see Mr Carter – recovered from his wounds – Sapper Pearse, Driver WH Fry, PET Browning, Sapper WH Abbott, Pte EH Lee and F Maunder.
Baptism, September 2nd: Kathleen, daughter of Charles Alfred (late Com-Sgt Major, 6th DCLI), and Marion Jane Phelps.
Boyton, Oct 1916: We are very sorry to have to record that Pte F Furze, who joined the Irish Fusiliers in 1914, has been Killed In Action. Pte W Treadwell is also reported missing.
Broadwoodwidger: Oct 1916: Everybody is sorry to hear Pte Froud Burnett has been wounded. He is now in England in the Hospital at Leicester, and we shall look forward to seeing him at home again for a rest. He has had a very long, hard time in the fighting line
Lezant, Oct 1916: The following extract from a Chaplain's letter to Mr Tregonning will be read with much pleasure. He was on his way home from Salonica, ill. "On Sunday last, they carried me up on deck for the first time. Then my Nursing Sister covered me up with a large rug. After a time I became aware there were names embroidered all over it, and I began to examine the rug. Then I spotted "Landue Working Party, 1916, Cornwall," and I found out some of the names.
I thought of some of those who worked the rug may like to know that it kept me warm and cosy, a patient who can claim some concession with Cornwall; they will certainly be glad that their work is in regular use on board this Hospital Ship. Please say thank you to them, even if it is only MY Thanks alone.
North Hill, Oct 1916: Mrs Buckingham (mother) has lately lost her son who went down in the "Nottingham."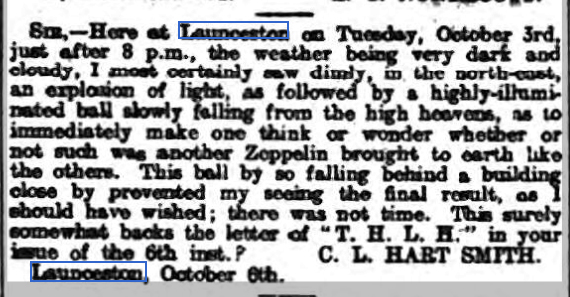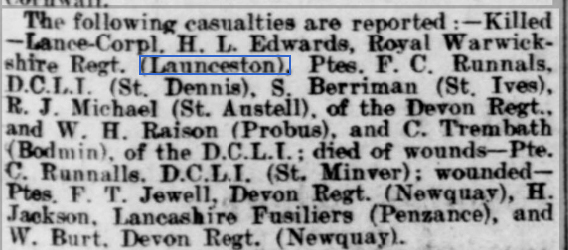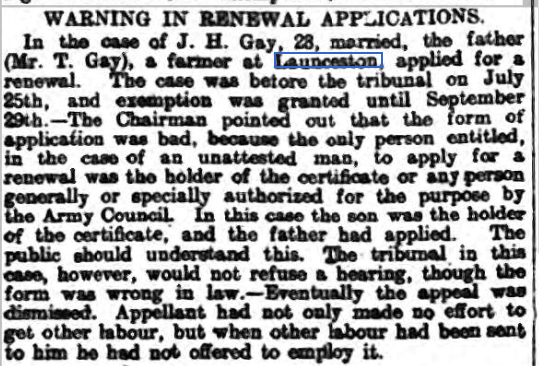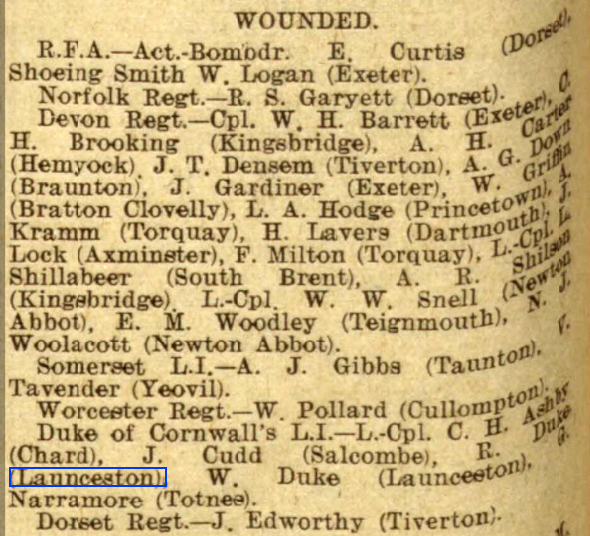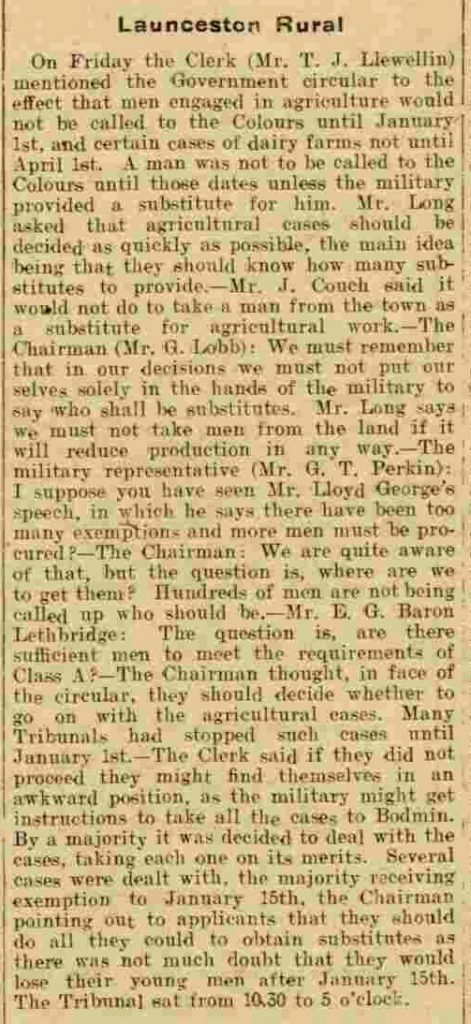 November
St Thomas, NOV 1916: News of Service Men. We are glad to hear that Pte R Duke, Pte H Venning and Pte Horrell are doing as well as can be expected. Pte C Hillman is quite well again, and Gunner Wenmoth, who was wounded in one of the 'Tank' expeditions, is improving. We have good news of the men in Salonica and India: Pte F Edgcumbe may soon be sent home from —. We have favourable news of Ptes. H White, Manning, Nute, Doidge, Rundle, Hill, Dew, Box, and brothers Jury and the brothers Parkhouse. We are waiting for further news of E Parish who has been wounded the third time.
North Hill Nov, 1916: Private Cecil Kelly. The sad news came to us early in the month that Pte Cecil Kelly had been Killed In Action. His friend writes "That he died gloriously, and his death was instantaneous." Pte Kelly spent most of his boyhood in North Hill, and is a nephew of Mrs Davey, of the Post Office. Previous to his joining up, he had been learning farming in Devon, and had gone to Australia, but he very quickly joined an Australian Contingent, and has given his life for his Country.
Boyton, Nov 1916: It is with true sorrow that we announce that Pte F Hicks, DCLI, has died of wounds received in action on the Western Front. He was one of the first to offer himself in the service of his country, having enlisted in December 1914. In May 1915, after a period of training, he proceeded to France, and with the exception of a short leave last March, continued there until last September, when he was mortally wounded on the 16th of that month.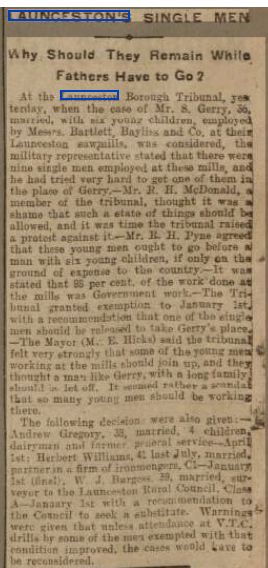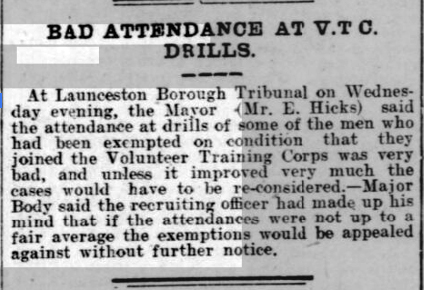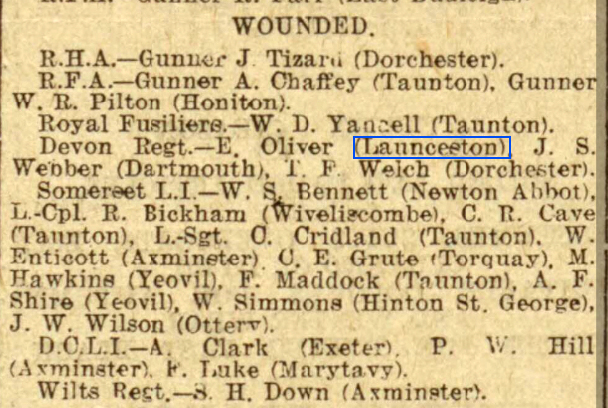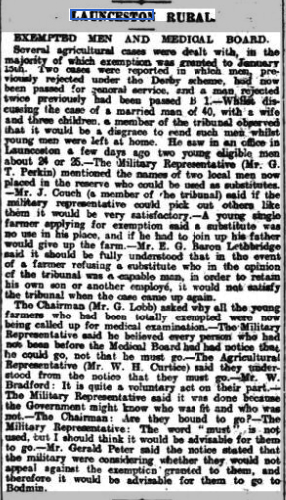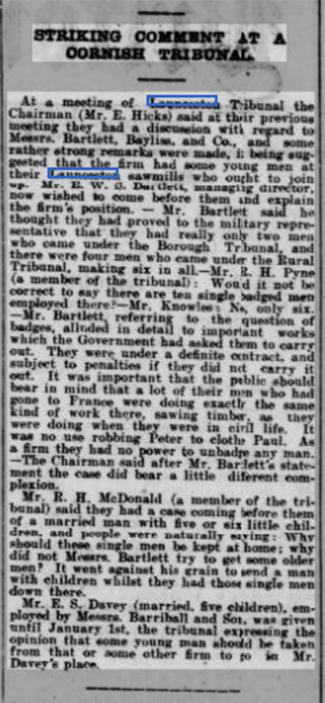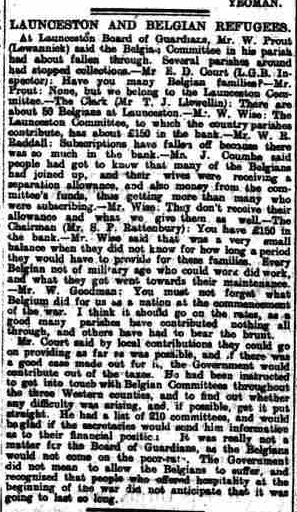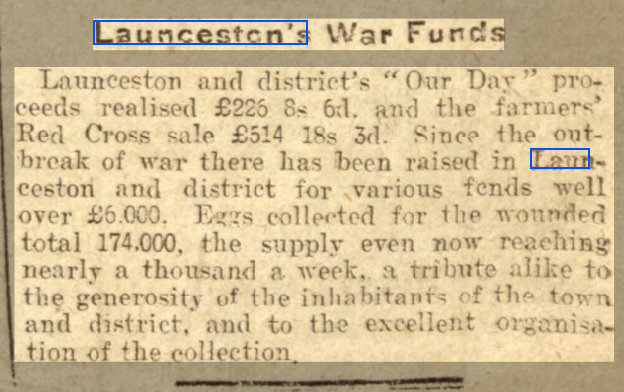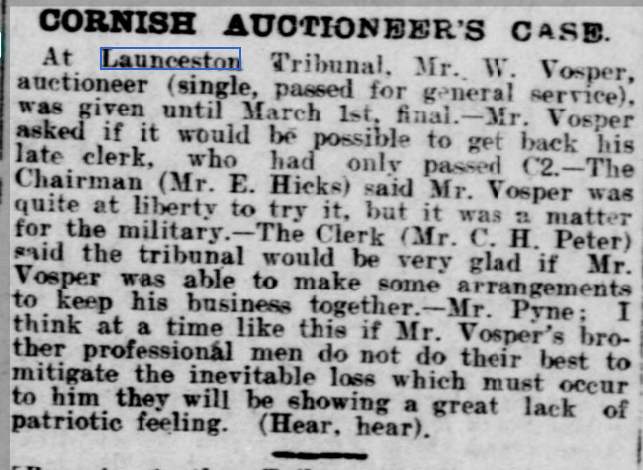 December
December 1916: St Thomas: News of Service Men. Cpl. JR Manning has been wounded though not seriously we are glad to know, we may add that Manning was promoted to the rank of Corporal after admission to Hospital on the day he was wounded. Venning, Wenmoth, Horrell and Edgcumb are recovering from their wounds. Pte R Duke has made a good recovery and has been on furlough. I am sorry not to have seen the brothers Hicks, Cpl C Kingwell and Pte R Bartlett; but was glad to have a few words with A Woodman, W Rundle and the brothers Cowling.
North Tamerton News: Dec 1916: "Out of the 1,030 men that went out with the DCLI, 948 were Cornishmen."
Stokeclimsland, Dec 1916: Roll of Honour. Alfred Bassett, CPO, HMS Savage. John Adams Cornish, Sgt. 16th Royal Warwicks. Ernest Finnemor, Pte. Gren Guards. Herbert Floyd, Stoker, HMS Defence. William Jane, Pte. DCLI. Stanley Herbert Jenkin, Tel.Op., HMS Defence. Percy Jenkin, Pte. 7th Bn. DCLI. Edwin Serpell, Pte. Canadian E.F. Norman Spillar, HMS Monmouth. William Dymond, 4th Bn. DCLI.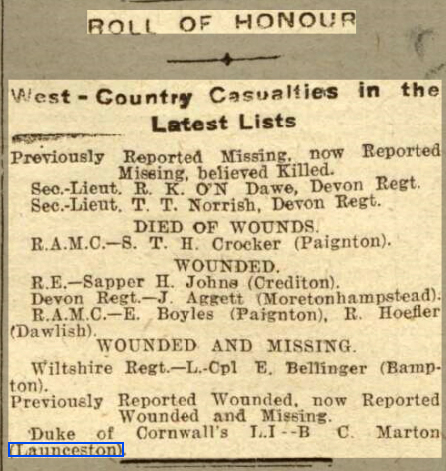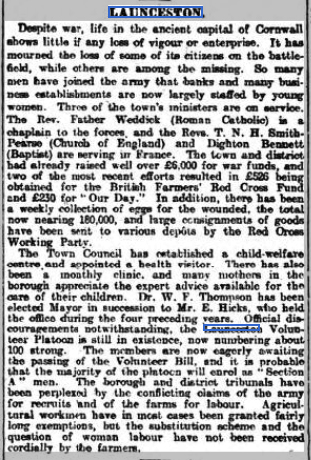 Launceston through the First World War 1914-15      Launceston through the First World War 1917
Hits: 1018