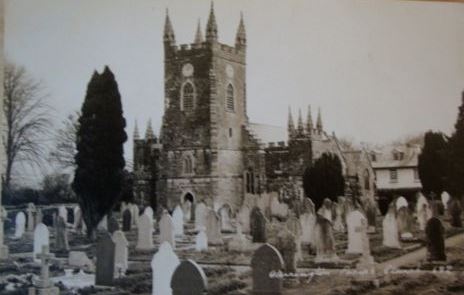 Werrington is a civil parish and former manor now in Cornwall, England, formerly before 1974 boundary changes, within the county of Devon. It is situated 1 mile to the west of the River Tamar, the traditional boundary between Devon and Cornwall, and 2 miles north of Launceston.
TO THE GLORY OF GOD  AND IN MEMORY OF THE  MEN OF THIS PARISH  WHO FELL IN THE WAR  1914‐1919 
WILLIAM EARLE ‐ PTE 8th Canadian Rifles, 20 May 1915, France
ROBERT WILLIAMS ‐ 2nd Lt 3rd Grenadier Guards, 9 Oct 1915, France
JACK DUNN LILLECRAPP ‐ PTE 9th Canadian Mid Rfls, 11 Jan 1916, England
JOHN FRANCIS WILLIAMS ‐ Lt HMS Russell, 27 April 1916, Mediterranean
HARRY JESSUP ‐ PTE 2nd Grenadier Guards, 25 Sept 1916, France
ALFRED HORELL ‐ PTE 2/4th DCLI, 26 Oct 1916, India
CLAUDE BASKERVILLE ‐ PTE 1st DCLI, 12 Feb 1917, France
SAMUEL BROWN ‐ Stoker Petty Officer RN, 26 May 1917, England
WILLIAM GEORGE BENOY ‐ PTE 1/5th Essex Regt, 19 Sept 1918, Palestine
JOHN THOMAS BAKER ‐ PTE 78th Div USA Exp Force, 21 Oct 1918, France
WILFRED JOHN VANSTONE ‐ LSHMS Bombardier, 27 March 1919, North Sea
JAMES PEARCE ‐ MD Regt 1st Worcs, 4 July 1919, India
The above Memorial stands on the North wall of the church about midway.
There is in Werrington Primary School a war memorial plaque on which is inscribed:
To the Memory of Old Boys of This School who made the Supreme Sacrifice in the Great War 1914-1918.
W. Earle; B Mutton; A. C. Horrell; C Baskerville; H Jessup; G Tucker; T Hawke; J. D. Lillicrap; J. T. Baker; H. S. Gerry; W. G. Benoy; W. J. Vanstone; S Brown; J Pearce; W Hawkell.
World War Two
In the Second World War, although many parishioners served their country in the several services there were no deaths amongst them, but two men, Mr Ronald Ellacott and Mr Kenneth Batten, were prisoners of war of the Japanese and Germans respectively and suffered considerable privation during their incarceration.
Hits: 8028