.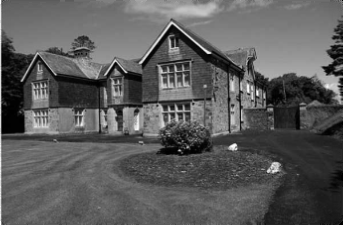 Old Tree House stands within its own grounds, with a beautiful lawn approach, was built in 1907 for Captain Saunders and his wife, formerly Miss Christine Cowlard, sister to Henry and Edward Cowlard. On Christine's death who predeceased her husband, the property was left to Henry Cowlard who died suddenly in 1929. It was then turned into a private hotel which it remained as throughout the 1930s. During the Second World War, it was taken over by the Air Ministry. After the war, it reverted back to a Hotel until it was acquired by the Regional Hospital Board to serve as a Maternity Home. The cost was £25,000 in total which was made up of £11,000 for the purchase, £2,000 compensation, £7,500 for conversion and alterations, and £5,000 for furnishings and equipment.
The conversion was carried out by the local firm of Hobbs and Knight Ltd. And involved a considerable amount of reconstruction.
The Home was designed to serve the whole of North Cornwall and a large area of West Devon. It had 15 beds and in charge at the opening was Matron B. Roberts who came from the Western Isles of Scotland and who had served 18 ½ years at Queen Charlottes Maternity Hospital in London. Her staff consisted of a sister-in-charge, a night sister, two staff sisters and various ward orderlies. There were five wards plus a labour ward suite. As well as the local Doctors in Launceston, the home from the start had its own Doctor on call, and the first was Dr A. F. Pearson, M.B., Ch.B., M. R. C. O. G., of Holsworthy.
The official opening in 1952 was performed by MR. H. M. Medland (Plymouth) chairman of the Plymouth South Devon and East Cornwall Management Committee.
For the next 18 years, the home played host to many births and with today many proclaiming their pride in being an Old Tree baby. However by the 1970s, there was a requirement to reduce costs, and the maternity home was closed down in the late 70s. The house was then used as a nursing home during the 1980s, latterly owned by Barchester Care before finally being sold off around 1987 to again become a private home to which it has remained to this day.
Photo's from Zoopla.
Hits: 1935