Nine Stones, Eastmoor
.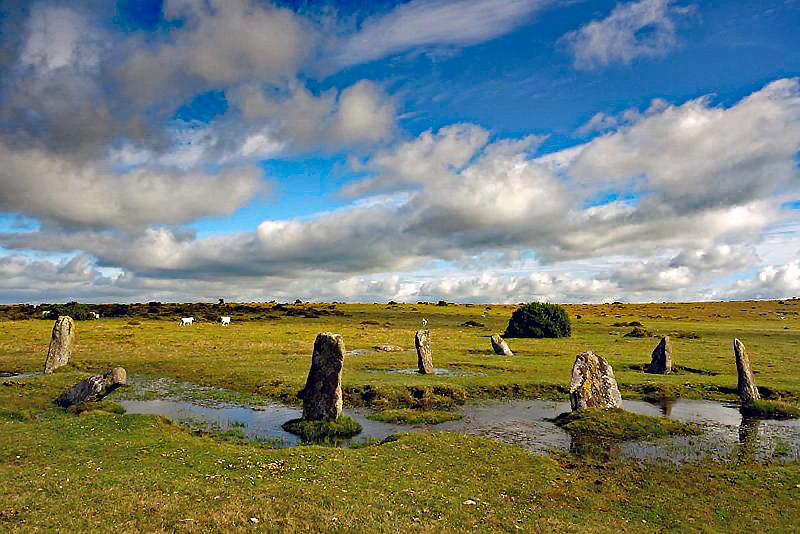 The Nine Stones (or Altarnun stone circle) is a stone circle located 1.9 miles south southeast of Altarnun on the Eastmoor of Bodmin Moor sited west of the Ridge hill and east of Fox Tor with the border of the parishes of Altarnun and North Hill. The Nine Stones is an English heritage managed property. It was restored in 1889 when only two of the stones remained standing by the local land- owner and antiquary, Francis Rashleigh Rodd, in 1889, involving the re-erection of the circle's six slabs that had, by then, fallen and the re-erection and slight re-siting of the fallen parish boundary slab near the centre.. The circle has 24 of its original stones remaining and dates from the Bronze Age . Some restoration of the site was carried out in 1906 when some of the stones were incorrectly repositioned. The circle is the smallest on Bodmin moor, only 49 feet (15 m) in diameter with eight granite stones forming the circle and one in the centre. A flat triangular shaped stone also lies at the base of one of the stones. The stones are irregularly spaced with the tallest being 4.2 feet (1.3 m). A gap in the north suggests where a stone may have stood. The central stone, a granite post 1.1 metres high, may have been moved from the north part of the circle to be used as a boundary stone for the parish boundary. There are hut circles 550 metres (1,800 ft) to the northeast and another to the south near Bolventor called the Goodaver Stone Circle. There is an extensive and broadly contemporary field systems and settlement sites on Ridge hill, reaching to within 400m of the monument to the south east and north east.
Alexander Thom proposed a lunar alignment with a nearby stone row which leads towards some cairns, although this has been considered doubtful as the row is likely of medieval construction.
Hits: 233