It was in 1832 that Gill and Company, who had banked in Tavistock since 1791, opened a branch in the charge of Richard Dingley under the name of 'The Tavistock Bank'. In 1889 Gill, Morshead and Company, successors to Gill and Company, were absorbed by Fox, Fowler and Company of Wellington, Somerset.
Four years after the opening of Gill and Company's branch, the Devon and Cornwall Banking Company commenced business at the site of 13 Broad Street, and shortly after the purchase of the freehold by the Bank in 1887 the existing granite-faced building, incorporating the Bank House, was erected. Lloyds Bank Limited took over this business when it absorbed the Devon and Cornwall Banking Company in 1906.
Meanwhile the Fox, Fowler and Company's branch continued to flourish in premises lower down Broad Street until 1921 when they too were absorbed. As a result of this merger there were for several years two branches of Lloyds Bank in the same street; Fox's branch, as it was then called, being managed by Mr. A. Y. Oag (Below left) and the other by Mr. T. A. Arden. On Mr. Arden's retirement Mr. Oag took charge of both branches until they were merged under his management at 13, Broad Street on January 1st, 1929.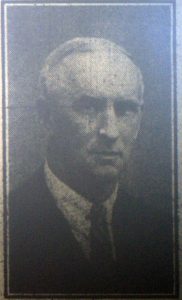 Hits: 406