.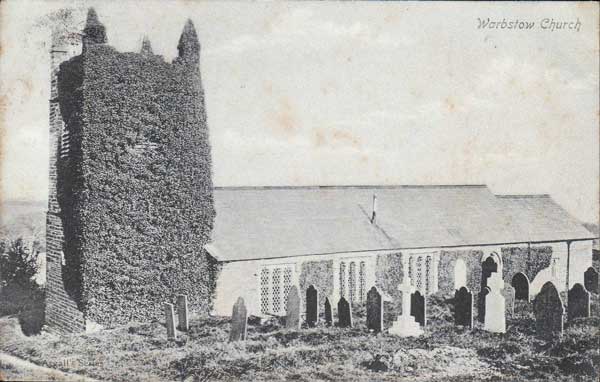 Warbstow parish includes the churchtown, Downinney, Trengune, Warbstow Cross and Trelash and a number of hamlets, whereas the exclave (from which the main part is separated by about 150m) includes the hamlet of Canworthy Water.
Both the neighbouring parish of Treneglos and Warbstow belonged in the 12th century to the Lords of Cardinham who donated them to the priory of Tywardreath. Warbstow was then a chapelry to Treneglos and the two benefices were later united as a vicarage.
Warbstow is bordered by Jacobstow, North Petherwin, St. Clether, St. Gennys, Treneglos and Tresmeer. The true name of this parish is St. Warburgstow, St. Warburgh's place, from St. Warbnrg alias Werburg, a holy virgin to whom Leofrick dedicated a church in Chester, which Hugh Lupus, the first Earl of Chester of Norman blood, repaired and granted to the monks, and which is now the cathedral there. St. Warburgh seems to have been a Saxon saint, introduced into Cornwall by the Saxons on their early settlement in the eastern part of this county. She was the daughter of Wolpher king of Mercia, and son the famous Penda. Her memory is celebrated on the 21st of June. This church is consolidated with Treneglos, and included in the same presentation.
The manor of Fentrigan, or Ventrigan, belonged previous to the Reformation to the priory of Tywardreath but in 1540, it was annexed to the dutchy in lieu of the honor of Wallingford. So early as 1466, the manor of Donnery, or Downinney was the property of Oto Colyn, who died, seized of it in that year. In 1620, it was in the Champernownes. It was afterwards in the Arscotts, from whom it passed by inheritance to Sir Arscott Ourry Molesworth.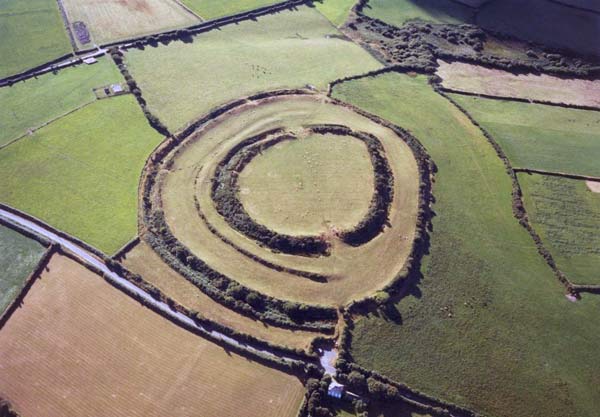 Warbstow Bury (above), a multivallate hillfort in north Cornwall, is one of the largest and best preserved hillforts in the county. It is also known as 'The Giants Grave' after the legend that a giant that lived here was killed when the giant of Launceston Castle threw a tool at him. It also called 'The tomb of King Arthur' although there is absolutely no evidence whatsoever to substantiate this. It has two ramparts,  with two entrances each, the inner one measuring 370 by 450 feet. The outer rampart averages 15 feet in height, with an external ditch 15 feet wide. After the abandonment of the hillfort in the late Iron Age, the site is unlikely to have been used frequently for anything more than the summertime grazing of sheep in the early medieval period. The inner circle was used as a beacon for the jubilee of Queen Victoria celebrations in 1887.
During the second world war, two sentrie boxes were positioned into the inner rampart giving the homeguard an advantageous view of enemy aircraft. The full archaeological survey report can be downloaded from here.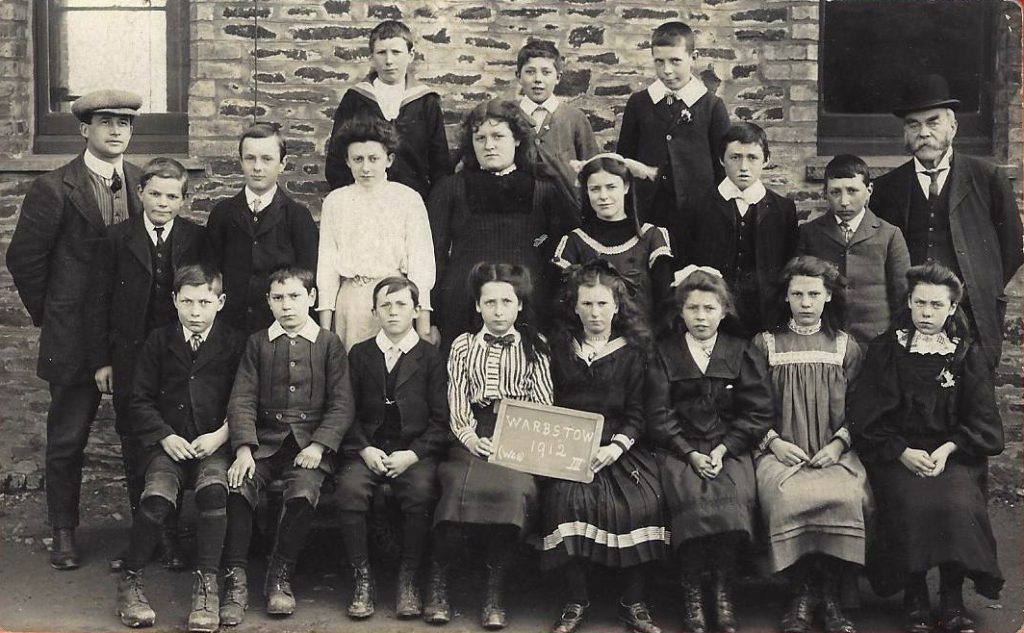 ---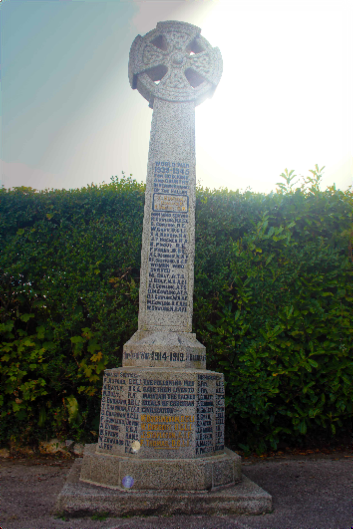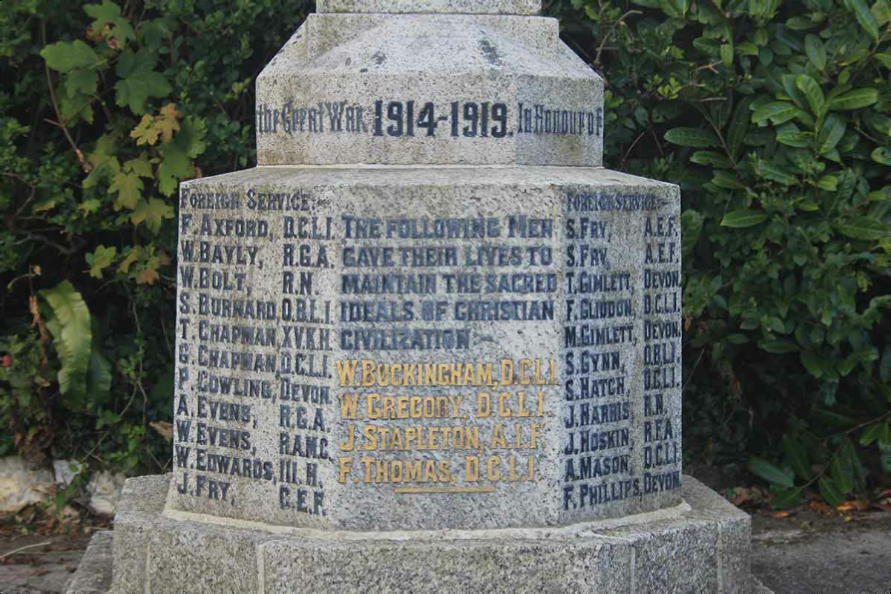 Warbstow's fallen from World War One.
Walter Leof Buckingham
Walter was born in 1891 to John and Lydia Buckingham at Trenannick Cottage, Trengune, Warbstow. His father was an Agricultural Labourer. On leaving school Walter went to work for Mr. Charles Spettigue at Youlstone Farm, Warbstow as a Farm Labourer. He enlisted at Launceston in 1915 with the Duke of Cornwall's Light Infantry (Regimental No. 16530) serving with the 1st Battalion of the 95th Brigade, 5th Division. He died of his wounds sustained in the Second Battle of Passchendaele. on October 30th, 1917. His body was never identified but  he is commemorated on the Tyne Cott Memorial, West-Vlaanderen, Belgium, Panel 80 to 82 and 163A. He is also commemorated on the Warbstow War Memorial.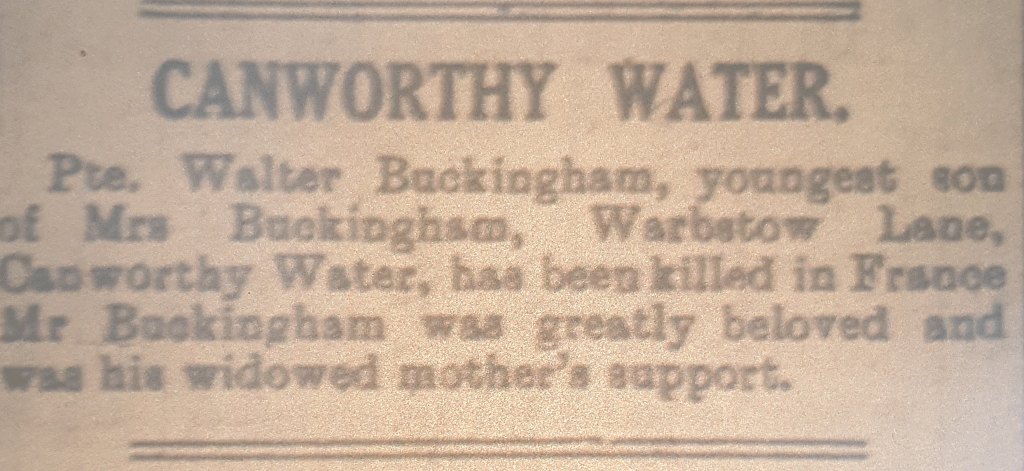 The Second Battle of Passchendaele was the culmination of the Third Battle of Ypres, in and around the town of Passchendaele in Belgian Flanders. The battle was carried out in phases, each with its own objectives, an interval of three days or more following each action to allow new positions to be consolidated. 5th Division in X Corps, Second Army, had relieved 14th Division from their former positions, west of Polderhoek, on October 23rd. 13th Infantry Brigade attacking on October 26th, 14th Royal Warwickshire Regiment attacking over the Reutelbeek on the left and 1st Queen's Own (Royal West Kent Regiment) attacking along the Scherriabeek on the right, found the ground conditions almost impassable on their fronts and made little advance. However 15th Royal Warwickshire Regiment in the centre had more success, clearing Polderhoek Park and capturing Polderhoek Château.
However the battalion being so far in advance of those on either side, the Company Commander holding the Château fearing he may be cut off in the event of a German counter-attack decided to withdraw from it into the grounds. The Germans quickly reoccupying the Château, swept the ground with machine-gun fire and then counter-attack to such an effect that the Brigade was pushed back to it's original start line. The 5th Division being relieved by 14th Division on October 28th.
William Henry Gregory
William was born in 1895 to William and Jane Gregory at Lanteglos, Camelford. His father was a General Labourer. On leaving school William worked with his father as a Labourer. William enlisted at Launceston with the Duke of Cornwall's Light Infantry (Regimental No. 34059) serving with the 1st/4th Battalions. He was drowned at sea on May 4th, 1917 after the Troopship 'SS Transylvania' was sunk off Cape Vado, approximately one kilometre off the coast near the town of Savona, near Genoa, in Italy, by an enemy submarine. His body was never recovered but his name is commemorated on the Savona Memorial, Italy, Stone 3. At the time of his death his parents were living at Blackwater, Tremaine, Egloskerry. He is also commemorated on the Warbstow War Memorial.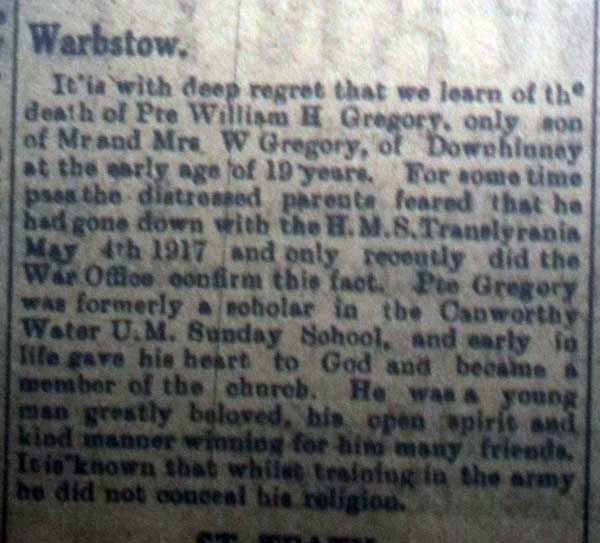 The SS Transylvania was a British Steam Passenger Vessel of 14,348 tons built in 1914 by Scotts Greenock, Yard No 451 for the Cunard Steam-Ship Co., Liverpool. She was powered by steam turbines giving 17.5 knots. Commisioned as a troopship in May 1915, she was designed to accommodate 1,379 passengers but the Admiralty fixed her capacity at 200 officers and 2,860 men, besides crew. She was carrying nearly this number when she left Marseille for Alexandria on May 3rd, 1917, with an escort of two Japanese destroyers, the Matsu and the Sakaki.
At 10 a.m. on the 4th the Transylvania was struck in the port engine room by a torpedo from a submarine. At the time the ship was on a zig zag course at a speed of 14 knots, being two and a half miles S. of Cape Vado, Gulf of Genoa. She at once headed for the land two miles distant, while the Matsu came alongside to take off the troops, the Sakaki meanwhile steaming around to keep the submarine submerged. Twenty minutes later a torpedo was seen coming straight for the destroyer alongside, which saved herself by going astern at full speed. The torpedo then struck the Transylvania and she sank very quickly, less than an hour having elapsed since she was first hit. Lt. Brennell, one other officer and ten men of the crew, 29 military officers and 373 other ranks were killed. Source www.wrecksite.eu
John Stapleton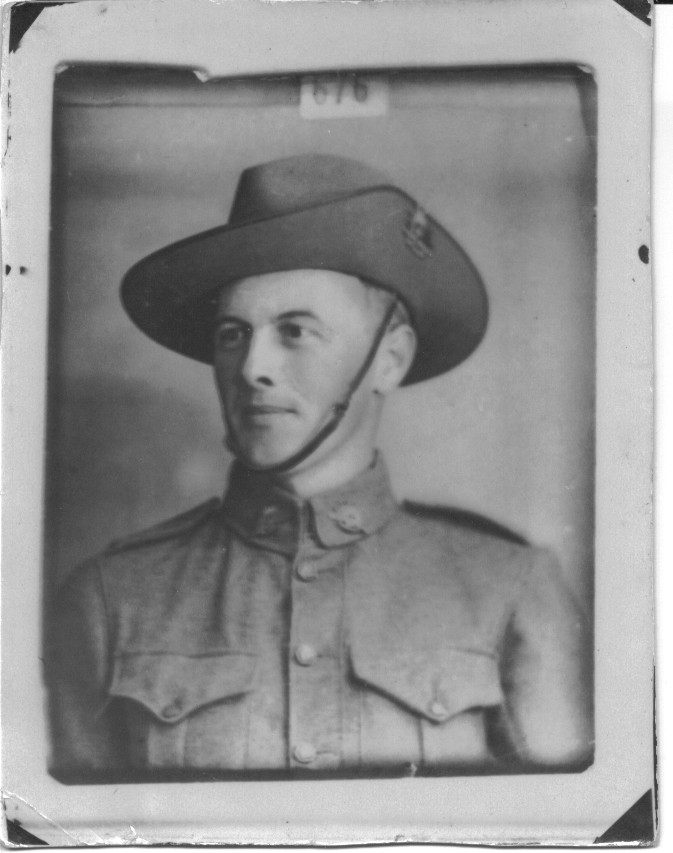 John was born on the 6th of December 1888 to Jessie Ann Stapleton at Tremaine, Egloskerry. Jessie married Richard Joseph Sleeman in 1891 who then brought John up living at St. Janson, Warbstow. Richard was a Mason. On leaving school John worked for Mr. William Gee at East Roose Farm, Otterham as a waggoner. In March of 1913 John set sail for Australia aboard the 'Themistocles' arriving in Melbourne. He then travelled to Sydney in September. Setting up residence at Delungra near Inverell, New South Wales,  he worked as an Agricultural Labourer. In December of 1915 John enlisted with the Australian Infantry Force (Service No. 5541) serving with the 55th Battalion as a Lance Corporal. He was killed on the first day of action at Polygon Wood, France on September 26th,1917. His body was never identified but his name is commemorated on the Ypres (Menin Gate) Memorial, West-Vlaanderen, Belgium,Panel 7 – 17 – 23 – 25 – 27 – 29 – 31. He is also commemorated on the Warbstow War Memorial.
The Battle of Polygon Wood took place during the second phase of the Third Battle of Ypres in World War I and was fought near Ypres in Belgium September 26th (the day of John's death) –October 3rd, 1917, in the area from the Menin road to Polygon Wood and thence north, to the area beyond St Julien.
Frank Thomas
No information available other than he served with the Duke of Cornwall's Light Infantry. He is also commemorated on the Warbstow War Memorial.
Warbstow's fallen from World War Two.
Leonard Burden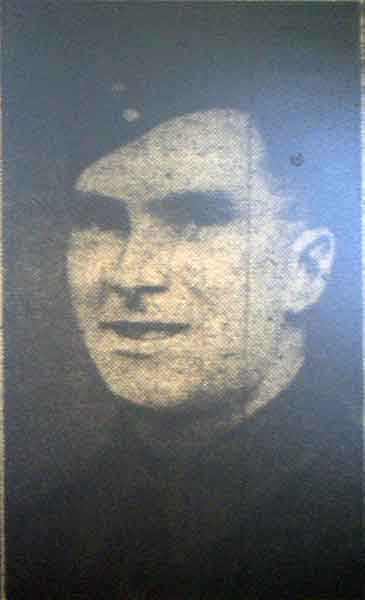 Leonard was born in 1913 to Mr and Mrs. Frederick Burden at Poundstock. He worked as a Carpenter and it was stated that he was a mild manner man who loved his home and his job, but he didn't shirk the responsibility for his country he enlisted with the Royal Artillery as a driver but just 6 weeks before D-Day he was transferred to the Gordon Highlanders as a Private (Regimental No. 14352957) serving with the 1st Battalion who were part of the famous 51st Highland division. He died of his wounds received at Normandy on the 23rd of June 1944 aged 31. The Officer to whom he was batman, said "He was my batman, but to me he was a friend, a friend I shall miss, and as one of my men he can never be replaced. In the battlefield he did a wonderful job and his calm face in times of grave danger was marvellous to see".
He was interred in the Canworthy Water Methodist Cemetery. His wife Mary, who at the time of his death was residing at Fonson, survived him by 65 years. They had one child. He is also commemorated on the Warbstow War Memorial.
H. Gordon
No information available. He is commemorated on the Warbstow War Memorial.
T. Smith
No information available other than he served with the Royal Navy. He is commemorated on the Warbstow War Memorial.
---
Warbstow Village 1920's
Warbstow is a parish and village, 2 ¼ miles north-west from Tresmeer Station on the Launceston & Wadebridge section of the Southern (late London & South Western) railway, 8 north-east from Camelford and 11 west by north from Launceston, in the Northern division of the County, hundred and petty sessional division of Lesnewth, union and county court district of Launceston, rural deanery of Trigg Major, archdeaconary of Bodmin and diocese of Truro.
The church of St Warburgh is a building of stone of Early English style, consisting of chancel, nave of five bays, north aisle, north porch dated 1601, and an embattled western tower of three stages, with pinnacles, contain three bells, date respectively 1665, 1680 and 1714; there is a curious Norman font, and an inscribed stone to Anne Grigg, ob. 1688: the church was restored in 1861, and has 150 sittings. The Register dates from the year 1695. The living is a vicarage, annexed to that of Treneglos, joint net yearly value £261, with 29 ¾ acres of Glebe at Warbstowe, in the gift of H.R.H. the Duke of Cornwall KG., and held since 1924 by the Rev John Reid Davies, BA., of St David's College, Lampeter, and hon. CF, who resides in Treneglos.
The Earl of St Germans owns the great tithes.
A Cornish granite cross was erected at Warbstow Cross in memory of the men of the parish who fell in the Great War, 1914 -18. There is a Methodist United Chapel at Canworthy Water, built in 1859, and restored in 1909. Warbstow barrow, and ancient and noted earthwork, is situated two furlongs north of the church, and 880 feet above the sea level; it consists of a double vellum, with two entrances, the inner measuring 1.200 feet by 1.075 feet; from the summit Launceston may be seen.
The land is devided between several owners. The soil is light; sub-soil, various. The chief crops are Oats, Barley and Roots. The area is 1-141 acres of land and 7 of water; rateable value £2,700; the population in 1911 was 344.
Letter through Egloskerry, Cornwall, which is the nearest money order office; telegraph office at Tresmeer station 2 ¼ miles distant, for dispatch only, but Egloskerry is the nearest for Delivery, 5 miles distant.
Post Office, Canworthy Water: Samuel Petherick, sub-postmaster. Letters through Egloskerry.
St Gennys, 3 miles distant, is nearest money-order and telegraph office for delivery and Tresmeer station, 2 miles distant, for dispatch. Public Elementary School [mixed], for 90 children; Charles Henry Edwards, master; Miss Jenkins, mistress. This school is controlled by the Launceston, Camelford and Stratton District Education Committee; WH Walter, Education Office, Launceston, clerk.
Hits: 579