.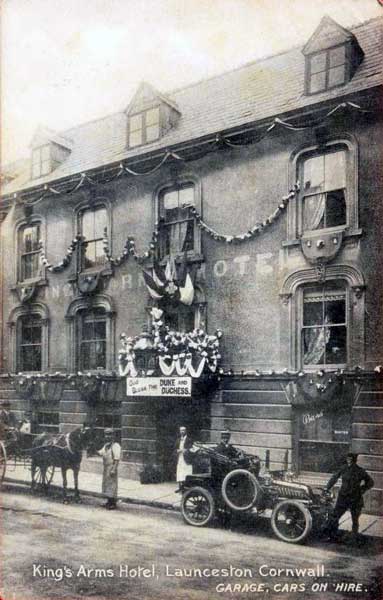 Arthur was born in 1880 William and Mary Budd at Southernhaye, Exeter. His father was a surgeon. Arthur followed into his father profession gaining a M.B. Bach. At Durham University in 1904. He stayed with Mrs. Burnfather at Jesmond, Newcastle-upon-tyne.
He moved to take up the position of G.P. at Launceston's Southgate surgery alongside Dr. W. Thompson and Dr. C. Gibson. With the outbreak of war he volunteered his services as a medic in August of 1815, and served with the R.A.M.C.  acting as a Second Lieutenant, then Captain.  He was slightly wounded whilst serving in Mesopotamia.

Serving at Gallipoli wrote back to friends on January 6th, 1916 detailing his experiences:
"All my work at present is in the trenches, dressing and attending to the wounded, whom I send on to the ambulance and clearing stations. My dug-out up here is just behind the trenches, with a little dressing station dug out in the cliff side and covered with sand bags for protecting. It is very exciting work up here, pretty 'hot' but great sport. The Turkish trenches are about 25 yards from our trenches. But in one part of the firing trench their trench is only within six yards of ours, so you can imagine one has to be very careful to keep well down below the sand bags parapet. The trench is so near that our Tommies throw their empty bully beef tins over into the Turks trench, and 'Johnnie Turk' throws his into ours in return. I watched the bombers for some time today sending over bombs from a huge catapult and watched the results through a periscope. Several Turks, or pieces of them, frequently could be seen being blown up into the air. This was in return for some damage their bombs did to our men in the morning, when, I am sorry to say, we lost several of our men. One Turk who was evidently tired of German company, came over the other night and gave himself up a prisoner, with hands up, and I have got his bayonet, which I shall try to send home, as it will be a great curio with its Turkish markings and half moons on it. A day or two ago they kept on putting up a dummy dressed up like a Turk, making out to our men it was one of them and enticing them to fire. Fortunately for us, they put it up too high- above the parapet of their trenches- and we could see the broom handle or whatever it was that it was mounted on. They have not sent over any gas lately, but we always carry our gas helmets with us when in the trenches, by order. Then part of my duties just now, too, are to see that the trench we are in is kept in a sanitary condition, and you have to be very careful about this in the trench, as if not, you would soon get still more struck down with disease. There are special men for all this sort of work called 'Pioneers.' It is all very exciting, but it is very noisy, of course, as the firing goes on all day and night, but somehow one gets use to it. One never possibly gets an undisturbed night up here and always gets called up to dress wounded many times a night, so I don't undress at all, in fact one is not supposed to. I get a nap or two in the day when possible. I often wonder how things are going at Launceston. I think I told you in my previous letters I had received some letters from many kind friends from home, and one of your parcels has now reached me, so I am hoping the rest you speak of will turn up soon. You should see us all over our parcels, from the Colonel downwards, like a lot of schoolboys enjoying themselves with their tuck boxes. You have no idea what pleasure it is when we get a letter or parcel mail. It was a treat to get a home made cake, etc., as of course on active service the diet must necessarily be plain, and chiefly bully beef, but we always get plenty. I am keeping very fit and well, and I really never thought I should keep so well when I first saw so many going down with illness."
During the course of his letter Dr. Budd made reference to 'our exciting departure from Suvla Bay' and what happened after; but this was omitted from the report.
After the war he returned to his original role at Launceston and continued as the Medical Officer for the Health Board. Arthur never married and he died in May 1937. The funeral service was held at his home by the Canon W. H. Rigg followed by cremation at Plymouth and internment at Mortonhampstead.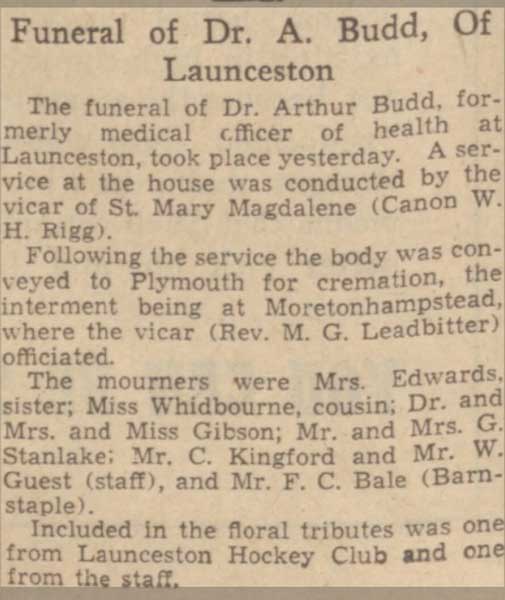 Hits: 50