.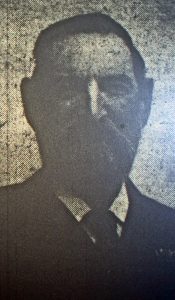 Charles or Henry as we was more commonly known, was born on July 21st, 1850 to John and  Mary Wroth, at Wooda Lane, Launceston. His father was a tailor. Henry was apprenticed to Richard Robbins, shoemaker, with whom he was employed when the South Western Railway was opened at Launceston. In 1873 he assisted his uncle, Mr. John Frayne, who was in failing health and died in May 1875. Also in 1873 Henry married Hannah Cross at Launceston, and they had two sons, John and Francis. Hannah died in 1884. On his uncle's death, Henry took over the duties at St. Mary's Sunday Schools and verger, and in 1887, went there as caretaker, a position which he held until 1923. In 1886 Henry re-married again to Clara Buckler of Launceston setting up home in Tower Street, Launceston. They went on to have five children, 2 sons and 3 daughters (one son Alfred, served during the First World War).
He retained his role as verger at St. Mary's for 50 years, until his death in 1924, during which time he served under six vicars. He was a very keen bell ringer and was the grave digger for the cemetery until 1919, where he had assisted in about 1,400 funerals. He was also a member of the Launceston Volunteer Fire Brigade. Henry was a keen gardener and was one of the oldest exhibitors at the Launceston Cottage Garden Show.
Henry died in 1924 aged 74.
Hits: 55