.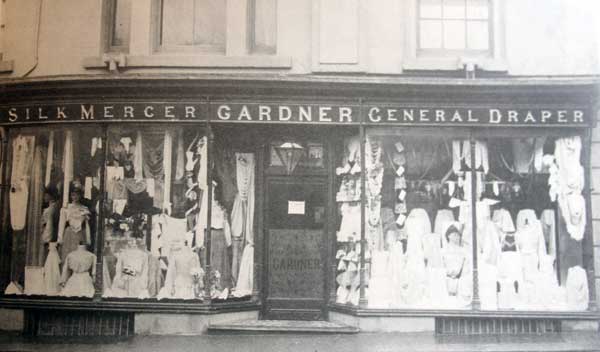 Henry Gardner was born in March 1841 at Coombe St Nicholas, near Chard, Somerset. He married Miss Elizabeth Watts Geake (daughter of Mr John Geake of St Thomas, Launceston) at Launceston in September 1873. Their first child, a daughter Margaret Elizabeth, was born in September 1874, and another daughter followed, with Jessie being born in December 1878. In March 1881 a son, Henry Geake was born but he died on March 1883. A second son was born in March of 1884 also named Henry, but he also died in his infancy, passing away in September of the same year. Further tragedy was to strike the family when Elizabeth died on December 23rd, 1890, and it was an old family story that as she lay on her death bed, above the shop in the square, the traders laid straw on the road so that the horses and carriages would not disturb her too much.
Henry on coming to Launceston first set up in partnership in 1870, with Matthew Fraser, running a drapery shop in St. Thomas Street (St. Thomas Road). Henry then bought a Launceston drapery business situated in Broad Street from a Mr John Oliver sometime after 1889 and renamed it after himself. Henry then sold the business 12 months before he died in 1907 to Messrs Hicks and Dawe which then became Hicks & Sons. In his later life Henry's health deteriorated and his daughter Jessie, who was courting William Simpson Walters, refused to marry him until her father had passed away as her father was dependant on her. Henry passed away in June 1908. Jessie finally married William after some time had passed in September 1909.
They had two children, Marjorie and Donald. It was when Marjorie visited her Grandad she met the 'boy next door' her future husband, Harold Barriball, being Ernest Barriball's son (Barriball and Sons). Donald went on to work with his father at Fore Street Warehouse but under the name of Mr Sympson so as to not show the relationship with his father within the same business! He travelled extensively around Europe for the business, sourcing fabrics and buyers and served as a Captain in WW2 being significantly deafened as a result of the near contact with the artillery during his service. Donald died a bachelor in 1990, having moved to Tavistock with his mother on his father's death in 1962 and then to Plymouth on her death in 1968.
Marjorie moved to Launceston having met and married Harold Barriball finally settling at Penlea, Dunheved Road with their 2 children and various dogs! Marjorie was very prominent in several local charities and societies especially the Girl Guide movement becoming a life president in her later years. She also accompanied her Father to several of the London luncheons when her Mother felt unable to, often jumping on a train with a new outfit and hat after a hurried phone call from William saying 'Come on the next train, Marjorie!' Tragically, Marjorie lost her father & husband within 6 weeks of each other in 1962, both deaths were unexpected. Marjorie then built Barncote in the garden of Dunstowe in the early 1970s named after her beloved childhood home in Woking. Her daughter, having been born 3 months prematurely in 1941 in a bedroom of Penlea, built her family home, in the gardens of Penlea. Marjorie died in 2005.
Henry's other daughter, Margaret who would possibly have also been looking after Henry, married at Barnstaple in June 1910, to Frank Russell Jewry (b. 1878 at Launceston), and who's family ran a photography shop in Deal, Kent. Frank later became a reverend. Margaret passed away in the New Forest area in December 1969.
Hits: 94