James Ruse was born at Lawhitton, Launceston, on 9 August 1760 to Richard and Elizabeth Ruse. The family moved to Petherwin Water, South Petherwin by 1764. Growing up with his sister and four brothers James would have helped the family as tenant farmers and later find work as an itinerant farm worker locally, with little prospect of ever having his own land.
In 1782, he was tried at Bodmin Assizes and sentenced to death for "burglariously breaking and entering the dwelling house of Thomas Olive and stealing thereout 2 silver watches, value 5 pounds." He was reprieved and sentenced to transportation for seven years. He was assigned to be transported to Africa, but when that destination was deemed unsuitable he was held on the hulk ship 'Dunkirk' at Plymouth and for the next 5 years, he went out to do manual labour, which thankfully gave food, fresh air, and exercise.
He was eventually transported in 1787 onboard the 'Scarborough', one of the First Fleet, and arrived in New South Wales on 19 January 1788.
In 1789 Ruse produced the first successful wheat harvest in New South Wales. Whilst this harvest didn't yield sufficient grain to make flour for the colony, Ruse did produce enough seeds for the next year's crop, which was successful. Such was the colony's need for a food supply, that Governor Phillip rewarded Ruse for his success with the first land grant made in New South Wales, along with a gift of pigs and chickens. In February 1791, Ruse declares to the authorities that he is self-sufficient, and two months later, in March, he was granted a further 30 acres. Ruse expected to reap about eight bushels (290 litres) to the acre. After Ruse's sentence expired in 1792, the title of his land was deeded to him, the first land grant in the colony. In 1793, he sold his land to Dr. John Harris of the New South Wales Corps for 40 pounds. The property is now the Experiment Farm Cottage Museum of the National Trust of Australia.
James married fellow convict Elizabeth Parry (1769 – 27 May 1836) on 5 September 1790. They had six children together – Rebecca (1791 – 9 November 1792), James (b. 1793), Elizabeth (b. 1794), Susannah (1796–1872), Mary (b. 1798) and Ann. In 1794, Ruse moved further out, to the junction of the Hawkesbury River with South Creek, and became a fairly successful farmer. He and Elizabeth raised seven children, two of whom were thought to have been adopted. Later, however, he was wiped out by flooding, which was always the risk of farming in the Hawkesbury, and had to find work as a seaman. He was heavily in debt and only the hard work of his wife saved him from bankruptcy. From 1828, he was employed as an overseer by a landowner at Minto, south of Sydney. He died at Campbelltown on 5 September 1837.
Ruse's gravestone, parts of which he carved himself, reads:
"Sacred to the memory of James Ruse who departed this life September 5 in the year of Houre Lord 1837.
Native of Cornwell and arrived in this colony by the First Fleet, aged 77. My mother reread thy tenderly, with me she took much pain, and when I arrived in this colony I sowed the first grains, and now with my heavenly father I hope for ever to remain."
A replica of this tombstone stands in the front garden of Barrengarry House, the administration block at James Ruse Agricultural High School. The original headstone carved by James Ruse himself, was moved by his descendents to a secure location after vandals damaged some headstones in the Old St Johns cemetery at Campbelltown NSW. The headstone is now in the care of The Campbelltown and Airds Historical Society at Glenalvon House in Lithgow Street Campbelltown. The memory of James Ruse is perpetuated in the naming of key locations in Sydney, including James Ruse Agricultural High School in Carlingford; James Ruse Drive, running from Silverwater to Northmead, near Parramatta; and Ruse, a suburb in southwest Sydney.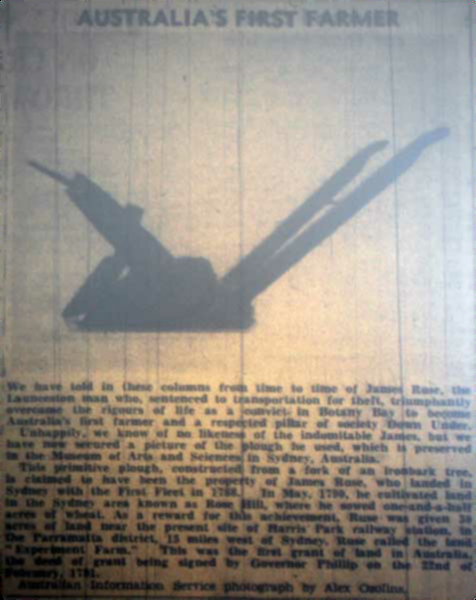 The Stony Ground is the story of James Ruse, reprieved from the hangman's noose and transported to Botany Bay on the First Fleet in 1788. Ruse, commemorated as a pioneer in his adopted country, was reputedly the first prisoner ashore, carrying an officer on his back. Eventually pardoned, at Experiment Farm he became Australia's first settled farmer, the first ex-convict to be granted land and the first settler to become self-sufficient, bringing him into conflict with indigenous people. In this gripping historical novel the life of Australia's most symbolic convict is described in Ruse's own voice.
A highly original narrative of exile and survival from rural England to New South Wales and the Tasman Sea filling a gap in the literature of transportation and dramatising a key period in British penal history written by Michael Crowley. Available at www.watersidepress.co.uk
Hits: 298