.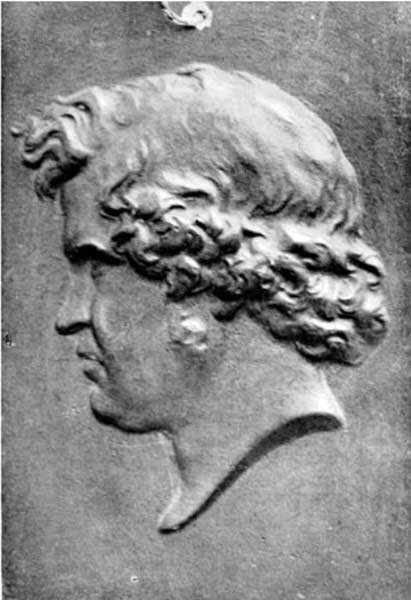 Neville was born on the 11th of October,  1818 to George and Jane at Penpont Mill,  Altarnun (below left). His only education was from his mother who kept a dame school and who made bonnets in her spare time. His father was a stonemason and
on leaving school Neville began working for his father as a mortar boy. He would often sneak away from his work to carve figures of men and animals on an old oak door. His earliest tools were makeshift nails in which he grinded sharp.
He showed a talent for carving stone at an early age. Aged fifteen years, he sculpted a relief portrait of John Wesley over the doorway of the Wesleyan Meeting House next to his home. He went on to twice win the Silver Medal of the Royal Cornwall Polytechnic Society. He left home and went to Fowey, and Sir Charles Lemon, of Carclew, took him under his tutorship and at the age of sixteen he carved in slate the group of Laocoon, which was sent in 1834 to the Exhibition of the Royal Cornwall Polytechnic Society of Falmouth. This work was considered so very remarkable, given Neville's humble origins, that the Society awarded him a silver medal.  Neville was sent to London, and through Sir Charles Lemon's influence was introduced to Queen Victoria, and was commissioned to sculpt a bust of her son, the six year old Prince of Wales, later to become King Edward VII.
His work was exhibited at the Royal Academy in London. He was in constant demand for public commissions, although he regularly returned to Cornwall.
On the 7th of November, 1844, he married Mary Ann Nicholson at All Souls Church, Marylebone, London. Together they had four children, Ellen, Thomas, Mary, and Sarah, setting up home in Hugh Street, Saint Georges Hanover Square, London.
All seemed well but for some unknown reason Burnard began to drink and he left his wife and neglected his work. After the death of his eleven year old daughter he closed his studio in London and returned to Cornwall practically a tramp. He never settled anywhere permanently again and spent most of his life travelling around Cornwall giving pencil sketches as payment for a nights lodging.
At one time he was reportedly discovered in a barn in St Cleer, where kindly folk looked after him until he went on the road again. He visited Altarnun for the last time in 1875, staying for one week with an old playmate, Mr. S. Pearn. At this time he hardly had any clothes on his back and after being fitted out with fresh clothes by some friends, he left heading to the West of Cornwall. During this last stay he drew some large pencil heads, and showed that he also had a hand at poetry by composing a poem on the death of Mr. F. Herring.
He eventually died in Redruth Workhouse on the 27th of November, 1878 of heart and kidney complaint. He was buried in a pauper's grave in Camborne. In 1954 The Old Cornwall Society of Camborne erected a slate tombstone on his previously unmarked grave.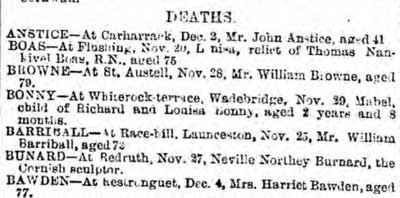 Among his best known works are the statue of Richard Lander on the top of the Lander Memorial in Lemon Street, Truro, which he sculpted in 1852, (this has been the subject of much concern lately due to extensive erosion) and the memorial to Ebenezer Elliott in Sheffield (1854).
As well as many fine gravestones, he also sculpted busts of Richard Trevithick, (now in the County Museum and Art Gallery in Truro), Dr George Smith in Camborne's Wesley Chapel, and William Bickford-Smith, MP for Truro and Helston, now at Trevarno, Cornwall. Other examples of his work can also be seen in the Royal Cornwall Museum. Another piece of his work is a bust of the famed John Couch Adams who discovered the planet Neptune. This bust (below left) is now in situ at Lawrence House Museum in Launceston.
Hits: 357