William was born in 1819 to John and Elizabeth (nee Hean) Burt at St. Stephens, Launceston. He was baptised on December 30th, 1819 at St. Stephens Church.
William married Emily Guppy who came from Dorchester, in 1854 at Launceston. They had three children, William b. 1855, Robert b. 1860. and Annie b. 1857.
William worked as a builder and contractor running his own business from 1853. Amongst contracts that his firm carried out over the years were the Launceston Free Library, and most of the Bank premises that we see to this day. He was also entrusted with the work of restoration of a large number of Churches in Cornwall and Devon, amongst others Werrington, St. Stephens-by-Launceston, St. Thomas, Egloskerry, Boyton, St. Gennys, Minster, St. Clether, St. Giles, and he also erected many of the principal properties in and around Launceston. In his earlier days he carried out contracts for the late Duke of Northumberland (formerly owner of Werrington Park), and for the Prince of Wales, and for the Duke of Bedford. His two sons followed into the business.
He built and lived at Campbell House (above), St Thomas Road, Launceston, in the house that was to become Newport Post Office. He also served for many years upon the Borough Council being a conservative in politics. He was also a staunch member of St. Stephens Church congregation.
He passed away in December 1903 after a long illness and was interred at St. Stephens Churchyard.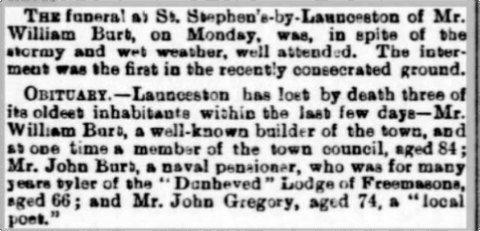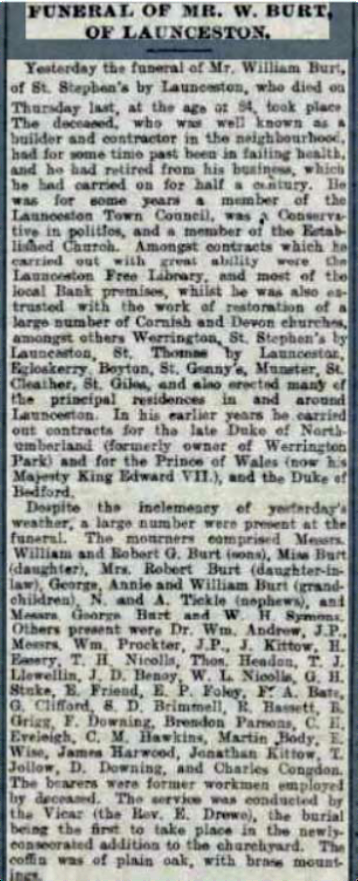 Hits: 58