.
Alfred was born in June 1897 at Caerhays Castle in Cornwall, the son of John Charles ("J.C") and Mary Christian Williams. He was the fourth child of a family of six, five sons (Charles, Robert, John, AMW and his younger brother Peter Michael, known as PM) and a daughter May. His father was a prominent land owner, with estates at Caerhays and Werrington. Alfred was educated at Gore Court School, Sittingbourne, and then Osborne and Dartmouth. Alfred loved the sea as a child, and wanted to make the Royal Navy his career for life.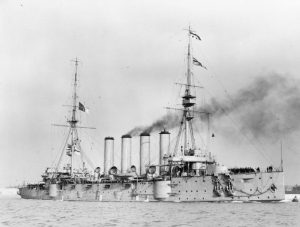 When the First World War broke out, he found himself in April 1915, one of eight 17-year-old midshipmen, in command of ship's cutters each of which was towing in four lifeboats from the flagship HMS Euryalus (above), in the very first assault on W Beach on the Gallipoli Peninsula. He was therefore at the very front of the first assault of that fateful campaign, an action for which he was awarded the DSC. The admiral of the fleet, Admiral Wemyss, described the part played by those eight young men in these words "A conspicuous feature of the operation during those first strenuous and fateful days was the conduct of the midshipmen. The majority had, on the outbreak of war, been sent to sea before completing their full period of training at Dartmouth and were, in truth, little more than children. In spite of their youth and inexperience they handled the men and boats committed to their charge with a firmness and courage, and determination that was truly admirable. On April 24th they were boys of whom one felt one should not expect too much; three days later they had developed into young men in whose ability to carry out their duties with success one could place complete reliance and without exception they proved themselves capable of dealing with difficult situations that spoke volumes for their character and for their training." Alfred would later say in his memoirs how much the ship's company loved Admiral Wemyss.
Each lifeboat contained 25 Lancashire fusiliers, a significant number of whom were killed before they even reached the shore.  Of the first 200 men who landed only 21 survived. 600 men of the Battalion were killed or wounded. The beach was later re-named "Lancashire Landing" in honour of the Fusiliers. This action was later referred to as "6 VC's before breakfast". In his memoirs, Alfred recalled "I remember during the middle watch getting out of my hammock, stowing it and going forward to my steam pinnace very carefully stepping over the Lancashire Fusiliers who were sleeping on the upper deck. I thought to myself "How many of these chaps will be dead or wounded within 2 hours?" He was to be the last serving midshipman to have taken part in the Gallipoli action.
He was awarded the Distinguished Service Cross in August 1915. Alfred was made an acting lieutenant in 1917 and in 1918 was mentioned in dispatches for his part in an action off the Belgian coast. Robert and John, his two elder brothers were both killed during the war, which left Alfred as the heir to his father's estate at Werrington. This, along with cutbacks in the Royal Navy after the war, meant that Alfred had to leave the career he had set his heart on, and after a short course in Agriculture at Cambridge he returned home to Werrington to help run the estate.
He married Audrey Rogers of Stanage Park, Radnorshire, in 1920 and they had three children: Robert, Hester and Julian. Audrey died in 1943 and in 1945 he married Dorothea Veronica Carver Robins, whose husband had been killed at the battle of El Alamein (she already had two children of her own, Susan and John). Alfred and Veronica had one son, Hugh.
Alfred was elected a member of Cornwall County Council in 1923 but resigned a year later when he was elected MP for North Cornwall. He subsequently lost the seat in 1929 and, although he tried to win it back three times, in his own words, "Having lost three elections in four years I decided to retire hurt." He remained active in politics and was, for many years, chairman of the Western Region Conservative.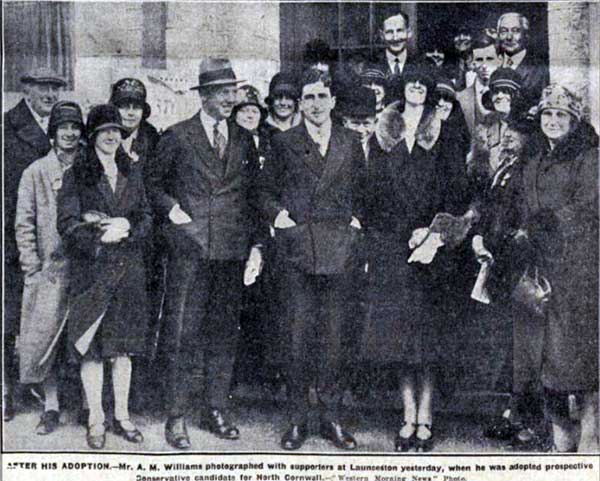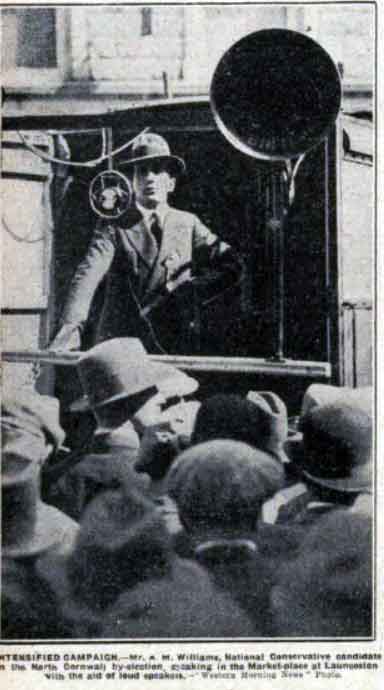 In 1938 he was made High Sheriff of Cornwall and became a Deputy Lieutenant of the County in 1957. He was made a magistrate in 1934 and when he retired in 1964 due to deafness. On the outbreak of the Second World War, he was recalled for service in the Naval Intelligence Division at Falmouth before being posted to the Suez Canal where he was in charge of minesweeping. He was very proud that no ships were lost to mines in the canal during his period of command. In 1946 he was promoted to full Commander. In 1957 Alfred was awarded the C.B.E..
He lived at Werrington until 1974, and devoted much of his energies to farming his beloved pedigree herd of Red Devon cattle and developing the gardens that had been created by his father. He was a member of the narcissus and tulip committee of the RHS. When he passed the estate to his son Rob in 1974, he retired first to Torrington and then, in 1978, to Mary Tavy. He died at Blackdown Nursing Home in Mary Tavy in 1985.
Hits: 151