.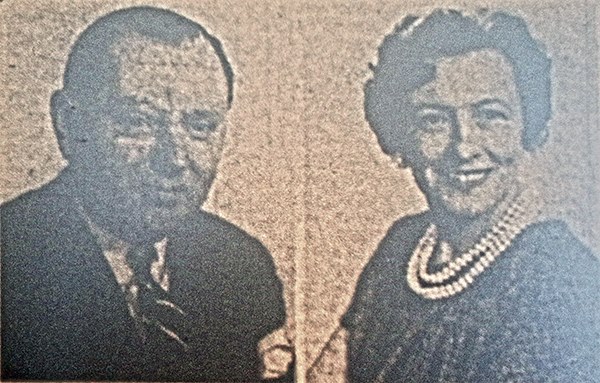 Edward Augustine Hore was born in 1917 at Devonport, Plymouth to Edward Henry (1876–1918) and Fanny (1876–1939)(nee Hookings) Hore. His father (like his father before him and also called Edward was a Colour Sergeant with the Royal Marines) was a sergeant in the Royal Marines (Service No. 5263), based at Stonehouse, Plymouth. He was involved in the fighting during the First World War being awarded the Silver War Badge and British War Medal in 1917. The Silver War Badge was issued in the United Kingdom and the British Empire to service personnel who had been honourably discharged due to wounds or sickness from military service in the First World War. It is presumed that this was the reason for his death on January 23rd, 1918 at Plymouth. In his will, he is listed as being a Royal Marine pensioner.
On leaving school Edward trained as an accountant working for a city firm. At the onset of the Second World War, he volunteered for the R.A.F. spending a total of 6 1/2 years in service. Much of that time was spent in the Middle East and it was here that he sustained serious injury in a motorcycle accident. He married Edith Leah Bloor, herself a member of the Women's Royal Air Force for 4 1/2 years, at Emmanuel Church, Plymouth on April 30th 1945. They had one daughter, Louise, born in 1948 (it was Louise that had the honour of presenting a bouquet to the Queen during her 1956 visit to Launceston). On being demobbed, Edward returned to his accountancy job and for a short time lectured at the Plymouth Technical College before moving to Launceston in 1950 becoming a partner in a firm of chartered accountants. He and his family set up home at Westholm, Dunheved Road.
Edward was first elected to the Town Council unopposed in May 1956 but was defeated in the following year's election. A year later he stood again and this time was returned at the top of the poll, an achievement which he repeated in the election of May 1961. In May 1962, he was selected to be that year's mayor.
Before the war, Edward played cricket with the Plymouth Bohemians Club and hockey with St. Andrew's Church Sports Club (Plymouth) and Devon Barbarians. On moving to Launceston he was soon involved with Launceston Cricket Club becoming president. He was also vice-president of a number of other local organisations including the Rugby Club, the Minors Football Club and the British Legion. Edith herself was also a member of the British Legion as well as the Mother's Union and Women's Institute.
He died on April 26th, 1969, aged just 52. He was interred after a service at St. Mary Magdalene Church at the Launceston Cemetery. In his will, he left a total of £7,713
Hits: 189