.
Fanny was born on January 8th, 1905 at Clarence House, Launceston to Lewis Prust (1867–1936) and Mary Ann(nee Fry) (1865–1928) Symons. Her father was a draper owning his own shop.  After her education at Pendruccombe School, Fanny remained at home to care for her parents. She married John Charles Edmund Hicks (b.1903) (a master draper) in 1930 at Launceston and they set up home at 1 Windmill Lane, Clarence House. They had three children, John (1931–2009), Charles (b.1943) and Florence. John or Jack as he was known, ran the family drapery business in Broad Street that he inherited from his father Frederick Charles Hicks. During the Second World War with John in the services, she ran the business of Hicks and Son single-handed.
Throughout her life, Fanny took an active part in all aspects of the community. In her youth, she took an interest in playwriting and music and was a member of a local orchestra. She also wrote several pageants which were produced locally, and she also had a book of poems published.
During the early 1950s Fanny was elected to the Launceston Borough Council becoming only the second woman at that time to have served on the council, and for over 20 years played her part in local government. In 1960, Fanny was chosen as Mayor of Launceston, again becoming at that time, the second woman to hold the office, having succeeded the first woman Kathleen Keast who had served in that role the previous year. Her proposers described her as "A person with a warm personality and a friendly approach. A woman with a creative ability who was prepared to sacrifice herself for others…a person essentially a part of Launceston."
During Kathleen Keast's second term as Mayor in 1968, Fanny served alongside her as Mayoress, by which time she had been appointed as an Alderman of the council.
With the reorganisation of local government in 1974, Fanny decided to retire from council work.
Here other outside interests were wide and varied and there was probably no charity in the town that did not receive her support at some time. One of her main interests was the work for Cancer Research, for which she was president of the Launceston branch. She was also past president and secretary of the Launceston Women's Institute and a former president of Launceston St. John.
Fanny was a strong supporter of the Launceston Town Band, for whom she was vice-president for many years. She was also a school governor in the Launceston district. A devoted churchwoman, Fanny was a member of St. Mary's Church but had a great belief in supporting all denominations. She was also a past secretary of the local group for the Women's World Day of Prayer.
As an organiser and businesswoman, she took great pride in everything she did. She was, in fact, the first person in Launceston to organise a mannequin parade. Such was the popularity of this event that it ran for several days in the Town Hall.
She twice had the honour of meeting the Queen, at Buckingham Palace and at Windsor.
Her husband Jack passed away on November 22nd, 1981 at their home, Clarence Lodge (below), Hurdon Road, Launceston and was interred in the Launceston Cemetery. He left in his will, a total of £40,014. Fanny survived him by just under eighteen months, herself passing away after a long period of indifferent health at Trebursye Manor Retirement Home on May 22nd, 1983.  She was also interred in the Launceston Cemetery after a service at St. Mary's Church. In her will, she left a total of £36,315.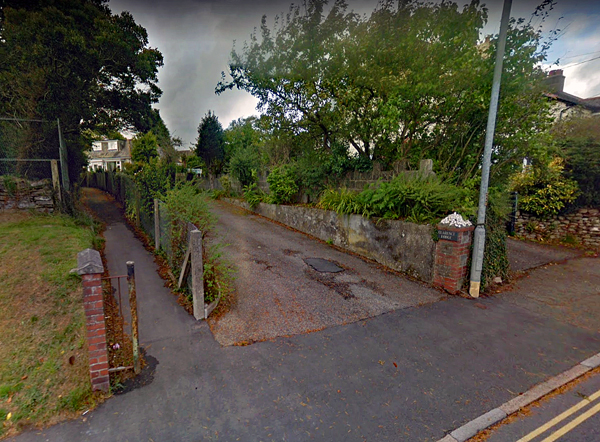 Hits: 289