Mary Ann Davenport
.
With thanks to wikisource.org/wiki/Davenport,_Mary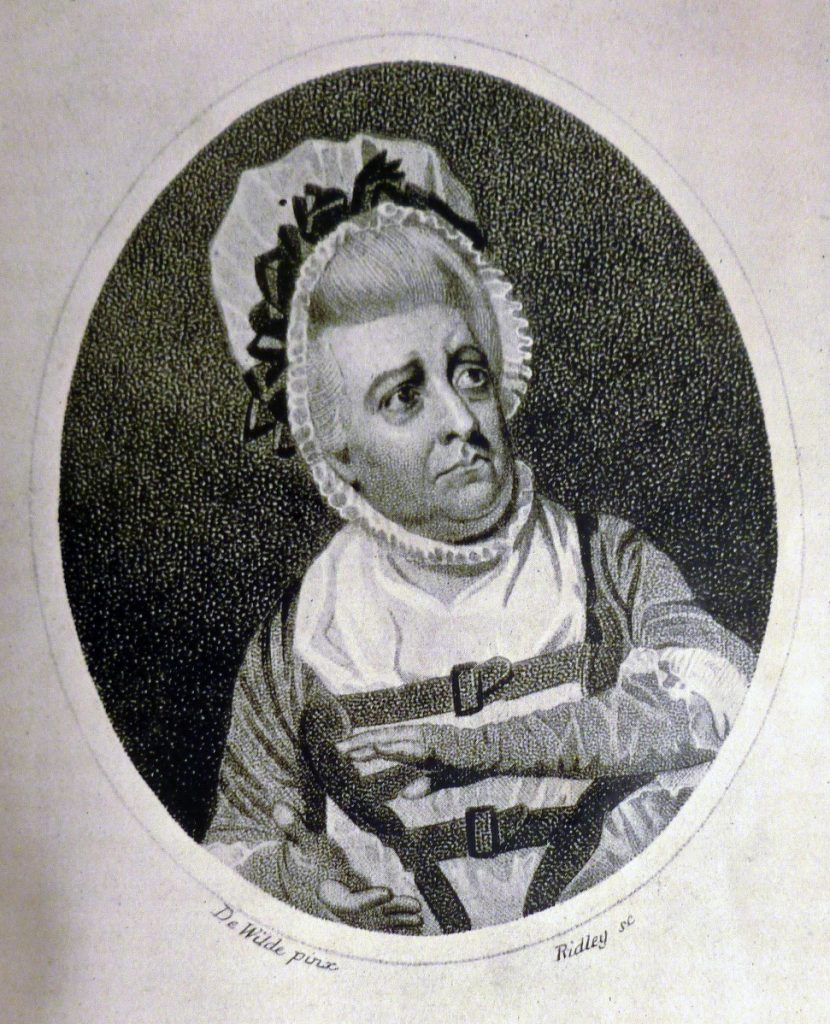 Mary Ann Harvey was born at Launceston in  1759 possibly to Joseph and Catherine (nee Penwarden) Harvey, and was educated at Bath, where she soon found a passion for acting.  Her first appearance on the stage took place at Bath on December 21st,  1784 as Lappet in 'The Miser' of Fielding. She remained at Bath for two years and during her residence there was described by an eye-witness of her performances: "Miss Harvey, about the years 1785 and 1786, was a lively, animated, bustling actress; arch, and exuberant spirits. Her style was pointed and energetic; perhaps, indeed, she had less ease than was altogether the thing; but when she had to speak satirically or in irony – when, in fact, she had to convey one idea to the person on the stage with her and another to the audience, she was alone and inimitable; she did not carry you away with her so much as many young actresses that I have seen, but she always satisfied you more amply. Then her voice – what a voice hers was! Nay, what a voice she has still, though it has had a pretty fair exercise for the last half century and upwards. Then it had all the clearness for which it is even now distinguishable; and it had, besides, a witching softness of tone that knew no equal then, and that I have never heard exceeded since."
There was playful charm about her; she was not exactly beautiful, but had a witchery of face and of manner that was unsurpassed by any of her fellow actresses, who may have possessed more regularity of feature.
After staying in Bath the two seasons she then went to Exeter, where she married George Gosling Davenport (1758?–1814), an actor of the Exeter company. With him she proceeded to Birmingham, where she remained a considerable time, before, after vainly seeking an engagement in London, she accepted an offer from the Crow Street Theatre, Dublin, where she opened as Rosalind in 'As You Like It.' Up to this time she had naturally played juvenile heroines, in which she showed archness and exuberant spirits. Upon an emergency, however, she undertook in a revival the part of an old woman. The role of Rosalind suited her, and in which she aroused great interest. Her graceful figure, her voice, now full of tenderness, then of arch humour, and her expressive face admirably suited the part. Her success in this was so great that she was never able to return to her former line. She moreover performed the part of Fulmer in the 'West Indian'. She was accordingly engaged at Covent Garden to replace Mrs. Webb, to whom she was greatly superior, and appeared for the first time at that house on September 24th, 1794 as Mrs. Hardcastle in 'She Stoops to Conquer.' The Authentic Memoirs of the Green Room for 1796 says: "Mrs. Davenport a tolerable substitute for Mrs. Webb, though not near so great."
'The Davenports, tho' not of play'rs the first,
Are far from being in old folks the worst.'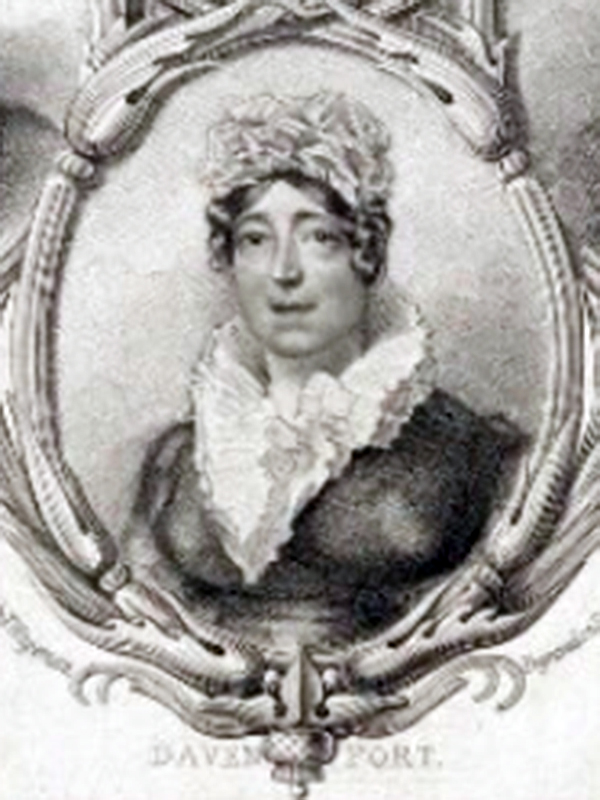 In the course of the season she played Lady Wronghead in the 'Provoked Husband,' the Nurse in 'Romeo and Juliet,' the Duenna, and many similar characters. To these she added at the same theatre in 1795–6 Mrs. Malaprop, Mrs. Quickly in 'King Henry IV, Part I.,' and 'Merry Wives of Windsor,' and Mrs. Peachum in the 'Beggar's Opera.' At the Haymarket in 1797, and in subsequent years at one or other of the theatres named, she played Miss Lucretia M'Tab in 'The Poor Gentleman,' Mrs. Quickly in 'King Henry IV, Part II.,' and 'King Henry V,' Mrs. Heidelberg in 'The Clandestine Marriage,' and very many similar parts. She was the original Deborah Dowlas in Colman's 'Heir-at-Law,' Dame Ashfield in Morton's 'Speed the Plough,' Mrs. Brulgruddery in Colman's 'John Bull,' Monica in Dimond's 'Foundling of the Forest,' and Dame Gertrude in 'The Forest of Bondy, or the Dog of Montargis.' In these and very many similar roles she won a high and well-deserved reputation.  She bore a high reputation as an actress and a woman. In 1806 she appeared as Lady Denny in 'Henry VIII' (play) with Sarah Siddons as Queen Katherine, John Philip Kemble as Cardinal Wolsey. During the life of her husband she lived in great privacy; after his death, on March 13th, 1814, she drew, with a daughter, into practical seclusion. She had also a son who held an Indian appointment and whom died there. George Davenport was eclipsed by his wife, and is an object of some banter in theatrical records. He was, however, a good speaker and a useful member of the Covent Garden Theatre, which, on account of ill-health, he quit in 1812. In 1817 she appeared again as Lady Denny in 'Henry VIII' when the painting (below) by Benjamin Burnell was created for an exhibition at the Royal Academy of Arts.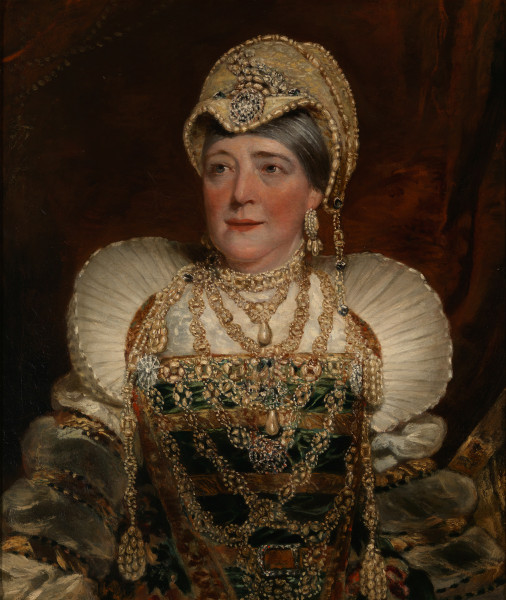 Her last performance was for her benefit, Covent Garden, on May 25th, 1830, when she played the Nurse in 'Romeo and Juliet.' She was run over by a dray on July 20th, 1841, and after a lingering illness died in St. Bartholomew's Hospital on May 8th, 1843, aged 78, or, according to another account, 84 years. She was buried at St Paul's, Covent Garden.
Hits: 150