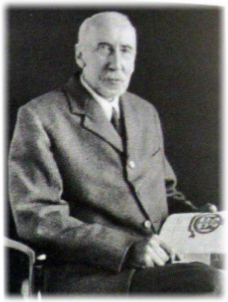 Otho Bathurst Peter A.R.I.B.A. was born on the 11th of February 1854 to Richard and Anne Peter at the Lower Walk, Launceston. His father was a lawyer who held every senior office in the town's council including a long stint (1874 – 1885) as the Town Clerk. Otho had two brothers Apsley and Claude (who took over from his father as Town Clerk in 1885) who followed into the family's legal practice, and one sister Adeline Mary. Otho, being artistic, followed a different path to his father and brothers and became an architect.
Otho married Ann Peter at North Hill on the 18th of March 1879 and they had three children, Rosalie Mary Petre born 1880, Winifred Annie born 1882 and Arthur Granville born 1884.
He designed or part designed many of the notable buildings around the town such as the present Guildhall as well as helping in the restoration of Egloskerry, Jacobstow and Lewannick churches. His most notable restoration work is on the Southgate Arch which had been purchased by his father, Richard. Richard also purchased the old cottage that had stood on the corner of Madford lane and had it demolished to make way for the pedestrian arch and walkway designed by Otho. The refurbishment of the Southgate including the adding of battlements.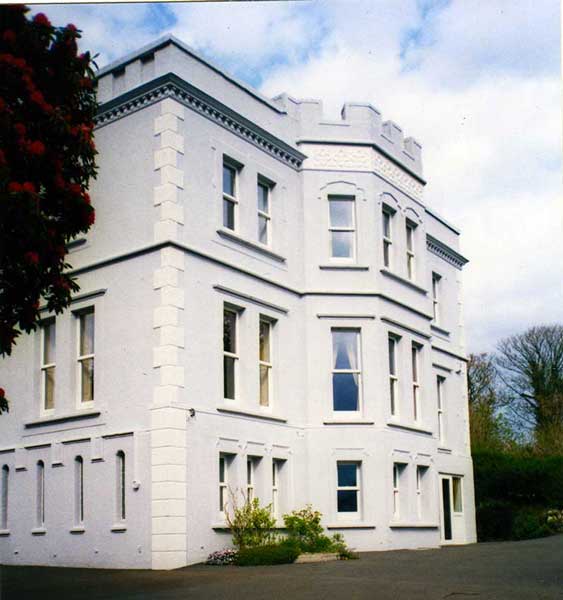 Craigmore (the family home which has now been demolished) on Windmill hill was another of his designs.
As has already been mentioned he was an accomplished artist and much of his work is available for all to see at the Lawrence House Museum in Castle street.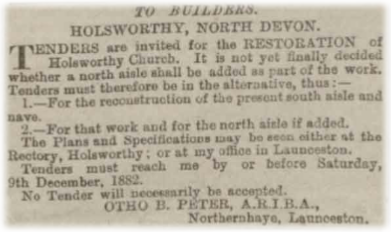 In 1883 along with his father, Peter, he wrote the seminal book 'The Histories of Launceston and Dunheved'  (below left) and if this wasn't enough, Otho was also a keen archaeologist and was a strong advocate in the locating and preservation of the Priory at St. Thomas.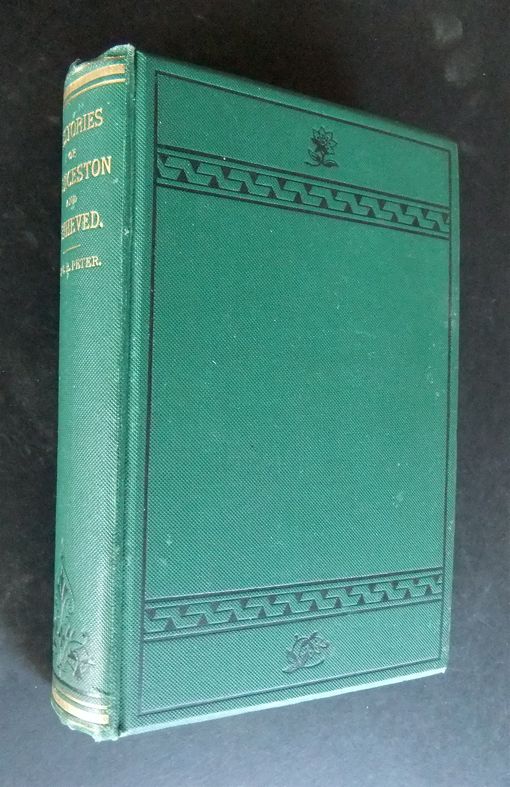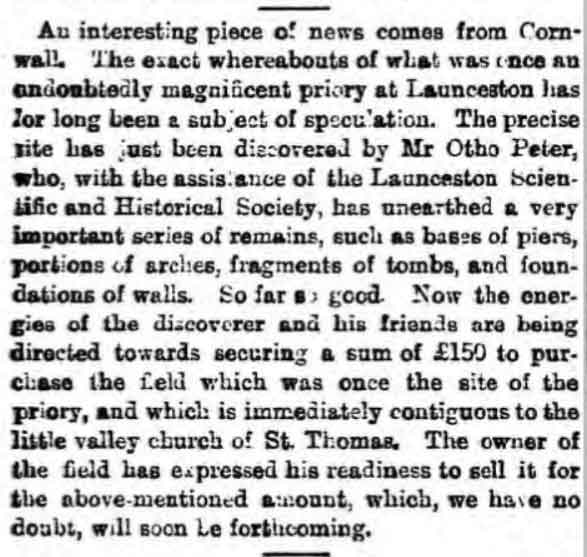 He died at his home of Northernhaye, Launceston on the 26th of April 1937.
"When the funeral took place yesterday (Thursday) morning, the
Borough flag fluttered at half mast from the historic Castle, which had often been the subject of his penmanship.
The Mayor and Corporation attended in state the service at St Mary's Church, the maces, carried by the Town Sergeants, being veiled in black.
The Vicar (Canon WH Rigg, DD.), and Rev CD Day (Vicar of St Thomas) conducted the service, the interment taking place at Launceston cemetery. . . "
The list of mourners is long and contains the most illustrious names of the town, from the Corporation to magistrates, from members of staff of Peter, Peter & Sons to local doctors.
The funeral arrangements were carried out by Mr H Hoskin, and the hearse by the White Hart Hotel and mourning coaches by the Castle Garage. Other than a full coffin-length cross and a wreath from his only sister, there were no other flowers by special request."
Otho, in his will, bequeathed his estate to the sum of £9,806 9s. 6d. to Stuart Luttrell Peter and Arthur Granville Peter.
More information on the Peter family.
Click here for more on the Peter Family by Jim Edwards
Hits: 486