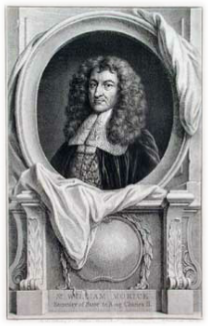 William was born in November the 6th, 1602 at Exeter. His father, Dr. Evan Morice, died when his son was only four years old, and his mother married, secondly, Sir Nicholas Prideaux, of Soldon, Holsworthy.
Morice was educated at Exeter College, Oxford. Dr. Carpenter was his tutor, and William proved to be a brilliant pupil. Dr. Prideaux, the rector of the college, is reputed to have said of him; "Though he is little in stature, he will come to be great in the State." After taking his B.A. Degree, William returned to the country to live with his mother at Churston, in the parish of West Putford. His mother had built Churston (below), and Sir Nicholas had moved there from Soldon. Here in this quiet corner of Devon the young man devoted himself to study and literary work, associating himself little at first with public life.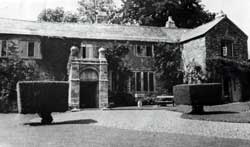 He later married Elizabeth Prideaux, a daughter of John Prideaux (1583-1649) of Prideaux Place, Padstow and granddaughter of Sir Nicholas. Together they had three sons;
Sir William Morice, 1st Baronet (c. 1628-1690), eldest son and heir, MP, created a baronet in 1661.
John Morice (c.1630–1705), MP.
Nicholas Morice (c.1640–1712), MP.
William though was living in momentous times in English history, and a man of his attainments could hardly stand aloof from it all. In 1645 he entered the Long Parliament, representing his native county, but was excluded in Pride's Purge in December of that year, probably before he had taken his seat. Nevertheless, he was appointed High Sheriff of Devon in 1651 just a year after he had purchased Werrington, and returned to Parliament as MP for Devon in the First Protectorate Parliament elected in 1654. He subsequently represented Devon again in the Second Protectorate Parliament, Newport (Cornwall) in the Third Protectorate Parliament. The family settled at Werrington in the meantime.
In 1657, during the Commonwealth, he published a treatise on the administration of the sacrament to all church members.
A relation of General Mock, Morice assisted in the Restoration, and when Charles the Second landed at Dover in May 1660, Colonel Morice, Governor of Plymouth, as he then was, was there with Monk to meet him. He was at once knighted and made a Privy Counsellor and appointed Secretary of State for the Northern Department, an office he held until he resigned in 1668; he was apparently an undistinguished minister, but justified his tenure of office by his usefulness in the House of Commons. In the Convention Parliament of 1660 he was re-elected for Newport but was also elected for Plymouth, which he chose to represent, and was that city's MP until his death 16 years later. For several years Sir William discharged the duties, but with time he felt justified in asking for his release from the arduous duties of State. The King consented to his resignation and Sir William retired to his beloved Westcountry to pass the remainder of his life at Werrington, with his books and literary work. There he erected a fine library.
William died on December 12th, 1676. On the elaborate Prideaux monument once in West Putford Church, but now at Padstow, there is an inscription to Sir William Morice's memory, which refers to his 'Great Service in bringing about ye Restoration.' But it is in the little village of Sutcombe, near Holsworthy, that his name is best known. There, on the north side of St. Andrew's Church are six old almshouses, the result of a charitable bequest in Sir William's will.
Hits: 294