No family gave more from Launceston during World War One than that of the Brighton family. Four sons, Fred, Richard, Thomas and Truman would sadly lose their lives during those dark years. By the outbreak of the war both parents Truman senior and Agnes had passed away with Truman then just 57, on the 24th of April 1900 after a short illness leaving the sum of £368 19s 8d to Agnes who herself passed away in 1912 at Christchurch, Hampshire.
Fred Harvey Longman BRIGHTON
Fred was born in 1890 at 4 Devon View, Launceston. The youngest of eight sons, six of whom served in the war with only two surviving. Fred moved to London with his brother Richard and they both worked for Cooks, 16 Stamford Street, Southwark as a wholesale Manchester warehouseman.
Fred joined the 10th Royal Fusiliers (City of London Regiment) as Lance Corporal Regimental No. Sth/920 and was killed in action on the 23rd April 1917. Taken from the Battalion's war diary:
21 April 1917 – Battalion moved via Athies to trenches. Two Companies in front line approx between points H II.b.68 and H 5 b.4.5. One company in support approx between points H II, a. 88 and H 5a.88, in position at 11.30pm. Several patrols sent out to reconoitre and try to connect with other brigades. (At this point the Battalion was situated behind Cuba Trench close to Chili Trench.) Battalion occupied Cuba Trench about 9.30am 23 April 1917.
He is buried at Chili Trench Cemetery, Gavrelle.
Richard BRIGHTON
Another of Truman and Agnes Brighton's Sons, Richard was born in 1884 at Werrington which was in the county of Devon at the time. He first started working as a Draper but on moving to London worked for Cooks, 16 Stamford Street, Southwark as a wholesale Manchester warehouseman along with his Brother Fred. By the outbreak of War, Richard had married Annie Victoria Brighton, and was living at 4, Brockenhurst Rd., Addiscombe, Croydon. He first joined the East Kent Regiment (Regimental No. 5453) but transferred to the Cheshire Regiment 11th Battalion (Regimental No. 243050) He was killed in action on the 20th April 1918. His body was never recovered.
The 20th April was described in the Battalion War Diary as being quiet and the men were in camp on the road between Mont-des-Cats and Godersvelde. It is, of course, possible that in the chaos of the preceding days, many men had been attached to another unit and were killed in further fighting.
Truman BRIGHTON
Another Son of Truman senior and Agnes Brighton to perish, Truman was born in 1878 at a Cottage in Newport, Launceston. By the 1911 census he was living at 109 Haviland Road, Boscombe, Bournemouth and working as a Builders Merchant assistant which he was still occupied in at the time of his enlistment in 1915. He was living with his wife Elizabeth (Nee Harris, whom he married in 1911) at 29 Wheaton Road, Bournemouth at that time they had two Daughters, Nora and Kathleen. He joined the Royal Garrison Artillery (Regimental No107816) on the 10th December 1915. He served with the 336 Siege Battery, receiving two separate postings with the B.E.F in France. On the 29th June 1918 he was gassed and was invalided back to England on the 17th of August 1918. On the 4th of February 1919 he was officially demobbed but never recovered from his injuries and died in March 1920 at Christchurch, Hampshire.
Thomas Stanley BRIGHTON
Thomas, the fourth son of the late Truman and Agnes Brighton to fall, was born in 1881 at St. Stephens, Launceston. At the age of 20 he was working as a Printers apprentice still living with his widowed Mother, but a further 10 years on he had moved to 53 Mill Hill Rd, Norwich and his occupation was listed as a compositor.  It is from here that he joined the Norfolk Regiment 1/4th Battalion (Regimental No 200634). He was killed in action on the 19th April 1917 during the 2nd battle of Gaza in Palestine. He is buried at Jerusalem Memorial Jerusalem, Yerushalayim (Jerusalem District), Israel, Plot: Panels 12 to 15.
At the outbreak of the First World War, Palestine (now Israel) was part of the Turkish Empire and it was not entered by Allied forces until December 1916. The advance to Jerusalem took a further year, but from 1914 to December 1917, about 250 Commonwealth prisoners of war were buried in the German and Anglo-German cemeteries of the city.
---
The Brighton family originated from Norfolk with George Brighton (b.1779 at Lakenham, Norfolk) moving to Beer Ferrers in the early 1800's to farm 150 acres at Newhouse Farm.
Truman Brighton was born in 1843 to Thomas and ? Brighton at Beer Ferris, Devon. The family moved to Launceston where Thomas, now a widower, ran the Castle Temperance Hotel in High Street (below left). It is here that Truman junior met and married Agnes Harvey Langman in 1873. Agnes (b.1851) was the daughter of Launceston carpenter Thomas Langman and his wife Elizabeth. Truman first started work as a clerk at the Launceston Savings Bank in Exeter Street before setting up on his own as a auctioneer and estate agent (below right). He was also a strong unionist.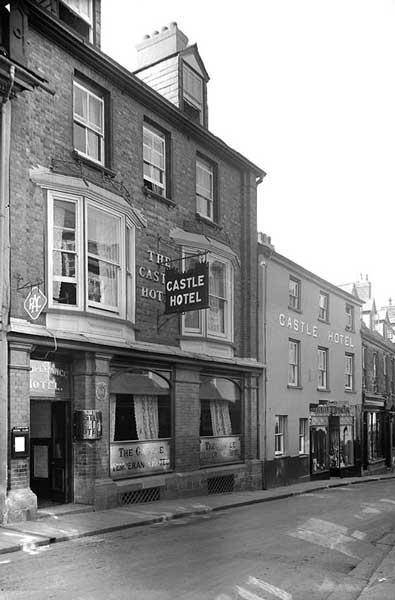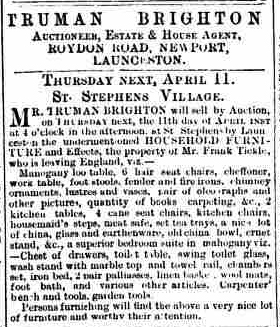 Along with the four sons who so tragically lost their lives, Truman and Agnes had a further four children, George (b.1875), Harry (b.1880), Helen (b.1887-d.1898), and Charles (b.1888).
George married Rose Capey at Leicester in 1899 and they had one son, Jack (b.1900 Winton Bournemouth) who himself served in the last year of World War One and one daughter Beatrice Mary (b.1904 Bournemouth). George worked as inland revenue officer and was the beneficiary of his brother Fred's will (£131 9s. 6d.).
Harry was born in Werrington where he was baptised on the 15th June 1886. By the 1911 census Harry had moved to London and was working as a clerk at the Wandsworth Union Workhouse in Swaffield Road. After this date there is little else known.
Charles in the 1911 census was working as a groom for the Vyvyan family at Glynn House, Cardinham. He served during the war possibly in the Duke of Cornwall's Light Infantry (Regimental No. 4257). He survived the war and he moved to the South Hams area of Devon where he died in 1967.
Hits: 450