.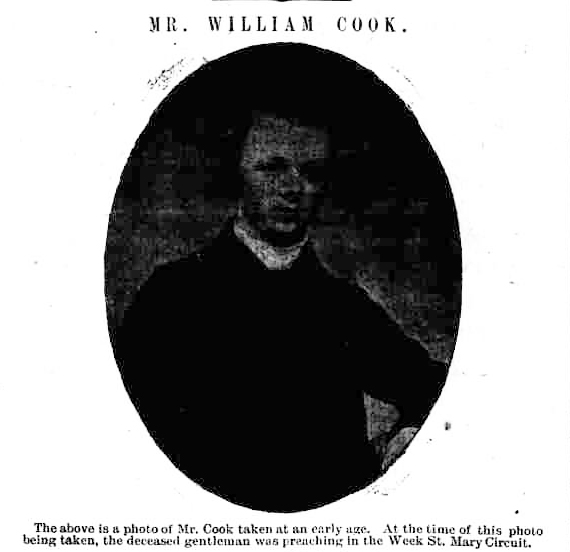 William was born 1837 to William and Elizabeth Cook at Mariansleigh, near South Molton in North Devon. His father was a shoemaker and then a farmer. In his early life, aged 18, he joined the Bible Christian Ministry and for some nine years he served this ministry taking in the circuits of Week St. Mary, Kingsbridge and the Scilly Isles spending three years respectively in each one. On leaving the Ministry he went to work for a grocer in Exeter and then onto managing a grocers shop at Torquay. He then came to Launceston in 1869 to set up on his own account with a shop near the Southgate. He married Rebecca Pile (1843-1919) in the January of 1865 at Exeter and together they had three sons, William, Lyndon and Eli (March 18th, 1873), who all joined William in his business, and five daughters, Mary, Alice (who died when less than a year old) Bertha, Lilian and Elsie. He soon built up his business to encompass wholesale as well as retail of grocer and provision merchant.
On his retirement, William and Rebecca moved with three of their daughters to live at Springfield, The Walk. Although he took an active part in public life of Launceston, William held strong opinions, and his advice was often sought. Suffering from cancer of the cheek bone, William passed away on Sunday, April 11th, 1910 at his home. He was interred at the Launceston cemetery. His son Eli, went out on business on his own accord taking over the T. H. Nicolls millinery shop at 5, Southgate Street. The other sons continued to run the grocery and provisions business with the wholesale side being run out of the warehouse at the junction of Dockacre Road and Exeter Street. This corner soon became know as Cook's Corner until the business of Prout's set up on what was Garlands Farm and to this day the junction is now known as Prout's Corner.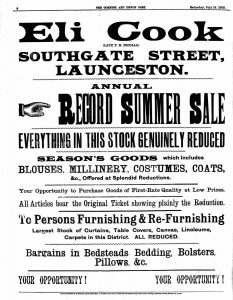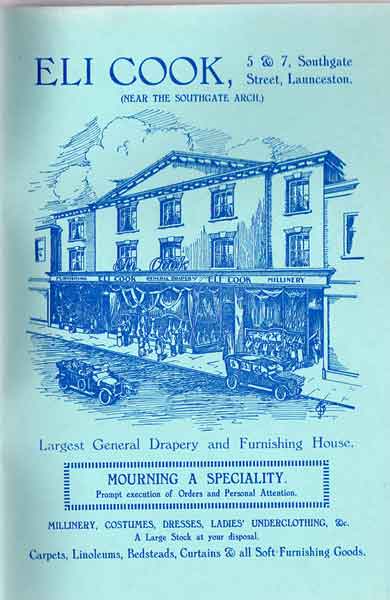 Eli Cook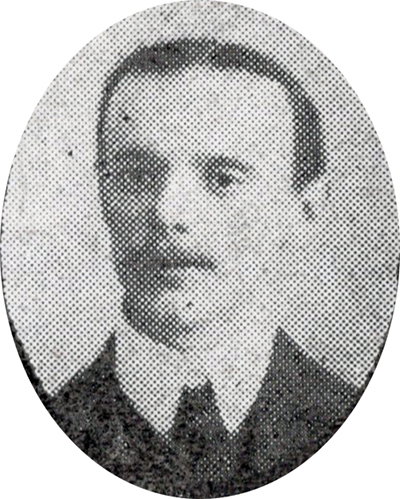 Eli was born March 18th, 1873. He served his drapers apprenticeship at Plymouth and after marrying Lilian Augusta Mason at Plymouth in 1899, he set up home at 11, Portland Square, Plymouth where, by 1901 he was working as a carpet salesman. Eli and Lilian had a son, Lyndon William Charles Cook, who was born on July 25th, 1901, but tragically Lilian died the following July in 1902. In 1904 Eli remarried again in Plymouth, to Elizabeth Ellen Narramore and in 1908 their daughter, Marjorie Ellen Cook was born. In 1910, on his fathers death, Eli and his family returned to Launceston where Eli took over the running of his fathers drapery business in Southgate Street. On his retirement, Eli and Elizabeth moved to take up residence at No. 25, Dunheved Road, Launceston.  He died on April 17th, 1961, at the Mount Stuart Nursing Home, St. Lukes Road, Torquay aged 88. He left £10,602 13s. 2d. to his daughter Marjorie Ellen Newbury and Roger Lyndon Brendon-Cook, Captain in H.M. Army.
Hits: 134