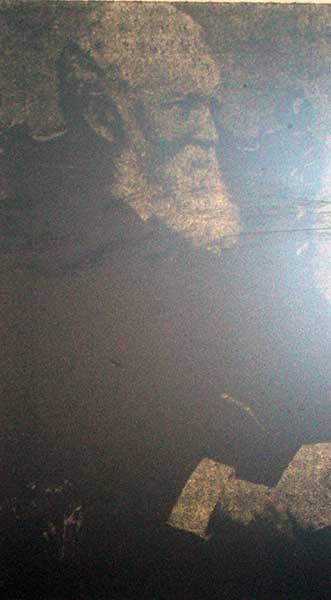 John was born in 1842 to John Simmons and Elizabeth Tregoning at Liverpool. His father, a Cornishman,  was a partner in the Liverpool firm of Clint, Tregoning and Company, metal merchants and ship-brokers. Soon after the partnership broke up, Tregoning built the Morfa works consisting of an ironworks, two rolling mills and a tinhouse. After his education John junior joined his fathers company taking over from  on his fathers death at Landue, Lezant in 1878.
He married Sophia Norris of Liverpool in 1866 and their first child, John Simmons, was born in 1868. A further 6 children followed.
John was a generous man who had a genuine regard for his workers at Llanelli. He built 50 houses for them at a cost of £9,000, charging a rent of 12 shillings a week, so that his workers should not have far to walk to work. These were substantially built dwellings which are still occupied today in Cornish Place and Campbell Street. Tregoning was also a prime mover in the building of Christ Church and New Dock School. He built a reading-room and library for his workers in Cornish Place, a building easily recognized today as being larger than all the others. He retained the services of Dr Buckley to treat accidents and illness and organized a Sickness and Disability Fund for his workforce. Deductions from pay were made to support these benefits and Tregoning himself also contributed.
Tregoning played an important part in the public life of Llanelli and Carmarthenshire. He was very good at figures and was in great demand on all kinds of financial committees. He was elected to the Carmarthenshire County Council and fought the Parliamentary seat of Carmarthen Boroughs as a Conservative in 1866. After his defeat, he devoted himself wholeheartedly to local government. In 1896, he was made Chairman of the County Council and was also a respected Justice of the Peace.
He inherited the estate of Landue, near Lezant from his father, retiring to here in the early 1900's. He was made a Justice of the Peace for the County of Cornwall and in 1904 was made Sheriff of Cornwall. John was a regular at the sittings of the County Sessions at Launceston and took a keen interest in all public matters, displaying a wonderful knowledge commercially, and his services were much in demand both in county and local affairs. He had served as a member of the Launceston Board of Guardians, being Chairman of the Finance Committee. He also served on the Launceston Education and the Launceston Rowe Committee's. He was also held a keen interest in the Launceston Working Lad's Institution, Launceston Volunteer Fire Brigade and the Launceston Free Library, and was a patron of the Launceston Fancier's Association and the Launceston Carnival. He served as vice-president of the Launceston Agricultural Society.
John was found dead in a railway carriage at Wolverhampton, on Wednesday February 17th, 1909.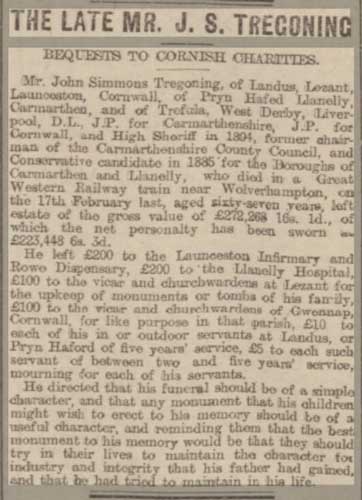 Hits: 498