The Burt's during the nineteenth century were a very prominent and important family to Launceston. Not only were they saddlers and landlords of the White Horse Inn, but also builders who would go on to construct much of what we see today in Launceston as well as the many road bridges that are in place from Camelford to Okehampton. The Roundhouse at Newport was bought by Charles Nations Burt and was used by his son, George Burt, as a builders store. George bequeathed it to the town on his death in 1915.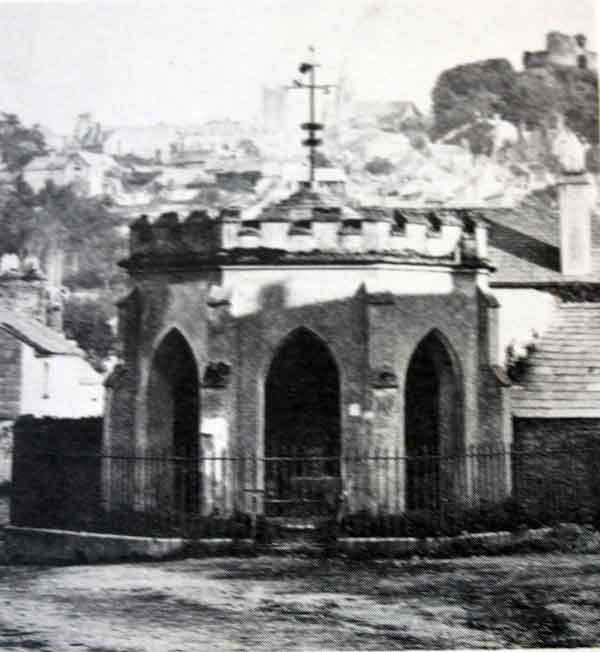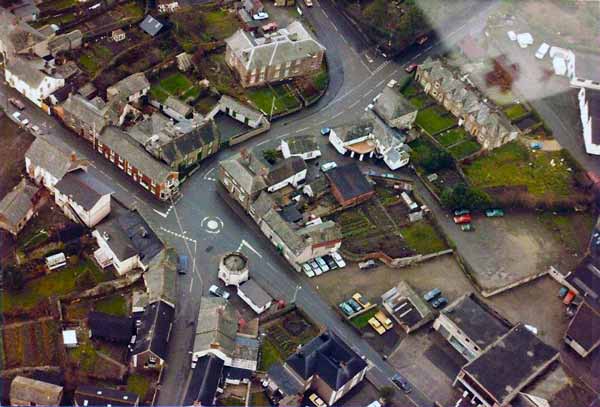 Robert Burt — Elizabeth Burt
Nicholas Burt b. 1771–1835 — Johana Prideaux
William Burt b.1785 —- Elizabeth Geake b.1787- 1832. Arabella Wheeler. M. 1835. William was a farmer of 90 acres and also a building contractor employing 4 masons. He was responsible for the building of the Fish and Butchers market in 1843(now the Market Arcade).
Richard Burt b. 1816 Cornwall, England
Elizabeth Burt b. 1821 Cornwall, England
Harriet Burt b.1821 Cornwall, England
Robert Burt b.1826 Cornwall, England
Henry Burt b. 1830 Cornwall, England
Lambert Burt b. 1836 Cornwall, England
Francis Burt Male b. 1838
Elizabeth Ann Burt b. 1790
John Prideaux Burt b. 1800-1859 — Eliza Isabel Scott
Charles Nations Burt b. 6th Dec. 1802-1878 — Elizabeth Burt b. 1808-1864
George Burt b. 1837-1915–-Emma Williams.
No children
Ellen Burt b. 1839- 1893 — Joseph Ford Geake.
Charles Geake, Ford Geake (who died as an infant), Ellen Geake, Frank Geake, Katie Geake, Marianne Geake, and George B Geake.
Lucy Burt b. 184-1889.
Never Married
Charles Henry Burt b. 1844-1918 — Bella Laura Pearson. Linen Draper and JP at Windsor, Berkshire.
Bella Burt, Lucy Burt, Nellie Burt, and Constance Burt.
Henry Burt b.1806-1884 — Elizabeth Dunn
Susanah Burt b. 1808-1856
Ellen's father, Charles Nations Burt (b. 1806) had a brother called Henry who lived in the small cottage on the opposite corner to the White Horse Inn, and he left the business the business to George Burt.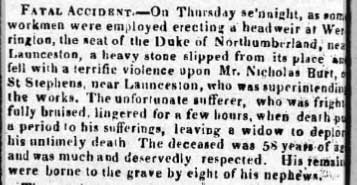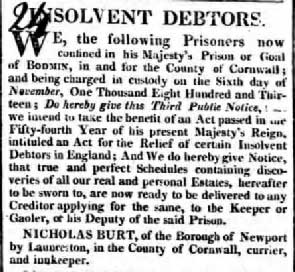 Launceston Post & News, 30th September 1911: (advertisement):
TO BE SOLD. BOROUGH OF LAUNCESTON, CORNWALL
To Brewers, Wine & Spirit Merchants, Hotel Proprietors and Investors.
Valuable Freehold Fully-licensed property. With Vacant Possession.
TO BE SOLD BY PRIVATE TREATY all that well-known and old established free Hotel known as 'THE WHITE HORSE INN' with extensive frontages, stables, outbuildings, stores, yard, large well-stocked garden and GOODWILL.
The property occupies a corner site in an excellent position in the town and near both Railway Stations and enjoys the monopoly of a large well populated area. The frontage to Newport Square is 57 feet, and to Dutson Road 158 feet.
The Hotel contains: tap-room, bar, two parlours, kitchen, scullery, larder, cellars, usual offices and Six bed-rooms, and was erected by a former Duke of Northumberland.
It is very substantially built and in a first-class condition, and enjoys a reputation of the highest character, with a genuine and lucrative business, having for many years been conducted by the owner, Mr George Burt, who has determined to retire.
Full Particulars with Conditions under which Tenders will be received may be obtained at the said Hotel, or of the undersigned, to whom Sealed Tenders should be delivered on or before 14th October next.
Cowlard, Grylls & Cowlard, Solicitors, Launceston. September 1911.
Hits: 304